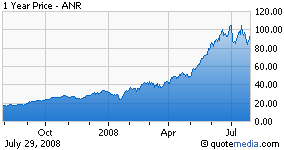 I'm like a broken record here - Alpha Natural Resources (ANR) with blow out earnings. However, hedge funds urge you to buy health care stocks with 7% growth so please sell these immediately and run to those. Thank you for your time. US Steel (NYSE:X) is also absolutely incredible on the earnings front this morning.

Just a quick bookkeeping note - I am selling some ANR into this spike @ $97 range simply because this market is putrid and hedge funds don't want coal or fertilizer. This is my favorite coal name and one day it should be back to a major stake in the fund - but until money flow returns to the sector I am selling spikes - down to a 1.9% stake. I have been tickled to death with the earnings reports from our portfolio thus far - our stocks are absolutely destroying estimates, pushing guidance up and making us very happy from a fundamental standpoint. But as I keep repeating, until the market cares (and I don't count these oversold spikes as real buying) I am selling spots of strength. When the next real move happens in these spaces they will be sustained multi-month moves. If we miss the first week or two of it, we'll live. Protect capital is job #1.

Back to Alpha Natural Resources whose story, I believe, is just beginning.
Coal mine operator Alpha Natural Resources Inc. on Tuesday reported record earnings on improved margins and increased metallurgical shipments. Alpha said profits for the second quarter increased to $74.3 million, or $1.04 per share, compared with $4.7 million, or 7 cents per share, in the year-ago quarter. The latest quarter included several special charges worth a combined 42 cents per share, and an income tax benefit of 16 cents per share.
Revenue increased to $732.2 million from $435.3 million. (+68%)
Analysts surveyed by Thomson Financial expected earnings of 53 cents per share on revenue of $571.4 billion.
The company's coal margin per ton rose 130 percent in the quarter to a new high of $21.85.
"Persistently strong demand for metallurgical coal from steel producers worldwide is having a profound impact on our financial performance," Michael Quillen, Alpha's chairman and chief executive, said in a statement. (

I love these new words I am starting to see in the fertilizer and coal earnings reports - we had miserly and now we have profound

)
Forecast
For 2009, the company expects net income of $1.0 billion to $1.3 billion and coal revenue of $3.7 billion to $4.4 billion.
Translation - $1.0B to $1.3B on 70M shares =$14.30 to $18.50 in 2009 EPS. I estimated in April back of envelope $10-$15 without 1 single analyst report and just reading news and using this profound instrument called a calculator. While analysts who follow 1 sector day in and day out and know 10,000 times as much about the sector since this is as a full time job for them, were telling us it would be somewhere in the $3s range. Another job well done.
When you really think about this earnings power - much like the fertilizer - it is reaching the point of humor that hedge funds are fleeing this group because "the world will be ending" and "crude oil might go to $100 or gasp $80". But that's the markets for you. We're just the gnat on the big money's behind. Full report here which has a lot of detail I don't have time to break down in the blog. Synopsis: It's good. Very good. And just the start.
As I said, I hope Harbinger gets its way and forces Cleveland Cliffs (NYSE:CLF) to break up this deal, because Alpha Natural Resources on its own is going to be a $200+ stock in 2009.  As I wrote, I thought $130 was complete thievery on the part of CLF but the hedge fund who controls nearly 1/5th of Cleveland Cliffs disagrees. How they think $130 is a bad deal is beyond me, but what do I know - they have an army of super computers and CFAs and MBAs. I'm just one dude trying to raise funds for a mutual fund.
Disclosure: Long Alpha Natural Resources, Cleveland Cliffs in fund; long Alpha Natural Resources in personal account