Research into Calumet Specialty Products L.P. (NASDAQ:CLMT) reveals a company with a lot of moving parts which could affect profitability and the distribution amounts to investors. Overall, Calumet presents a positive investment opportunity, but the current high levels of profitability may be due to a semi-perfect storm in energy prices.
Note: MLP companies such as Calumet Specialty Products have units and pay distributions. The words stock, shares and dividends may be used here with the understanding that the rules of MLP units apply including the tax consequences of investing in MLP units.
The Company's Business
In a nutshell, Calumet Specialty Products owns crude oil refineries and focuses the output of those refineries on the production of lubricating oils, solvents, asphalt and waxes - specialty products. The company also refines crude oil into gasoline and other fuels. In the 2012 first quarter, about 55% of production as measured in barrels was on the specialty products side.
Calumet also owns production, packaging and distribution facilities which allow the company to produce wholesale products which are sold to over 2,700 customers. Product examples include oils used in the production of tires, transformer and refrigeration oils and hydrocarbon gels which go into thousands of consumer products - think Chapstick.
The big, integrated oil or refining companies are leaving the specialties products markets, often selling their business to Calumet. The markets may not be huge compared to gasoline, diesel and jet fuel, but can provide a significant level of repeatable profits for a $2 billion company like Calumet Specialty Products.
The Variables
There are several variables which could affect the results from Calumet going forward:
Growth Prospects: Calumet has aggressively picked up assets which complement its business. The purchase of a refinery in Superior, WI from Murphy Oil late last year boosted capacity by 50%. The company has made numerous smaller acquisitions, with the latest an announced purchase of a small refinery in Montana. The capacity growth over the last several years has helped produce a 23% increase in the quarterly distribution rate.
Crude Oil and the Crack Spread: As of the 2012 second quarter, Calumet was using hedges to lock in crack spreads north of $20 per barrel of crude. As management noted on the 2nd quarter conference call, the company was happy locking in a $12 spread a year earlier. Hedging will keep profits up for several years, but the crystal ball is cloudy more than three years out.
Fuel Prices: For the first half of 2012, Calumet report gross profit from fuel sales of $57 million out of total gross profits of $213 million. In the 2011, first half, the company lost $9 million selling fuel products against $106 million of gross profits from specialty products. Gasoline and other fuel price could put some serious volatility into year-over-year profit levels.
Conclusion
Calumet Specialty Products has been on a great growth spurt for the last two to three years and the business model will provide an attractive level of profitability. The exposure to gas and fuel prices provides great profits in good times, but may lead to some periods where the dividend is not covered or may even be reduced. Investors who own shares at lower prices will be happy with the long term results. Investors looking for an entry may want to wait for a pullback to under $25. The CLMT share price seems to take a nice dive once or twice a year - providing a buying opportunity.
Calumet provides a nice income paying alternative to the big refinery companies like Valero Energy (NYSE:VLO) and Phillips 66 (NYSE:PSX).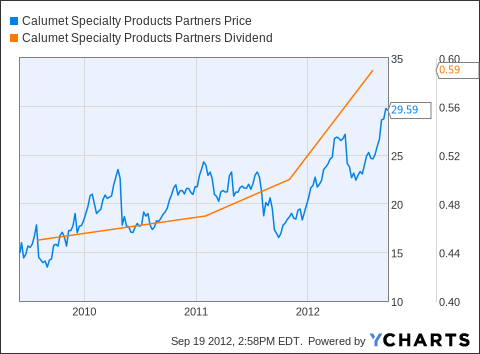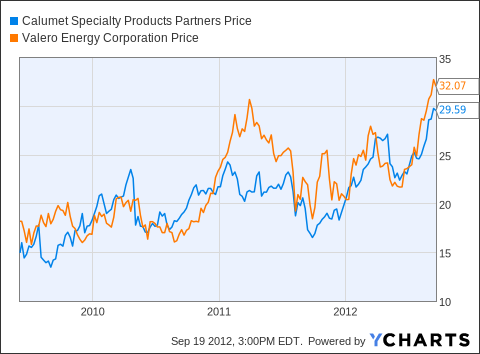 Disclosure: I have no positions in any stocks mentioned, and no plans to initiate any positions within the next 72 hours. I wrote this article myself, and it expresses my own opinions. I am not receiving compensation for it (other than from Seeking Alpha). I have no business relationship with any company whose stock is mentioned in this article.