I have covered Sprint (NYSE:S) four times since June 2012, and the rate of return since each price point is significantly high: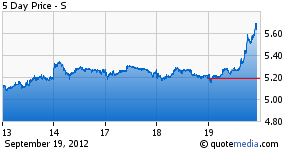 My most recent price target of $5.50 has been met, thanks to the 9% intraday jump on 9/19/2012. It is time to address the next stop, as I promised my followers.
"I'm Just Glad We Have It"
Speaking at a Goldman Sachs technology conference at New York on 9/19/2012, Sprint's CEO Dan Hesse tried not to say too much, compared to his AT&T (NYSE:T) counterpart Randall Stephenson, who was not shy in saying that the iPhone 5 is "selling very, very well." In a quite surprisingly humdrum manner, Dan Hesse said of the iPhone:
"I don't know how it compares with our competitors, but I would expect it's doing well. I'm just glad we have it."
Of course he is. When Sprint announced its iPhone deal with Apple (NASDAQ:AAPL), Wall Street was quick to criticize that this was Nextel all over again. But since then, Sprint has responded only with performance. Its most recent quarter's iPhone sales came in better than the analysts estimated, and yet, the company's operating income increased instead of decreasing. Investors should disregard the theory that more iPhone sales would cripple Sprint financially, if they are still skeptical about it. CEO Dan Hesse was wise in making the decision to share the Apple pie.
A recent report stated that Apple was selling 23 iPhone 5 devices per second. How many of these sales are to Sprint customers is obviously unknown, but the prospects and implications of iPhone 5's record sales are looking good for Sprint, as it stands to capture a large share of these sales.
Increasing LTE Demand Huge For Sprint
The demand for LTE devices is rising. In the race for more LTE devices, the biggest winners are the carriers, and Sprint should benefit hugely in the next year as it rolls out LTE networks in 100 cities. Sprint has sold 1 million LTE devices so far in 2012, which is very impressive, because its LTE network is much smaller compared to the LTE networks of its competitors. Samsung Galaxy S III and HTC's EVO 4G LTE have been a huge part of Sprint's sales, and both of these smartphone models has been a success.
It's important to keep in mind that Sprint only rolled out its LTE network in July and only in a few markets, so selling 1 million LTE devices in mere months is a great achievement. The biggest rival in the LTE space remains Verizon (NYSE:VZ) because of its much larger nationwide LTE coverage, but Sprint has data plans that are more generous and also more transparent for customers. The number of new LTE smartphones is up 33% since the start of 2012, and Sprint is already supporting many of these.
And LTE is not all about smartphones. In fact, the number of LTE capable Tablets has increased by 72% since the start of 2012. Sprint has already entered this market, with its support for Galaxy Nexus LTE, which was launched much earlier in the year.
Network Vision Savings
Sprint's Network Vision modernization plan is on track, and the company expects it will provide a stronger spectrum position in the next two years. It will also give Sprint a chance to share network traffic with Clearwire. The second quarter results showed that the company reported $2.5 billion in savings attributed to the Network Vision project.
Big Deal - Yes
Either the CEOs are getting ahead of themselves these days, or their timing is simply getting much better. First, AT&T's CEO uses the word "very" twice in his description of iPhone sales, and then Sprint's Dan Hesse openly admits that "some kind of deal between wireless carriers is going to happen" and that there will be consolidation. As if this was not enough, he adds that he hopes Sprint will have an "active" role in the consolidation. These statements carry a strong weight, and I believe that shareholders must make a big deal out of such statements when coming from the CEO.
Next Stop: $6.50
The second quarter results showed strong and organic trends and raised the estimates higher. The Average Revenue Per User growth accelerated and postpaid churn improved significantly. The best story was that Sprint's margins improved significantly, and that they gave an improved EBITDA guidance, up from $4 billion to $4.5 billion for the year 2012.
Sprint is expected to lose $1.40 per share in 2012. However, in 2013, its loss would be cut to more than half, and in 2014, the company should start making more money per share. Considering this upward EPS trend for 2013 and 2014, the stock should follow the earnings appreciation. My next stop to revisit Sprint's stock is $6.50.
Conclusions
Sprint's downturn has been painful for shareholders, but those who did not sell at a huge loss made a prudent decision. Sprint's stock might appear inflated to many skeptical investors, especially with the S&P500 at its highest levels for a long time, but there are fundamental factors driving the stock price appreciation and this huge run is not a humbug bubble.
Sprint has improved its brand recognition, it is working toward establishing a better network, and most importantly, the company has shown resolve for going after better products (e.g., the Apple iPhone deal). These indications show that the company's turnaround is on track. Investors may choose to wait for pullbacks to enter the stock, but amid all the market action that Sprint is about to see in the next few quarters, the general direction appears to be up.
Disclosure: I am long S, AAPL. I wrote this article myself, and it expresses my own opinions. I am not receiving compensation for it (other than from Seeking Alpha). I have no business relationship with any company whose stock is mentioned in this article.