There are several sub-sectors within the electrical utility industry, each with unique investment attributes. Generically, these are power generation, power transmission, and power distribution. Power generation has been deregulated in many states, but the transmission and distribution (T&D) business is still regulated. However, transmission assets are usually interstate and regulated by the Federal Energy Regulatory Commission (FERC) while distribution is usually intrastate and regulated by state utility commissions.
The distinction between transmission and distribution is subtle but critical. Think of transmission as the high voltage power lines atop the tall power line towers and distribution as the service connected to the wooden poles that line the streets of every town. Transmission customers are usually electric utilities, municipalities and electric co-operatives while distribution customers are usually retail, commercial and industrial consumers.
Electric transmission businesses have been overlooked by most investors as a potential driver of growth for electric utilities. Mainly due to structural regulatory differences, T&D assets had been like the poor second cousin at the capital expenditure party, and overall, transmission investments in the US lagged for many years. The need to upgrade aging infrastructure, in addition to necessary organic expansion, has created a huge capital requirement. The chart below outlines annual capital expenditures by publicly owned utilities on transmission projects. Keep in mind total industry capital outlays in 1999 was $2.5 billion. According to the Edison Electric Institute, between 2011 and 2015, the transmission industry will invest more than $66 billion.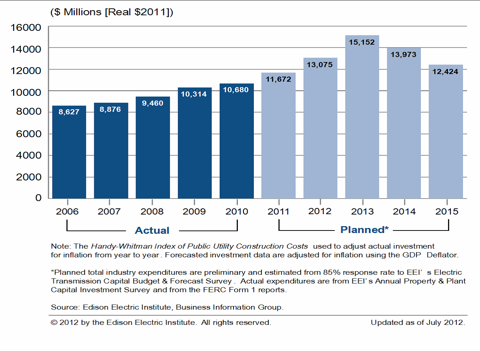 Source: Edison Electric Institute
To encourage capital investment, the FERC allows for a higher return on equity than the average state utility commission. According to the Edison Electrical Institute, the average ROE approved by various state utility commissions was between 10.0% and 11.0% from 2004 to 2006 and between 10.0% and 10.5% from 2006 to today. Historically, the average state utility commission allowed ROE has been declining over the years, falling from a high of over 12.5% in the 1990.
The FERC, on the other hand, has been allowing a 12% to 13% ROE on transmission investments. Stating the obvious, every dollar invested in FERC-regulated assets can produce a 20% to 30% higher return than the same dollar invested in the average state-regulated asset.
In a low interest rate environment, here is risk to the higher levels of returns offered by the FERC. However, if the FERC follows state commissions, where the average allowed ROE in rate cases decided last quarter broke above the 10.5% mark for the first time since 2005, the risk of the FERC lowering of allowed ROE seems to be manageable.
The list of transmission projects usually include upgrading current towers and power lines, implementing the "smart grid", and new connections between rural-based alternative energy facilities and metropolitan areas, along with new natural gas power generating facilities.
There are two US firms that offer exposure to the FERC-regulated business: ITC Holdings (ITC) and American Electric Power (NYSE:AEP). There are quite a few regulated electric utility companies with minor transmission exposure, but AEP operates the largest network of transmission assets in the US. ITC is a "pure play" transmission firm.
From AEP's recent press release:
AEP also owns the nation's largest electricity transmission system, a nearly 39,000-mile network that includes more 765-kilovolt extra-high voltage transmission lines than all other U.S. transmission systems combined. AEP's transmission system directly or indirectly serves about 10 percent of the electricity demand in the Eastern Interconnection, the interconnected transmission system that covers 38 eastern and central U.S. states and eastern Canada, and approximately 11 percent of the electricity demand in ERCOT, the transmission system that covers much of Texas
However, transmission earnings for AEP last quarter amounted to only 2.2% of total company GAAP earnings. Even though transmission income is growing at a 30%+ rate y-o-y, it will take several years before earnings cross even a 10% threshold.
ITC Holdings, on the other hand, is singularly focused on transmission business. Initially formed from the transmission assets of Detroit Edison in 2004 and IPOed in 2006, ITC is expanding its geographical asset base. The company currently operates mainly in the Midwest.
From ITC's recent press release:
ITC Holdings Corp is the nation's largest independent electric transmission company. Based in Novi, Michigan, ITC invests in the electric transmission grid to improve reliability, expand access to markets, lower the overall cost of delivered energy and allow new generating resources to interconnect to its transmission systems. ITC's regulated operating subsidiaries include ITC Transmission, Michigan Electric Transmission Company, ITC Midwest and ITC Great Plains. Through these subsidiaries, ITC owns and operates high-voltage transmission facilities in Michigan, Iowa, Minnesota, Illinois, Missouri, Kansas and Oklahoma, serving a combined peak load exceeding 26,000 megawatts along 15,000 circuit miles of transmission line. Through ITC Grid Development and its subsidiaries, the company also focuses on expansion in areas where significant transmission system improvements are needed.
ITC has agreed to purchase the transmission assets of Entergy (NYSE:ETR) in a complicated deal. From a zacks.com article:
Earlier, in December 2011, Entergy entered into a definitive agreement with ITC Holdings under which the former will divest its electric transmission business to the latter. The divested business would be merged with the operations of ITC Holdings. The transaction will require consent from Entergy's retail regulators, the Federal Energy Regulatory Commission and ITC shareholders. The company expects the transaction to complete by 2013.

Post-merger, ITC will become one of the largest electricity transmission companies in the U.S. Its area of operations will stretch from the Great Lakes to the Gulf Coast, with more than 30,000 miles of transmission lines. Per the divestiture agreement, Entergy will divest its electric transmission business to a newly formed entity known as Mid South TransCo LLC ("Transco") which will be distributed to Entergy's shareholders in the form of a tax-free spin-off. Then, under an all-stock Reverse Morris Trust transaction, Transco will merge with and into a newly created merger subsidiary of ITC. Post-merger, Entergy shareholders will have an approximately 50.1% stake in ITC in exchange for their shares in TransCo. The balance 49.9% stake of the combined company will be with the existing shareholders of ITC.

Entergy is seeking approval to transfer approximately 15,800 miles of interconnected transmission lines at voltages of 69kV and above and the associated substations to ITC. ITC will then be one of the largest electric transmission companies in the U.S., with more than 30,000 miles of transmission lines spanning from the Great Lakes to the Gulf Coast. Meanwhile, Entergy's operating companies will continue to own and operate their respective distribution and generation businesses and will provide customer service, billing, outage reporting and restoration services to homes and businesses in the region.
ETR will issue $1.775 billion in new debt that will go along with the spin-off and assumed during the acquisition by ITC. In addition, ITC is planning on issuing about $700 million in additional debt and pay a one-time special dividend to shareholders of about $13.75.
Pre-merger, there are 51 million shares outstanding and ITC has a market cap of $3.8 billion. Long-term debt currently stands at $2.9 billion. ITC offers a current dividend yield of 2.01% and 5-yr dividend growth rate of 5.5%. The payout ratio is 42%. ITC has generated a 5-year eps growth rate of 29% and a capital expenditure growth rate to match of 27%
Pre-merger, ITC is expected to earn $4.01 this year and $4.88 next year. Long-term earnings growth is estimated between 15% and 19%. With the stock currently trading at $74, the 2013 PE ratio is 15 and offers a 2013 PEG ratio of between 1.00 and 0.78 - exceptionally cheap for a utility. However, Return on Invested Capital is a bit low at 4.2%
Below is a 5-year stock chart comparing ITC to the Dow Jones Utility Index. What is obvious is the rewards ITC shareholders have enjoyed over the performance of the index.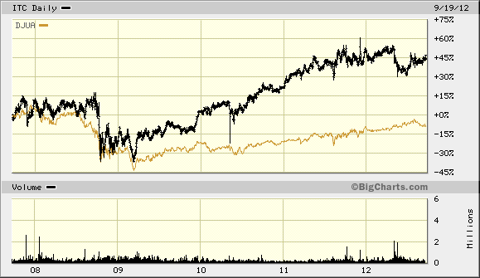 Could the merger of ITC and ETR's transmission assets be a footprint for more industry consolidation? Could a spin-off by AEP of its own transmission assets into a competitive firm unlock a few billion of AEP shareholder value? Stay tuned for the answers as I don't think this industry story is nearly played out.
AEP is a more diverse utility whose shareholders have only a minor exposure overall to the benefits of the transmission business. Further research of ITC would be a worthwhile endeavor for electric utility investors looking for growth to augment current income.
Author's note: See important disclaimer in Mr. Parepoynt's profile
Disclosure: I am long AEP. I wrote this article myself, and it expresses my own opinions. I am not receiving compensation for it (other than from Seeking Alpha). I have no business relationship with any company whose stock is mentioned in this article. See important disclaimer in Mr. Parepoynt's profile.