In the September edition of the My Mad Method [MyMM] sub-series, "What Next To Buy, And Why?" I mentioned a kind of "Rating" signal that I've incorporated into my copy of the MyMM spreadsheet. I apply this Rating Signal to stocks that I'm considering buying to help me narrow down my choices to the next stocks that I want to purchase out of my combined superlist of my watchlist and my portfolio list. I promised in that article that I'd write a "future article soon" that describes how this Rating Signal works, so here it is.
I use My Mad Method to rank stocks on my watchlist, in my portfolio, and on my superlist based on how each of the stocks on these lists rank in 17 different metrics that I've built up over the course of about a year of managing my own portfolio. Like golf, the lower a stock's MyMM Rank, the better it should be as a choice to either add to my portfolio, or to add more to an existing position in my portfolio. However, the MyMM Rank isn't enough to make me just pull the trigger and buy a stock. It is merely a tool to help me evaluate choices vis-à-vis each other, but it is not the only tool that I use.
In addition to a good deal of due diligence (or at least as much as I can manage to squeeze in between work and family time), I've made some other modifications to my copy of the MyMM spreadsheet to help me zero in on which stocks are really the best candidates for any available cash that I have to deploy in my IRA. The most recent of those modifications is what I refer to as the Rating Signal, which is the culmination of a number of evaluations now built into my copy of the MyMM spreadsheet, and it works like this:
Over time, and thanks to the 6.29% yield that my portfolio current throws off, cash accumulates in my IRA account that I eventually want to deploy by purchasing one or more stocks. I'm now trying to contribute the maximum amount the IRS allows me to into my IRA each year, too, which for me at 50 years young is currently $6,000 a year, but I can't do that all in one chunk. In addition, sometimes I decide to liquidate some or all of a current position for various reasons, such as taking profits from fantastic price appreciation, cutting its dividend or failing the Chowder Dividend Rule [CDR] test. All of these things can contribute to an amount of cash that I don't want to be sitting idle when it could be put to better use invested in a company that has a healthy and growing dividend.
Depending on the amount of cash available, I will decide on how many positions I want to spread that cash across in as even a manner as reasonable. To do this, I simply divide the amount of cash I expect to have at a near-future point in time by the number of companies I wish to invest in next. This gives me the maximum amount to spend on purchasing any one company's stock. I then multiply this number by the minimum yield that I want to realize from this round of buying, which is generally at least 3.00% but may be higher at any given point in time. This produces a dollar amount that represents the minimum amount of dividends that I want the maximum allocation of funds to each company to be purchased to produce.
Next, I fiddle with the number of shares to potentially purchase in each of the stocks on the superlist until the cost of those shares is under the maximum per-company allocation of cash, and the dividends thrown off by that number of shares is above the minimum amount of dividends I've set. In order to know whether I've "hit the mark" with a given number of shares, I use Microsoft (NASDAQ:MSFT) Excel's Conditional Formatting to highlight the company's name and ticker symbol to a light green when these two conditions are met. The Conditional Formatting Rule for doing that goes something like this:
=AND($BI8>=$BI$48, $BL8<=$BL$48)
Where "BI" is the column with the calculated dividends, "BL" is the column with the calculate total cost (including commissions) for that number of shares, row 48 is where the minimum dividends and maximum cost are calculated in those columns, and row 8 is the first row of the list of companies in the superlist worksheet. (Note that the use of the "$" absolute condition is crucial to the success of this Rule.)
Once I've found the number of shares that satisfies the two conditions I'm after, that company's name and ticker will "light up" green, and a couple of columns over a word will appear, depending on some other conditions. This word is the "Rating Signal," and it will either be "Later," "Possible!" or "Definitely!" based on the following criteria:
If I've specified a number of shares to possibly buy, and the Delta Ratio Reading* for this company is either "Buy!" or "Holy Cow!" and this company is one of the Top 10 ranked companies according to its MyMM Rank, then display "Definitely!" - otherwise,
If I've specified a number of shares to possibly buy, and the Delta Ratio Reading for this company is not "Too High" and it is not "Screaming!" then display "Possible!" - otherwise,
If I've specified a number of shares to possibly buy, display "Later" - otherwise,
Display nothing.
(* = I explained how the Delta Ratio Reading is determined in detail in a previous article, but basically it is another "signal" that I use to indicate whether the current price is close or very close to that stock's 52 week low ("Buy!" or "Holy Cow!"), or if it is close or very close to its 52 week high ("Too High" or "Screaming!"), or if it is somewhere in between those extremes ("Stable" or "Falling").)
All of the steps enumerated above translate into the following formula, using row 8 as the example:
=IF(

AND( BL8>0, BT8<11, OR( BW8="Buy!", BW8="Holy Cow!" ) ), "Definitely!",

IF(

AND( BL8>0, BW8<>"Too High", BW8<>"Screaming!" ), "Possible!",

IF( BL8>0, "Later", "" )

)

)
Where "BL" is the same column as above (the calculated total cost including commissions for that number of shares), "BT" is the column that contains the MyMM Rank for that company, and "BW" is the column that contains the "Delta Ratio Reading" for that company.
(The reason the test "BL8>0" is included in the formula above is that if I don't specify a number of shares to potentially purchase, I don't want any word to show up in this Rating Signal column.)
Of course, to make things easier to pick out the "Definitely!" Rating Signals from the other Rating Signals, I employ Conditional Formatting on this column, as well. This makes for a very colorful display on the spreadsheet, such as the following (this is my current weighted superlist, by the way):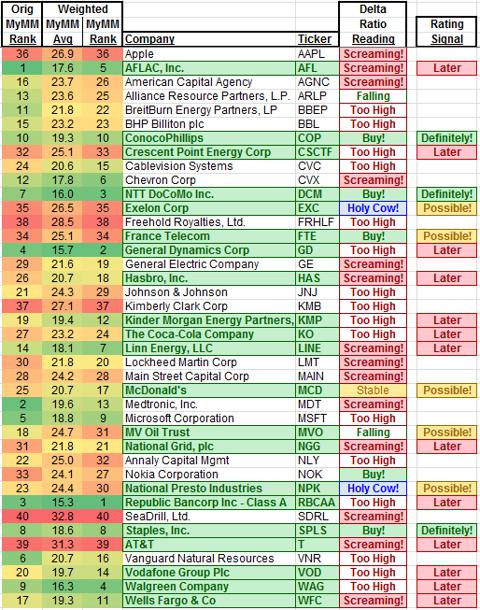 As you can see from the table above, ConocoPhillips (NYSE:COP), NTT DoCoMo, Inc. (NYSE:DCM) and Staples, Inc. (NASDAQ:SPLS) all have Rating Signals of "Definitely!". And while Exelon Corporation (NYSE:EXC) has a Delta Ratio Reading of "Holy Cow!," it only warrants a Rating Signal of "Possible!" due to its relatively poor Weighted MyMM Rank. As I recently wrote about in "What Next To Buy, And Why? - September, 2012, Updated," I'm planning on picking up more shares of COP, SPLS and EXC after my Medtronic, Inc. (NYSE:MDT) and Microsoft Corporation shares get called away after the close of the markets this coming Friday (and they are almost guaranteed to get called away at this point).
The Signals in the table above, plus my desire to increase the overall yield of my portfolio, the low percent allocation of these stocks in my portfolio already, and the near inevitability that my MDT and MSFT shares will get called away helped me to come to the decision to pick up more COP, SPLS and EXC.
However, despite DCM's very good MyMM Rank and a "Definitely!" Rating Signal, I've decided to wait to venture into this Japanese telecom's territory until I can confirm whether or not it is going to lower or freeze its current dividend. (Thanks for the heads-up, David Fish!) Also, as I mentioned in that last "What Next To Buy?...Updated" article for this month, I'm planning on increasing my position in Crescent Point Energy Corporation (CSCTF.PK), despite a "Later" Rating Signal and a "Too High" Delta Ratio Reading.
Why go with CSCTF.PK over DCM? Aside from what I mentioned above about the future of DCM's dividend, CSCTF.PK currently yields 2.15% more than DCM does, and DCM pays semi-annually while CSCTF.PK pays monthly, both of which put CSCTF.PK in a more favorable light than my two Signals have indicated. Also, I don't know how much I'll need to pay in foreign tax on DCM, whereas since CSCTF.PK is a Canadian company and I hold it in my IRA, I know its dividends won't be subject to foreign tax thanks to a tax treaty the US has with Canada.
Piece of cake, right? Actually, now that I've spelled out all the formulas and Conditional Formatting Rules, it could be, depending on your spreadsheet skills and appetite for a challenge.
Conclusion
If you're feeling adventurous and want to give yourself a way to compare stocks on your watchlist to each other without having to constantly do math in your head to see if you're going to get the dividends you want from the companies that you've ranked well and which have decent valuations, experiment around in a spreadsheet with your own signals. But remember, the signals and rankings do not automatically indicate the stock[s] that you should buy next. You still need to consider whether the stocks that these tools are bringing to your attention are reasonable and appropriate given your investing goals, the current state of the market, your tolerance for risk, and whatever other factors you would normally use to make a purchasing decision.
I hope this has been helpful and instructive. If you have any questions about these techniques, please feel free to use the Comments section below, and best of luck with your own investing decision making!
Disclosure: I am long COP, CSCTF.PK, EXC, SPLS. I wrote this article myself, and it expresses my own opinions. I am not receiving compensation for it (other than from Seeking Alpha). I have no business relationship with any company whose stock is mentioned in this article.
Additional disclosure: In addition, I am short (MDT) and (MSFT) by virtue of covered calls. Disclaimer: I am not a professional investment advisor or financial analyst; I'm just a guy who likes to crunch numbers and can make an Excel spreadsheet do pretty much whatever I want it to do, and I'm doing my best to manage my own portfolio. This article is in no way an endorsement of any of the stocks discussed in it, and as always, you need to do your own research and due diligence before you decide to trade any securities or other products.