There are no bones about the obesity epidemic in the U.S. -- just take a look around the office, apartment complex, restaurant, cinema or, yes, even the local gym. Our culture speaks for itself. Everything is instant, portions are huge, and we are getting lazier -- and fatter.
A new report released by the Trust for America's Health and the Robert Wood Johnson Foundation has made an astounding projection: At this rate, HALF of the U.S. adults will be obese by 2030. Makes sense, as the current 16.9% of children in the U.S. fall into that dreaded 30+ BMI (Body/Mass Index) will age into obese adults. You can certainly see why Michelle Obama's "Lets Move" campaign has garnered heavy national attention.
The study, out yesterday, combined with another story indicating that exposure to the chemical bisphenol A (commonly known as BPA) leads to an increased risk of obesity, caused obesity drug-maker stocks Arena Pharmaceuticals (NASDAQ:ARNA), Vivus (NASDAQ:VVUS), and Orexigen Therapeutics (NASDAQ:OREX) to rise sharply on Tuesday.
The most high profile anti-obesity drug maker and first to gain FDA Approval for its diet pill, Belviq, Arena led the way -- closing up over 7% on Tuesday's highs at $9.26, and higher again on Wednesday, adding an additional $0.04 (0.43%) to $9.30. The California-based drug maker became widely recognized over the summer when its Belviq -- rejected in 2010 because of its cancer link concerns -- passed the FDA Approval Recommendation Panel by a vote of 18-4. Additionally, the drug was subsequently approved for use in the United States for persons with a BMI over 30 with at least one other underlying condition (i.e., Type-2 Diabetes).
A better value play, Vivus, Inc. followed close behind, up over 6.5% on Tuesday, and while dropping slighty after the opening bell on Wednesday, VVUS managed to pare its losses on very light (roughly one-third) volume, down $-0.16 (-0.65%) to close at $24.28. The maker of newly approved weight loss drug Qsymia has lagged behind its household-name counterpart, Arena, year-to-date. Analysts expect Vivus to grow earnings from $0.98 this year to $0.40 in 2013. Much of Arena's EPS growth is believed to be priced in, and its one-year target is a mere $10.83 -- 17% off its Tuesday closing price. Vivus is projected at a high $30 handle -- more than a 50% move -- by this time next year.
Intraday 9/18 and 1Y charts below, respectively:
(click images to enlarge)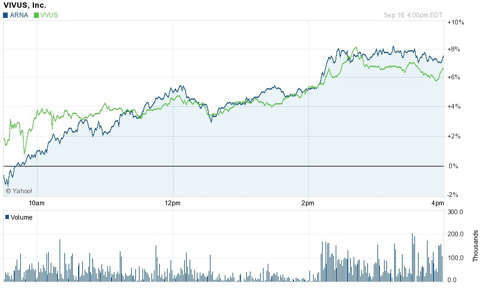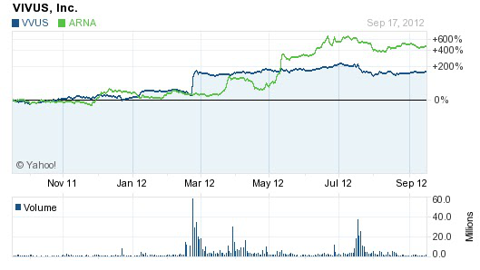 I expect a bigger move out of VVUS pending more news/studies of this nature -- or any positive news regarding its third counterpart, Orexigen Therapeutics (OREX), which itself added 7% on Tuesday and moved $0.03 (0.51%) to $5.97 on Wednesday. Its pending FDA approval of its anti-obesity drug, Contrave, still must pass cardiovascular tests.
Competition in this particular sector of pharma is healthy, considering the tremendous uphill battle Americans must fight when it comes to weight loss. One of these companies will eventually reign supreme and outclass its fellow drugmakers in both popularity and effectiveness. Until then, the sector as a whole will continue to trade in tandem following positive news and earnings.
As for the effectiveness of each drug, Vivus' Qsymia has shown stellar results in studies -- showing body weight loss of between 6-8%, whereas Arena's Belviq yielded only a 3% weight loss over a one-year period.
A final and interesting (and inevitable with biotech/pharma) point to think about: With approvals pending in Europe for these drugs -- will a pharma-giant be waiting in the wings to be a white knight to one of these two companies? Vivus would certainly benefit from a merger, as it would help the company gain leverage in pushing through a drug that contains an agent -- phentermine -- that's been banned on and off in Europe. In addition, big pharma clearly has a way to finagle marketing campaigns (you know, 30 side effects listed in one single breath during a commercial).
While I personally do not plan to take up a position in any of the aforementioned names, the ride has sure been fun to watch and speculate on.
Disclosure: I have no positions in any stocks mentioned, and no plans to initiate any positions within the next 72 hours. I wrote this article myself, and it expresses my own opinions. I am not receiving compensation for it. I have no business relationship with any company whose stock is mentioned in this article.