Office Depot (ODP) is expected to report Q2 earnings with a conference call scheduled for 9:00 am ET. Analysts are looking for a profit of 4c on revenue of $3.57B.
Guidance
The consensus range is (2c) to 27c for EPS, and revenue of $3.53B to $3.61B, according to First Call. Office Depot announced on July 8 that it continued to be negatively impacted by the challenging economic environment in Q2.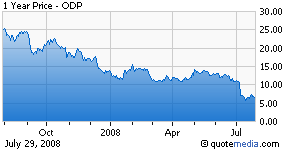 The company said that North American Retail same-store sales decreased nearly 10% versus the prior year and total company sales were down slightly.
While the company anticipates the economic environment to be difficult over the balance of the year, it expects its profit margins to improve sequentially in the Q3 and Q4. The office supplies retailer, which reported a slightly better-than-expected Q1, has been hit by slowing employment growth, which has lead to fewer office supplies. Shares of specialty retailers have also been losing ground on concerns about the slumping economy in the U.S., which has hurt demand for consumer and office goods.
Additionally, the company faces stiff competition from Staples (SPLS) and Office Max (OMX), as well as higher fuel prices and lower consumer sentiment; Office Depot has been hit particularly hard by the housing market crisis in California and Florida, where it has a higher concentration of stores than its rivals.