General Motors (NYSE:GM) apparently did not learn very much from its short stint in bankruptcy as it is making some of the same mistakes now. Before the government-led bailout and bankruptcy, General Motors owned GMAC Financial, which has since become Ally Financial. In 2006, GM sold a 51% stake in GMAC to Cerberus Capital Management as GM was trying to improve its financial situation. In July of 2010, GM purchased AmeriCredit and rebranded it GM Financial, which concentrated on giving loans to customers with less than stellar credit scores.
According to a Bloomberg article, GM is looking to acquire Ally's auto lending arms in Europe and Latin America. Ally put up its non-US operations for sale in May to help buy out the U.S. government, which still owns approximately 73.8% of the auto-lending giant. The deal would double GM Financial's assets, but as a shareholder in GM (through the government) and as an analyst, I would much rather see GM expand organically instead of purchasing struggling operations in Europe. Europe is such an eyesore for GM that throwing additional money into it seems like a bad idea.
Ally had more than $16.4 billion of assets in its Latin American and European operations. GM had $22.2 billion of cash on hand as of the end of the second quarter; however, I see much better uses of that cash than purchasing these foreign operations. Buying these assets will do little to help turn around Opel, Vauxhall, and the remainder of GM's European operations. It will do little to help GM expand further into China and India. It will add some cash flow, but cash flow has been strong for the Company and it has a lot of cash on hand.
The Cruze has been a pleasant surprise, while the Volt has been a disaster (relative to expectations). Many people thought the Volt would be the savior of GM (me not included), but volumes have been utterly dismal; partially due to poor production and partially due to slack demand. Since inception, the Volt has sold 16,669 (as of the end of August) units, with 13,497 being sold during 2012. Before the Volt was released, the Company hoped that the Volt would eventually sell 40,000 units per year. We are still a long way from that. Additionally, production of the Volt will be shut down during the first two weeks of October as a result of a lack of demand. This comes despite record sales during August. To add insult to injury for the Volt, there was a Reuter's report that indicated GM loses up to $49,000 per Volt produced. That is a scary thought. Using that math, GM has lost $661.4 million on sales of the Volt this year alone; that is worse even than Europe.
As I mentioned, the Volt delivered a record month during August. Sales were strong, pretty much across the board. However, auto sales in North America have been a rollercoaster so far this year. The following chart outlines the Company's monthly U.S. sales since the beginning of 2012: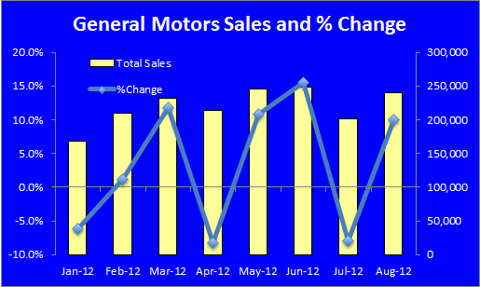 click to enlarge)
So where does the Company go from here? I truly hope that it does not get into the running for Ally Financial's European and Latin American operations. There are much better uses of that $22 billion of cash on its balance sheet than investing more in Europe right now. Pension liabilities are still a huge overhang, and could use the cash. China, India, Russia, the Middle East, and Brazil (to a lesser extent) are still seeing growth and could benefit from increased investment. The European economy needs to turn a corner (or at least stop being in free fall mode) before I would invest more to help turn it around. Plus, the government still owns a large stake in GM.
That being said, I would avoid shares of General Motors. The stock has performed well this year, up 22.1% year to date, but I do not see anything that lifts GM further. Toyota (NYSE:TM) is up 24.5% year to date, while Ford (NYSE:F) is down 1.6%, so it has outperformed its cross-town rival. However, the momentum the Company has built up through its luxury brands, Buick and Cadillac, is fading. I loved the purchase of AmeriCredit back in July of 2010. It gave the Company a much needed cash flow boost and there were a ton of synergies. I just don't see that type of growth from purchasing Ally's assets.
Disclosure: I am long F. I wrote this article myself, and it expresses my own opinions. I am not receiving compensation for it (other than from Seeking Alpha). I have no business relationship with any company whose stock is mentioned in this article.