Introduction
In order to gain an edge as a long-term investor, I believe it is necessary to understand the ins and outs of every company you invest in, and therefore I have chosen to make an in-depth series of articles on Starbucks (NASDAQ:SBUX). Prior to this article, I made an analysis where I concluded that commodity costs of Starbucks would likely be lower over the next twelve months. In this article, I will analyze the long-term earnings potential of the Americas segment.
Starbucks U.S. - The historical growth rate and profitability
As you can see in the below graph, Starbucks was doing great prior to 2007. Unfortunately, revenues declined in 2008 and the EBITDA margin deteriorated as well. Eventually the U.S. segment recovered, and while the growth rate wasn't double digits in 2011, earnings are higher than ever before.
Consumer confidence and Starbucks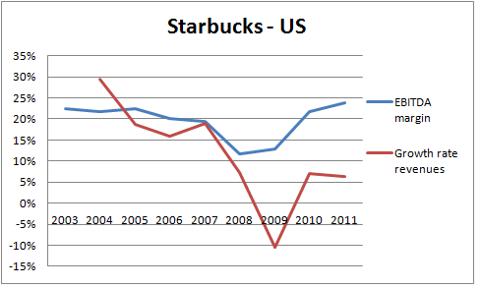 Click to enlarge
One explanation for the poor results in 2007-2009 is the impact that the financial crisis had on consumer behavior. Starbucks is a somewhat "income-sensitive" consumer good, and therefore I would expect that consumers would reduce their spending on coffee from Starbucks if they lost their job (or feared to lose it). As you can see in the below graph, the level of consumer confidence has dropped significantly since 2004. It's currently around 61, which isn't particularly impressive, though much better than the level in 2009-2010.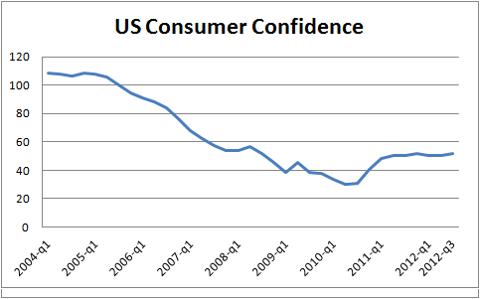 Click to enlarge
In the graph below, you can see the relationship between consumer confidence and same store sales (also known as "comp" sales"). Same store sales ignore the effect that acquisitions and new stores have on revenues, and therefore I would expect that measure to have a higher correlation with consumer confidence than total revenues has.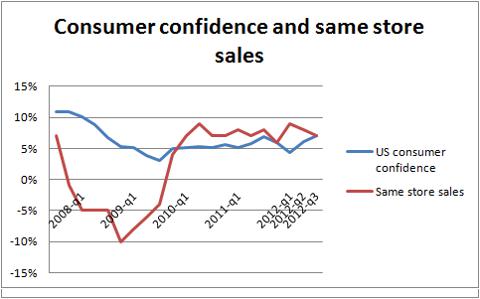 Click to enlarge
The correlation on a quarterly basis isn't perfect, but it definitely seems like there is a longer-term correlation. From 2008 Q1 to 2009 Q2, the consumer confidence index declined by an average quarterly rate of 13%. Over the same period, comp sales declined by an average of 5% q/q. Since 2010 Q1, comp sales have grown by an average of 8% q/q, while consumer confidence grew at an average rate of 4% q/q. Had consumer confidence not recovered in 2009, comp sales might have continued to drop.
Why management bears the primary responsibility for the "2007-2008" crisis
While consumer confidence definitely was a factor, it wasn't the main reason for the decline in 2008. The problem with Starbucks at that time was that it had grown at too high a rate for the past years. Management had made the mistakes of opening too many new stores, which cannibalized the sales of the older stores and led to lower comp sales and lower margins.
The EBITDA margin declined from 22% in 2003 to 12% in 2008. Some of the decline was attributable to lower comp sales, as the fixed cost/revenue ratio increased. However, Starbucks had become more inefficient as well, as supply chain expenses rose from $750 million in 2007 to over $825 million in 2008, despite sales declining by 10% in the same period.
But these weren't the only problems Starbucks faced in 2007. Competitors like Dunkin' Donuts (NASDAQ:DNKN) and McDonald's (NYSE:MCD) had improved the quality of their coffee, and in a test from 2007 by Consumer Reports; McDonald's topped Starbucks in a coffee taste. So coffee from Starbucks was expensive and apparently not of very high quality. So why would consumers even buy coffee from Starbucks?
The answer to the above question is explained by the strong brand value of Starbucks. However, as Starbucks grew, it became more "corporate" as well, and lost some of its unique feeling that it had 10 years ago. Another factor that multiplied the "corporate" feeling was that Starbucks had begun selling sandwiches in its stores (to maximize profits). However, the aroma of the sandwiches overpowered the smell of coffees.
So back in 2007, the problems Starbucks faced were severe, and in 2008 the former CEO Howard Schultz was rehired in order to make a restructuring of Starbucks.
The solutions to the problems
Though some of the problems are overlapping, I will try to divide the problems into two different categories:
The operating expenses were rising
The higher prices of Starbucks coffee weren't justified
Below I will analyze how Howard Schultz dealt with the problems.
How Starbucks became more efficient
Starbucks realized that not all of the new stores they had opened over the last couple of years were profitable, and therefore they decided to close 600 stores on a global basis in 2009. While the closings had a positive effect on same store sales and margins, management still wasn't satisfied. They wanted to completely renew its existing supply chain. Below are three steps management took to become more efficient:
Reorganize the supply chain organization.
Reduce cost to serve stores and improve execution.
Improve the delivery precision of the suppliers.
The first step involved simplifying the supply chain structure that had become way to complex during the expansion in the previous years. Basically everyone who worked at Starbucks was put into one of the following four basic supply chain functions:
Plan (such as production planning, replenishment or new product launches).
Source (which was further divided into either coffee or "non-coffee" procurement).
Make (manufacturing, whether it was done in-house or by contract manufacturers).
Deliver (personnel working in transportation, distribution or customer service).
In order for Starbucks to reduce costs, management needed a better understanding of the prices they were paying. So they began breaking items down by ingredients rather than purchase price, and they benchmarked the ingredient prices, so they became capable of negotiating better prices with their suppliers.
Meanwhile, the manufacturing group discovered a more efficient way of delivering coffee beans to its processing plants. They realized that a more decentralized process would allow Starbucks to reduce transportation costs and lead times. Therefore, they opened a fourth U.S. plant in 2009 in Columbia, South Carolina.
The last step management took to become more efficient was to improve the way they evaluated their suppliers. Starbucks began looking at these four metrics in evaluation process:
Safety in operations.
Service measured by on-time delivery and order fill rates.
Total end-to-end supply chain costs.
Enterprise savings (savings that come from areas outside logistics, such as procurement marketing or R&D).
Starbucks graded every supplier on each metric, which meant that they obtained an improved knowledge of the value of each supplier. The end result? In 2008, only three out of every 10 orders were delivered perfectly to stores. Today it's nine out of 10 orders.
Improving the brand of Starbucks
Below are some of the changes Howard Schultz made during the tough years (2007-2009) to improve the brand value of Starbucks:
Redesigned every store in order to recapture the coffeehouse feel. The stores were designed with softer colors, more exposed architecture and unique lightning.
The company decided to only deliver whole-bean coffee to its stores, and required "baristas" to grind the coffee in its stores.
Starbucks replaced its old espresso machines with a more sophisticated Swiss-made machine (Mastrena).
Sandwiches were removed from the stores, as the smell overpowered the aroma from the coffee.
Eventually stores were restocked with new sandwiches with healthier ingredients.
Howard Schultz was definitely successful with his changes to the supply chain, and I think the brand value of Starbucks is stronger today than during the "crisis" years. Last year, the EBITDA margin was 25%, and the company is still growing in the U.S.
Looking forward
In 2012 Starbucks included Latin America in the "Americas" segment, which added around 25% to revenues. Even though the Americas region is the largest contributor to Starbucks Corporation, management believes that the market isn't saturated yet, and they plan to open around 400 new stores this year (Latin America + the U.S. combined). I think they have learned from their past mistakes and I expect these new stores to be profitable.
Latin America
Aside from Mexico, Starbucks barely has any stores in the Latin America region (the below diagram). But this also means that the growth opportunities are larger, and there is no threat of cannibalizing sales.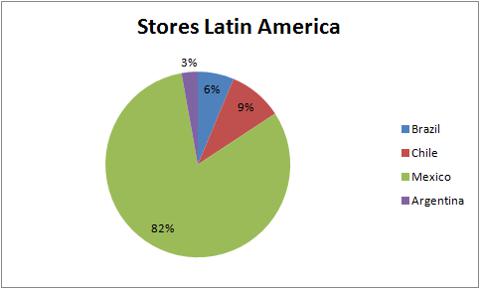 Click to enlarge
Source: Quezi.com
In Brazil, Starbucks plans to "open several hundred" stores over the next five years. In Argentina and Mexico, Starbucks operates together with its joint-venture partner Alsea, and Starbucks plans to add more than 300 new stores by 2015 in that region.
Moving away from coffee
As some of you might be aware of, Starbucks is in a phase of extending its product line. And in an attempt to strengthen its non-coffee profile, the company has recently removed "coffee" from their logo.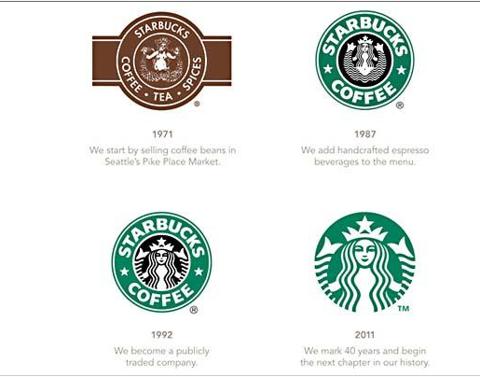 Click to enlarge
Starbucks acquired Evolution Fresh in November 2011, which will be centered on selling fresh juice rather than coffee, and this is an attempt of Starbucks to be a part of the $50 billion market of health and wellness. While I normally wouldn't give companies credit for entering new markets, as they probably do not have any competitive edge, I don't think I can apply that "rule" to Starbucks. I believe Starbucks has a strong brand among the customers who are willing to spend a few bucks extra to buy healthy food, and therefore, I like its chances of obtaining a decent market share in that market. If you trust Howard Schultz, Evolution Fresh is, indeed, off to a good start (from the most recent earnings conference):
We now offer Evolution Fresh ready-to-drink juices in over 800 stores in Seattle, Los Angeles, and San Diego and have plans to double that number in the coming months as sales are exceeding our own internal expectations.
In July, Starbucks began selling the energy drink "Refresher" in their stores. Refreshers are energy drinks made of real fruit, fruit juice and natural energy from Greene Coffee Extract. The size of the energy drink market in the U.S. is $8 billion, and if the Refresher brand is capable of gaining a few percentages of the market, revenues of Starbucks could increase by a couple of million dollars.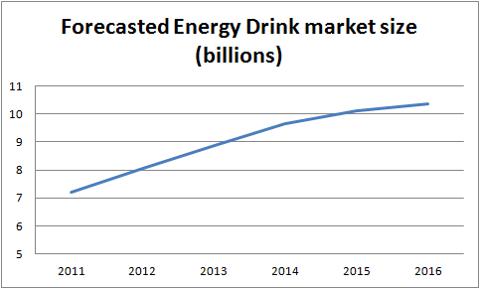 Click to enlarge
Source: Euromointor.com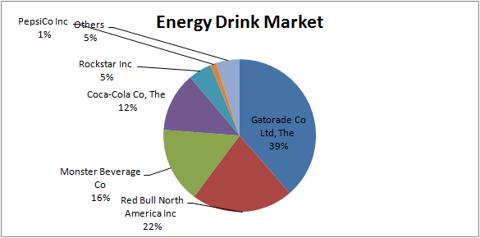 Click to enlarge
Source: Euromointor.com
Howard Schultz seems to be very satisfied with the launch of Refreshers, as he during the most recent earnings conference made the following comment:
Earlier reports suggest that Refreshers are proving to be a big hit with our consumers through both in-store and CPG channel sales
Starbucks isn't just trying to extend its line of beverages, but it also hopes to increase sales of food in their stores. To accomplish the goal, the company has made a strategic acquisition in June 2012 by buying the bakery La Boulange. With the acquisition, Starbucks plans to introduce many of the "secret" recipes into its U.S. company-operated stores under the La Boulange brand.
Expected future growth rate and EBITDA margin
To put some numbers on the growth opportunities, I believe that Starbucks America will grow at an average annual rate of 8% in 2013. The growth rate will gradually decline, and by 2022 I expect a growth rate of 5%. This is primarily due to my expectations of fewer growth opportunities as the market gets more saturated and the level of competition strengthens, though the decline is partially offset by my expectations of improved consumer confidence which has a positive impact on comp sales.
I think the EBITDA margin will improve slightly in the short-term due to lower commodity costs and the mobile payment technology (operating expenses will be reduced if customers can pay through their smartphone). However, over time I think competition will catch up, which will put a downward pressure on margins. Therefore, I believe the EBITDA margin of the Americas segment will be around 27% in 2013, and gradually decline until it reaches 22% in 2022.

Click to enlarge
In my next article, I will analyze the growth opportunities of Starbucks EMEA (Europe, Middle East and Africa). After I have analyzed every segment, I will end my article-series with a fair-value estimate.
Disclosure: I am long SBUX. I wrote this article myself, and it expresses my own opinions. I am not receiving compensation for it (other than from Seeking Alpha). I have no business relationship with any company whose stock is mentioned in this article.