On September 18th, Microsoft (NASDAQ:MSFT) announced that it would increase its quarterly per share dividend payout from $.20 to $.23. This represents a 2.96% yield based on the September 18th closing price of $31.20 and represents the ninth time in the last 10 years that Microsoft boosted its adjusted quarterly dividend. We were disappointed that the dividend only increased by 15% because Microsoft generated over $19.2B in free cash flows, even though it spent $10.1B for acquisitions. While we are acquainted with how a significant portion of Microsoft's liquidity holdings is held in tax-haven foreign subsidiaries and how a significant portion of Microsoft's operating income is also attributed to those subsidiaries, we think that Microsoft could have easily boosted its dividend by at least 30% since it still has $12B in domestic cash and generates over $10B in domestic free cash flow. If Microsoft had paid 100% of domestic free cash flow as an annual dividend, it would have resulted in the dividend being boosted by 50% from $.80 over the previous twelve months to $1.20 for the next 12 months.
click to enlarge images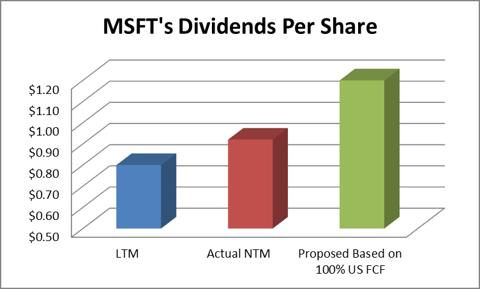 Click to enlarge
Source: Microsoft Investor Relations and Microsoft's 2012 10-K
We concede that Microsoft's stakeholders are content to see that cash stash accumulate in foreign subsidiaries because it would otherwise be taxes at up to 35% federal corporate tax rates if it was repatriated. Even when the US declared a 1 year tax holiday as part of the American Jobs Creation Act of 2004 for repatriating foreign subsidiary earnings at a rate of 5.25% instead of the 35% statutory federal tax rate back in 2005, Microsoft only repatriated $780M in foreign source income even though it had $48.7B in total liquidity balances as of that year. The Tax Holiday provision was only applicable if the company had a plan to reinvest those earnings in the US and that is why Microsoft only repatriated $780M in FY 2005.
Even though the company would be subject to up to 35% federal corporate taxes plus state taxes if it was to repatriate its $50B of net offset liquidity, maybe Microsoft should take a page from Phil Knight and just do it already. That money belongs to the shareholders of Microsoft Corporation. If the only desirable investment options for Microsoft to invest that cash is in high grade fixed income securities such as Treasuries, munis, mortgages and corporates, maybe investors would be willing to see the company pay the 35% tax rate on the $50B in liquidity assets so they could get a crack at monetizing the $32.5B in net after-tax liquidity assets that Microsoft has on its balance sheet. We believe that investors in Microsoft want exposure to a technology company, not to a glorified bond fund with technology related sideline businesses. If Microsoft bit the bullet and repatriated the foreign source liquidity and paid the 35% tax on it, it could distribute a special dividend of near $4/share to Microsoft's long suffering shareholders. Despite the fact that this would result in a $17.5B non-recurring charge for income tax expenses, we believe that the $2.10/share income tax charge would be offset by a positive signaling effect in the capital markets because investors would see that Microsoft is no longer holding the foreign cash hostage to dodge corporate taxes.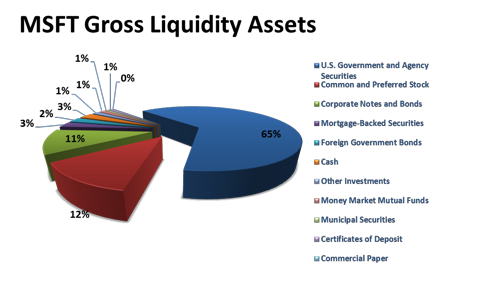 Click to enlarge
Source: Microsoft's 2012 10-K
Microsoft generated $800M in interest and dividend FY 2012 on its $73B of gross liquidity assets and this represents a 1.1% gross yield. Do Microsoft's shareholders have such low investing self-esteem that they cannot generate a 1.1% annual yield investing on their own? Of course if they had invested in Microsoft any time in 1999 or in Q4 2007, they would say "Yes, we do" because Microsoft has been dead-money using those dates as starting points and has not generated a 1.1% annual total return for investors who invested in Microsoft in those time periods. Even if we tax adjust the 1.1% annual yield Microsoft accrued for the 35% tax that Microsoft would pay to repatriate those assets as dividends and tax adjust it again for the 15% maximum tax rates for qualifying dividends, we expect that investors would need to generate a total pre-tax return of 2% on those assets to justify taking possession of the foreign source liquidity stash. We think that if you can't generate a 2% investment return on your own, you probably shouldn't be investing in stocks like Microsoft in the first place. Considering that Bill Gates and his father have advocated for increased taxes to reduce the deficit, we believe that they should be pushing this plan since it would generate $17.5B of corporate tax payments from Microsoft to the federal government and up to $4.875B in individual income tax payments from Microsoft's long suffering shareholders to the federal government.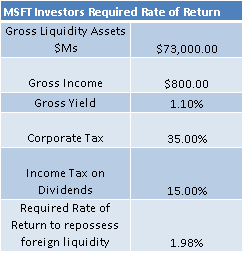 Source: Microsoft's 2012 10-K
In conclusion, we were disappointed in the incrementalist nature of Microsoft's recent dividend increase. While Microsoft paying a dividend now is much better than 10 years ago when Microsoft was not paying a dividend, we believe Microsoft is being too cautious with regards to returning cash to shareholders. Considering that the company wasted over $6B with its AQuantive deal, we believe that increased dividends to shareholders would result in the company being disciplined with its remaining cash. Now it has spent $8.6B on Skype, which can't even work with the low-end Nokia Lumia 610 Windows Phone. Former Nokia executive and current Nokia (NYSE:NOK) critic Tomi Ahonen pointed out that mobile service carriers have been hesitant to carry the Windows Phone because the carriers perceive Skype to be a threat to carrier revenues and profits. Even Nokia's CEO and Former Head of Microsoft Business Stephen Elop found himself in agreement with Tomi Ahonen in that the carriers don't like Skype very much and have resisted Windows Mobile and Windows Phone smartphones. Only AT&T (NYSE:T) was willing to step up to the plate and that was because AT&T Mobility's CEO Ralph de la Vega wanted to reduce handset subsidy expenses by pushing people away from high-quality Apple iPhones and towards low end Nokia Lumia Windows Phone devices. Considering that Microsoft generates $10B a year in domestic free cash flows and has $12B in domestic liquidity, it could have easily supported a 50% boost in annual dividends per share from $.80 to $1.20 and in following years pay out 100% of domestic free cash flows.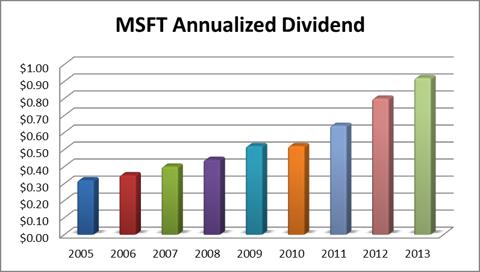 Click to enlarge
Source: Microsoft Investor Relations
Disclosure: I am long AAPL. I wrote this article myself, and it expresses my own opinions. I am not receiving compensation for it (other than from Seeking Alpha). I have no business relationship with any company whose stock is mentioned in this article.
Disclaimer: This article was written by an analyst at Saibus Research. Saibus Research has not received compensation directly or indirectly for expressing the recommendation in this article. We have no business relationship with any company whose stock is mentioned in this article. Under no circumstances must this report be considered an offer to buy, sell, subscribe for or trade securities or other instruments.