The divergence between equity prices and the economy has been widening since June. Driving equity prices has been the saga of central bank liquidity and intervention, with a largely disappointing second-quarter earnings season offset by hopes for liquidity from the Fed and the "irreversible" euro declaration by Mario Draghi, head of Europe's Central Bank (ECB).
The magnitudes of the moves were amplified by news ticker-reading trading algorithms, as the central banks have first dangled, then delivered liquidity programs, so the programs have bought, then bought harder. High-frequency trading, of which the former is a subset, makes up about two-thirds of market volume.
Their influence is being given greater room by equity outflows from traditional long-term players (mutual funds). As retail equity fund investors finally get back to break-even with 2007, they are cashing out and heading for the "safety" of bonds in big numbers. August was the worst month for outflows in two years (it used to be said that an equity bull market wasn't over until all of the retail money was invested, which is a good picture of where the current fixed-income market is about now).
Hedge funds - not all of whom are fast traders - have under-participated in the rally. It may be telling that most of the so-called "smart money" doesn't really trust the economy and policymakers enough to put more faith in the equity market, but that reluctance, in combination with the equity fund outflows, has made this year's trading market more sensitive than usual to computer-driven trading.
There are divergent schools of thought as we head into the last quarter. Much of Wall Street is trying to push the idea down to their client base that the last quarter will inevitably turn into a performance race as managers attempt to play catch-up (it's shaping up to be the worst year for institutional underperformance since 1996). Their rallying cry (apology?) is "don't fight the Fed."
Lined up with them on at least a temporary basis are charts, stock market technicals and the lure of the October 2007 peak. A lot of black box money will chase that number in the absence of significant bad news and/or selling pressure.
A third and very important ally on the bull side is the fear of selling. Although retail investors are abandoning the market in droves, the danger of being left further behind keeps the overwhelming majority of institutional investors from selling. Our undue obsession with year-end performance tables is something that money managers would love to get rid of, but it's beyond their reach.
On the other side are more numerically-oriented strategists who look at declining indicators of the global economy. For example, the Morgan Stanley (NYSE:MS) strategist Adam Parker is still calling for a sell-off to around the 1200 level by year-end. Such strategsts are making calls based upon the slowing economy and declining corporate earnings, which the market has ignored ("don't fight the Fed").
On Parker's side, there have been a number of canary-in-the-coal-mine signs in the last week. Federal Express (NYSE:FDX), which is supposed to be a leading indicator, had a disappointing earnings call in which the company cut its outlook for the coming year amidst pessimistic sentiment about global trade. CEO Frederick Smith was particularly sharp-tongued on the subject of China (the Fedex transcript is worth reading) and its dependence on exports for growth. Chinese demand for iron ore is collapsing (perhaps their central bank will print money and make it all better) and the latest flash PMI continues to show decline (47.8).
General Mills (NYSE:GIS) reported that domestic US sales were down 1.1% year-on-year. The CEOs of both Honeywell (NYSE:HON) and 3M (NYSE:MMM) warned about a weaker global economy and projections getting tougher to make. Wasn't it Peter Lynch who used to say it's the "E" that matters in "P/E?"
If that isn't enough for you, consider the following two charts comparing stock market performance against the manufacturing surveys from the New York Fed (ten years of data) and Philadelphia Fed (fifteen years).
click to enlarge images
First New York: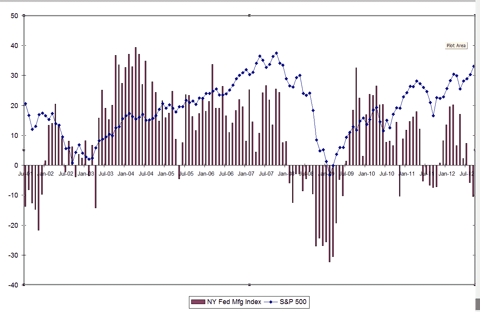 Then Philadelphia: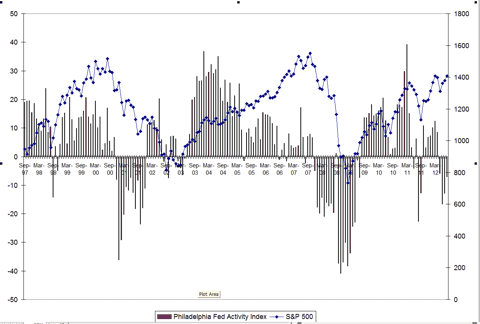 Sources: Philadelphia Fed, NY Fed, Avalon Asset Mgmt Co
Note the rather unprecedented recent phenomena of a rising S&P with declining survey results. It isn't completely new, but when it has (briefly) happened in the past, equity prices have turned to follow the manufacturing declines. The bull-quantitative easing case is that "this time is different," and that manufacturing will instead turn and follow the stock market. Indeed, the Wall Street Journal has been running articles wondering how the Fed will deal with the problem of the economy recovering too quickly.
That doesn't look to be too immediate of an issue. The New York survey came on top of a sharp drop in August industrial production. Some of the latter was related to Hurricane Isaac and some to lumpy utility output, but manufacturing fell by 0.7%. One can't put it all down to Isaac. Some rebound should logically be in store, but the New York survey gave no sign of it (-10.4 overall, -14.0 for new orders, both two-year lows). If the more prominent Philadelphia survey is negative again Thursday morning, it's a serious warning sign.
Is there an experience gap going on as well? Our completely unscientific sense is that older investment professionals are being skeptical on balance about what "QE-infinity" might accomplish, while younger professionals seem to be more enthusiastic. Since the Fed's announcement last week, probably everyone on Seeking Alpha has seen the ubiquitous overlay chart that shows equity prices rising during the first two periods of quantitative easing. The conviction seems to be that it if it worked twice it has to work again, but older veterans such as yours truly remember that as long as the Fed thinks it needs to be busy, there is still trouble ahead.
Going along with the QE chart is the often-repeated sentiment that consumer spending and housing are robust and will offset any niggling weakness in manufacturing. The trouble is that the former aren't really robust. The July retail sales number benefited from an historically large seasonal adjustment factor - on an actual dollar basis, sales fell. In August, core sales (excluding autos, gas and building materials) were up 0.1%, and that was before inflation.
September weekly chain-store reports are anemic. Trucking traffic is down, port traffic is down, and container volumes had the sharpest drop in three years. Luxury dining has been falling (though perhaps the recent market rally will give it a boost).
The bottom in housing is mostly likely in, and the sector should continue to recover, albeit at a mild pace. The latest data on housing starts and sales compare well with the housing trough year of 2011, but the sector has been relatively stable since the spring (apart from the stock prices of the homebuilders). Mortgage-purchase applications remain at very low levels, along with the overall level of activity. There is improvement, but not a miracle coming from housing this year.
This is a triple-witching week for options, so the central tendency for equities should be to hold up into the end of the week with a bias towards moving higher. The week after September expiration is another story, though, with the Dow down 16 of the last 21 times. It's partly due to end-of-quarter rebalancing and indeed, the tumble in oil markets suggests some imminent selling in equities (though the shorter the time period and the more widespread the conviction, the more careful you should be about the market biting you).
A bit of selling next week would actually do the markets some good on a technical basis, as it would take them out of their extended overbought posture. Then we could start October with a rally and begin looking for 1500 on the S&P.
How we get past earnings season without the lure of potential easing, though, I simply don't know. Dodging another crisis might do the trick, but how long can we play that game, or pretend that Apple (NASDAQ:AAPL) is the stock market? At some point we need an improving global economy, or valuations will adjust. The higher we go first, the steeper the adjustment.
Disclosure: I have no positions in any stocks mentioned, and no plans to initiate any positions within the next 72 hours. I wrote this article myself, and it expresses my own opinions. I am not receiving compensation for it (other than from Seeking Alpha). I have no business relationship with any company whose stock is mentioned in this article.