Nokia Corporation (NYSE:NOK) held its annual Nokia World event on September 5 and 6 and at that event it introduced its new Lumia 920 and new Lumia 820 smartphone devices. Like the Lumia Devices introduced last November, these phones use Microsoft Corporation's (NASDAQ:MSFT) Windows Phone operating system. This product announcement was widely anticipated by Nokia's stakeholders in the wake of its poor financial performance in the first half of 2012.
While Nokia World's Lumia Launch may have been another flop by Stephen Elop, at least it is expecting to release the Nokia Lumia 920 and 820 Windows Phones around November, while Research In Motion Limited (RIMM) won't even release its BlackBerry 10 phones until next year (January 2013).
Apple's (NASDAQ:AAPL) cutting-edge iPhone is already available for pre-orders and will have a six-week advantage in the market versus the Nokia Windows Phone, but Nokia Nation can take comfort in the fact that the Lumia Windows Phones will have a six-eight-week advantage versus the BlackBerry 10. This will at least help Nokia's Symbian and Windows Phone secure its hold on third place, in the wake of the Android-iOS duopoly.
Click to enlarge

Click to enlarge
Source: AppleInsider, Books & Review and BlackBerry's Q1 2013 conference call
As far back as 2009, Nokia and Research in Motion were the dominant players in the mobile communications devices industry. Nokia had held the market leadership in overall mobile phone volumes in 1998-2011 and Research in Motion was the leading smartphone maker in terms of revenues up until FY 2009.
Unfortunately, both of these firms suffered from the one-two punch combination from Apple's iPhone (iOS) and later by smartphones powered by Google's (NASDAQ:GOOG) Android operating system. We won't go into the specifics of how Google allegedly ripped off Apple's iOS operating system because that will be the subject of its own report. Nevertheless, both Nokia and RIMM have suffered a terrible reversal of fortune due to various management missteps.
It is obvious that Research in Motion made a critical mistake in dismissing Apple's iPhone as "one more entrant into an already busy space with lots of choice for consumers". RIMM even dismissed the idea that the iPhone could work until its engineers disassembled it.
Research in Motion's biggest management miss took place in 2010 when Apple released its iPad computing device. While Apple was changing the game with regards to how people think of computing devices, RIMM's Founder Mike Lazaridis was playing the part of Doubting Thomas with regards to the iPads prospects.
We can see that Lazaridis ended up showing that he was a believer in the iPad because RIMM released the Playbook in a pathetic attempt to counter the iPad's success. We also think that RIMM's co-CEO Jim Balsillie spent too much time trying to relieve his childhood hockey fantasies of owning his very own professional hockey team.
Steve Jobs was investing his time in bringing cutting edge web-enabled mobile computing devices to market, while Jim Balsillie was investing his time in trying to buy out bust-out hockey teams. We believe that this led to BlackBerry's products being of such a low quality that they resembled the Toronto Maple Leafs while Harold Ballard was the majority owner of the team.
Nokia has also joined RIMM in the sports business operations as well, and unlike RIMM, Nokia has had some success in its sports business operations efforts. Granted, however, Nokia's sports business operations have been limited to naming rights deals for college football's Sugar Bowl football classic from 1995 to 2006 and the Tel Aviv Municipal Civic Center (Nokia Arena).
Unfortunately for Nokia, its success in sports naming rights deals has been more than overshadowed by its failure to capitalize on its research to develop and commercialize new products. Despite spending $40B in Research and Development, Nokia's mobile phone market share has declined from 40.4% in 2007 to 21% in 2012.
Maybe Nokia should have been devoting all of its resources to migrating away from low-end mobile phones and towards next-generation smartphones. While Apple was bringing to market the iPhone and the iPad from 2005-2010, Nokia leaned harder on its low-end mobile phone business, doubled down on telecom equipment by merging Nokia Networks with Siemens Communications to form Nokia Siemens Networks, and spent $8.1B to acquire Navteq.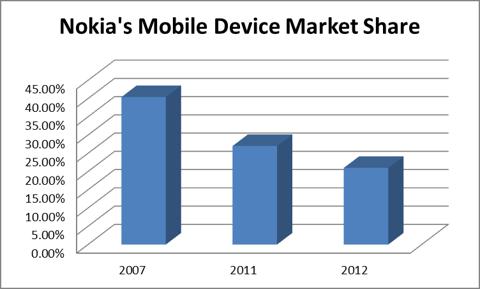 Click to enlarge
Source: Wall Street Journal
We're glad that Nokia's CEO Stephen Elop was kind enough to fess up to the damage his Burning Platform memo wreaked on Symbian sales. Nokia's smartphone market share dropped from 29% around Q4 2010 to 15% in Q2 2011 and was 6% as of Q2 2012. Nokia's stakeholders point to the 2M linked quarter volume increase in Q2 2012 versus Q1 2012 for Lumia devices and we counter with Nokia's Symbian and other smartphone devices that have seen a 3.7M sales decline in that same time period.
We remembered the original Osborne Computer Company trying to generate favorable buzz for its new Osborne Executive computers and it pre-announced the new computer line even though its Osborne 1 computers were selling well and the Osborne Executive computers were not even in the manufacturing stage.
The end result was that no one wanted to buy Osborne 1 computers because they were waiting for the new and improved Osborne Executive computers, Osborne declared bankruptcy and gave birth to the term "Osborne effect". We can see that Elop and Microsoft Osborned the company three times as follows:
The Burning Platform Memo in February 2011 and the nine-month lag between the memo and the Nokia Lumia 800 launch in the UK.
Microsoft confirmed in July that not only was Windows Phone 7 not upgradeable or compatible with Windows Phone 8, but that MSFT deliberately planned to throw WP7 users under the bus of having an obsolete smartphone device.
Nokia's new product launch for its Lumia Windows Phone 8 devices, in which we estimated that people would be lucky to get the WP8 devices at the beginning of November.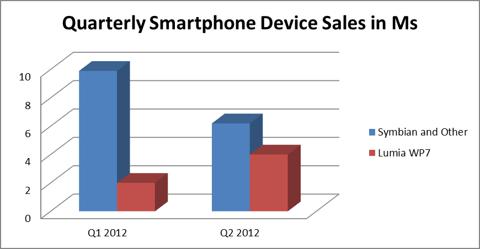 Click to enlarge
Source: Nokia's Q2 2012 Earnings Release
We would give Nokia/Symbian/Windows Phone third place in the smartphone operating system horse race versus Research In Motion. Unfortunately for Nokia, it will still be a distant third compared to the Android-iOS duopoly. We believe that the Android-iOS duopoly is a hungry bear and Nokia and RIMM are campers trying to outrun the bear.
While we don't think that Nokia can outrun the bear with its Lumia Windows Phone devices, we believe that Nokia can certainly outrun RIMM, especially because Nokia has a couple of new devices that will be released in November, while BlackBerry's boosters will be waiting until next year for the new BlackBerry 10. We also expect Nokia to outlast Research In Motion because Nokia has more liquidity to sustain it during this time period.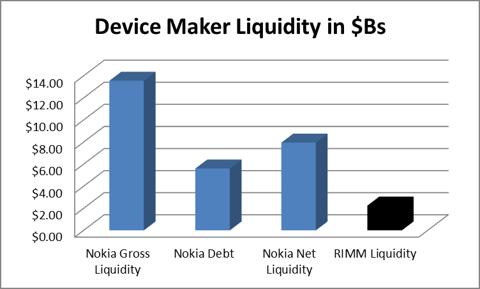 Click to enlarge
Source: MRQ Earnings Releases for Nokia and RIMM
In conclusion, we were unimpressed with the launch of the Lumia 820 and 920. However, we give kudos to Nokia for at least holding a Nokia World 2012 event and announcing that it would be selling the Lumia 920 and 820 devices and attempting to position those devices to be the featured flagship smartphone devices on Microsoft's Windows Phone 8 operating system.
While the Lumia WP8 phones will be suffering from a six-eight week delay versus Apple, we acknowledge that it is expected to at least have a six-eight week head start on the BlackBerry 10. We think it is too early to enter a long position in both of these companies, but so far we see that Nokia is at least showing some incremental progress. Granted, incremental progress isn't much good in the technology device sector where disruptive change takes place every nano-second.
Finally, the reason why we believe that Nokia will be able to outrun its fellow mobile device also-ran RIMM is because Nokia also has other businesses (Nokia Siemens and Nokia Location & Commerce) that it could try to monetize in order to raise funds to ensure that it outruns RIMM.
Disclosure: I am long AAPL. I wrote this article myself, and it expresses my own opinions. I am not receiving compensation for it (other than from Seeking Alpha). I have no business relationship with any company whose stock is mentioned in this article.
Additional disclosure: This article was written by an analyst at Saibus Research. Saibus Research has not received compensation directly or indirectly for expressing the recommendation in this article. We have no business relationship with any company whose stock is mentioned in this article. Under no circumstances must this report be considered an offer to buy, sell, subscribe for or trade securities or other instruments.