Remember a time when jobs flocked overseas and everything we bought was from China, India, South America, or Japan? Well folks, you're about to see a reversal of that. In fact, we're already seeing signs of it. Why? It's simple: the value of the American dollar has fallen so far that foreigners now want to buy our products because they are so cheap. What does this mean for us, as investors? It means now is the time to buy undervalued manufacturers of specialized products.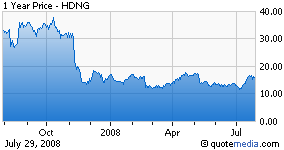 As is common in the FIPortfolios.com Small Cap Momentum model portfolio, we have picked one of the finest companies to benefit from this change in economic momentum. This company is called Hardinge Inc. (NASDAQ:HDNG).
About Hardinge
Hardinge engages in the design, manufacture, distribution, and marketing of computer controlled metal-cutting lathes, machining centers, grinding machines, collets, chucks, indexing fixtures, and other industrial products. Hardinge provides its services to aerospace, automotive, construction equipment, defense, energy, farm equipment, medical equipment, recreational equipment, telecommunications, and transportation industries, as well as to small and medium-sized independent job shops.
Hardinge currently sells its products in the United States, Canada, China, Germany, and the United Kingdom, through distributors, independent agents, manufacturer's representatives and through its direct sales force (only in U.S.). Hardinge was founded in 1890.
Competition
Hardinge has several competitors, but the most prominent competitor is Hurco Companies (NASDAQ:HURC). Hurco has a slight advantage over its user interface to the machining tools, but its product line is far less diversified that that of Hardinge. In addition, Hardinge pays a dividend and has been around for nearly 70 years longer than Hurco, which was founded in 1968.  
Valuation
Hardinge is fairly valued with a price-to-earnings ratio of around 20 (ttm), which is average for the industry. What I really like about Hardinge, though, is their price-to-earnings growth ratio, which is just under 0.5. With their global sales channels, Hardinge has the potential for growing significantly and meeting the global demand for heavy machinery
Why a devalued dollar will help Hardinge
Imagine you were a country flush with dollars from the high-flying days of exports to the US. Now imagine those dollars are declining rapidly with no end in sight. What do you do with those dollars? You could trade them to other countries for goods, but they don't want a rapidly depreciating asset. So that's off the table. What else could you do with those dollars? Aha! You could buy American products, because they will readily accept those dollars. And you might as well buy products that increase the productivity of your country. Enter Hardinge. You will almost certainly see sales ramping up in the next few quarters (and years) for Hardinge; especially since products can be manufactured locally in your home country, thanks to their global manufacturing and sales channels.
Add this to the fact that Hardinge is trading at an incredibly low price as compared to its stock value in the past 5 years, and you have a winning combination.
Dividend Record and Rate
As if that wasn't enough, Hardinge also provides a dividend to its shareholders. This dividend has been paid out every quarter since 1995. In 2005, the dividend was increased 300% and in 2006 it was increased again by nearly 70%. Sitting at $0.20 per share right now, the yield is a respectable 1.2%. With increasing revenue and earnings-per-share expected in the future, this dividend will likely increase again in 2009.
Disclosure: The author of this article owns shares of Hardinge.