The good news is that housing starts were up by 2.3% in August 2012 and, year-over-year, they were up by 29%. Starts of single-family homes, the largest segment of the market, increased by 5.5%, but starts for multifamily homes dropped by 4.9%.
The increase was less than expected, but the trend continues upward. If we look at the chart of housing starts for the last year, we can be very encouraged.
However, if we look at the chart for the last ten years we can get pretty discouraged. At one point, housing starts exceeded a 2.2 million unit annual rate! That was in 2006. The United States has not been above a 1.0 million unit annual rate since 2008.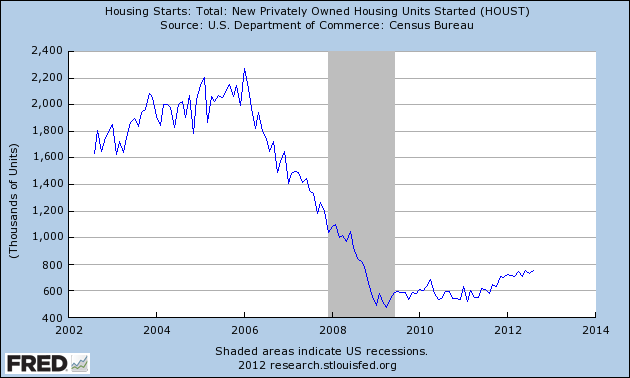 Saying that the housing sector is in a recovery phase seems to be true … but it also seems like we are looking for "green shoots," similar to the way we were looking for the "green shoots" of economic recovery in 2009.
Building permits slipped one% in August … but this was less of a drop than was expected. This came after a surge in permits in July. Again, the data on single-family homes were up … but, only by 0.2% … while the permits for multifamily units fell by 3.0%.
Existing home sales increased by almost 8.0%, the fastest rate since May of 2010 and far above expectations.
The median price of a resold home was 9.5% above the year earlier. One of the reasons given for this increase is that there were fewer distressed sales this year than last. In fact, distressed sales have fallen from 31% of all home sale in August 2012, down from 22% one year earlier.
All of this information is good news, but we need to keep this good news in perspective. The housing sector appears to be improving, but it is way below where it was in a more healthy economy.
Real economic growth has been slightly above 2.0% for the past four quarters. I do not believe that the growth rate of the United States economy will become must faster than this over the next year or two.
Part of the slow economic growth we are experiencing is a result of under-used resources. As I have written in other blogposts, there is a substantial amount of underemployed labor and there is a substantial amount of under-used manufacturing capacity. In the housing sector there is also a substantial amount of under-used capacity that has come from the previous expansion that took place in housing, a build up that is captured in the chart presented above showing the experience of the past ten years. It is relatively easy to become a builder and a long period of sector growth coupled with ample supplies of money, which housing benefitted from in the 1990s and 2000s, results in "everybody and their brothers and cousins" becoming builders. These "late-in-the-game" builders may only build a minimal number of houses
... but, they do become a part of the industry.
As with unused manufacturing capacity and a dislocated labor market, the housing industry needs to be re-structured before more rapid economic growth takes place. In periods of re-structuring, however, it takes times for this under-utilization to be worked off. And, because this misallocation of resources took place over such a long period of time, the restructuring will not take place over night.
The Federal Reserve is hoping to pump this growth rate up by keeping interest rates low and by purchasing mortgage-backed securities to keep the capital markets liquid. Analysts are also counting on the recovery of housing prices to help re-build consumer wealth so that consumers will begin spending more freely once more … the "wealth" effect.
But, we need to put this all in perspective. Consumers still have lots and lots of debt and the de-leveraging of the consumer sector continues. Interest rates are at historic lows, yet mortgage originations remain low, not only because consumers are not committing but because banks have tightened up credit standards and are not so generous in their lending. Furthermore, there are still many financial institutions that have financial difficulties.
I am glad to see more life in the housing sector. But, there are still many structural problems that remain from the previous efforts to stimulate this area in many different ways. Excessive stimulation efforts create dislocations in the allocation of resources that must be worked off before a full recovery can occur.
The housing sector is improving. May it continue to do so … but, don't expect too much out of this part of the economy in the near future. And, we are just going into the fall and winter seasons … not the best for home building.
Disclosure: I have no positions in any stocks mentioned, and no plans to initiate any positions within the next 72 hours. I wrote this article myself, and it expresses my own opinions. I am not receiving compensation for it (other than from Seeking Alpha). I have no business relationship with any company whose stock is mentioned in this article.