I have recently written a few articles on forming a diversified, safe, and high-yielding retirement profile. I compared Verizon (NYSE:VZ) and AT&T (NYSE:T), then Microsoft (NASDAQ:MSFT) and Intel (NASDAQ:INTC). Since my goal is to develop a retirement portfolio of approximately 10 stocks, I'd like to compare the two large retailers on the Dow 30, Wal-Mart (NYSE:WMT) and Home Depot (NYSE:HD).
The first stock I'd like to discuss as an IRA candidate is Wal-Mart . For the 20 year period between 1992 and 2012, Wal-Mart's share price has climbed from $14.75 to $74.37, which is an 8.8% annualized gain in share price. This will more than keep up with inflation, which is a major concern about retirement portfolios as retirees live longer and longer. If you retire at 65, it is more likely than ever to live into your 90's, and you can be certain that US dollars will not have the same purchasing power 20-30 years later.
click to enlarge images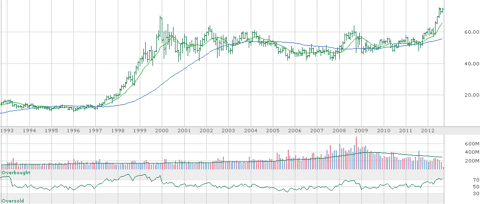 Click to enlarge
The combination of share price gains with adequate yield is the goal of most retirement portfolios, so let's examine Wal-Mart's record in this area
This is a plot of Wal-Mart's quarterly dividend over the past 20 years: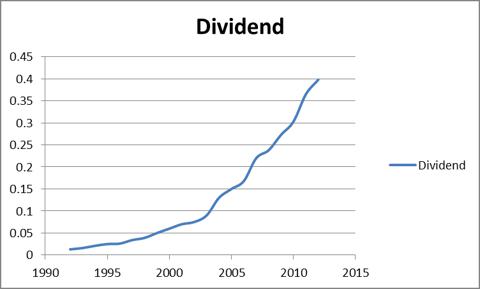 Click to enlarge
Remarkably, Wal-Mart's dividend was increased each and every year. It is worth noting that even in the massive tech crisis, not once has Wal-Mart suspended or even reduced their dividend payouts. Over a 20-year period, Wal-Mart has increased its quarterly payout from $0.013 to $0.398. This is an astonishing 19.1% average increase every year for 20 years! For those who say that Wal-Mart's growth is over, over the past five years, the average annual dividend increase has been over 13%, with the financial crisis going on.
Home Depot has also been an excellent story over the past 20 years. Over the same period, the share price has climbed from $9.22 to $59.47, a 10.3% annualized growth rate.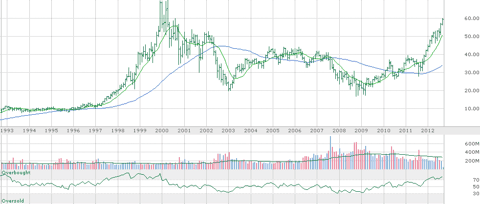 Click to enlarge
As far as dividends go, Home Depot has raised its quarterly payout from $0.005 in 1992, to $0.29 in 2012. This is an incredible 23.6% growth rate, over a 20 year period.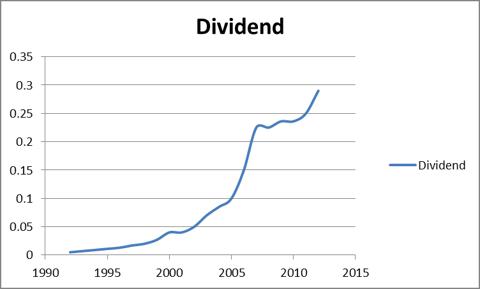 Click to enlarge
Now, let's see how a hypothetical $10,000 investment in 1992 would have grown. Assuming all dividends will be reinvested, both of these companies rewarded their shareholders handsomely over the last two decades. $10,000 invested in Wal-Mart 20 years ago would be worth $62,835 today. Not a bad return, by any definition. However, the same amount invested in Home Depot would be worth almost $10,000 more, with a current value of $72,358.
Having said that, the past performance of a stock is by no means a guarantee that similar gains will be seen in the future. However, past performance of a company, especially in areas like increasing dividends, are very highly correlated with how a company will perform in the future. In other words, not a rock solid guarantee, but a pretty good chance, and in investing, it's all about giving ourselves the best chances possible at future success.
Analysts predict Home Depot to grow their earning per share at 13% per year for the next three years. During the same time period, Wal-Mart is projected to have a 10% annual growth rate. It is also worth noting that Wal-Mart, by nature, is less affected by the condition of the economy, and is actually better positioned to make money if times get rough.
In conclusion, Wal-Mart is the safer play here, more appropriate for current retirees, who rely on consistent income from their portfolio. For those of us with a 10-year or more timeframe, Home Depot is definitely the way to go for both growth and income.
Disclosure: I have no positions in any stocks mentioned, and no plans to initiate any positions within the next 72 hours. I wrote this article myself, and it expresses my own opinions. I am not receiving compensation for it (other than from Seeking Alpha). I have no business relationship with any company whose stock is mentioned in this article.