Millennial Media (NYSE:MM) is a leader in the exciting mobile advertising space - that's the good news. Unfortunately, with 64.3 million shares scheduled to come off lock-up on September 25, rapidly intensifying competition, and a business model that is unlikely to become meaningfully profitable, we believe shares are fairly valued at $6-$7, approximately 50% downside from current prices.
We believe Millennial Media has told the street an exciting growth story, but has failed to adequately articulate the serious and growing, competitive challenges they face - notably numerous competitors make the exact same claim as Millennial Media: that they are the leader in the mobile advertising sector. At over 100x consensus 2013 EPS estimates, we believe there is significant downside to shares.
In this report, we detail the following points:
1. The promotional hype by management ahead of its huge 64.3 million share lock-up expiration which occurs on September 25.
2. The intensifying competitive environment, far greater than claimed by the company's management, which is led by Apple (NASDAQ:AAPL) and Google (NASDAQ:GOOG), and more recently Facebook (NASDAQ:FB) and Samsung (SSNLF.PK) but which also includes numerous well-capitalized public and private competitors.
3. Our belief that Millennial Media's IP is massively overvalued by the market. It creates no barriers to entry, nor does it appear to give Millennial superior pricing or margins versus peers.
4. Our view that Millennial Media is slowing international expansion because of intense competition and in an effort to slow expense growth (and thereby attempt to create earnings upside).
5. Disappointing long-term profitability due to a business model with limited operating leverage and scalability and potential for pricing pressure.
6. Limited probability of a buyout at premium to current price.
Massive Lock-up Expiration
On September 25 64.3 million shares, representing 84.5% of shares outstanding, of Millennial Media come off of lock-up. In the recent past we have seen shares of Angie's List (NASDAQ:ANGI), Facebook, and Groupon (NASDAQ:GRPN), all decimated as their lock-ups expired.
Millennial Media Principal and Selling Stockholders

Click to enlarge
(Click to enlarge)
Source: Millennial Media IPO Final Prospectus page 125
We note that several members of management sold on the IPO, including CEO Paul Palmieri, COO Stephen Root, CTO Chris Brandenberg, and CFO Michael Avon.
In addition, over a year prior to the IPO, in December 2010, Messrs. Palmieri, Root and Brandenberg sold 2,302,590 shares for $3.2572 per share to the company's VC investors as part of the company's $27.5 million Series D raise - that is, for $7.5 million of the $27.5 million.
Series D Stock Repurchase from Millennial Media Officers

Click to enlarge
(Click to enlarge)
Source: Millennial Media IPO Final Prospectus page 105
This management group still owns 14.3 million shares or 22% more than the entire current float. Clearly additional sales, even at a significant discount to current prices, could provide life changing wealth to each of these individuals.
With the upcoming lock-up expiration, management has chosen not to maintain a low profile, but instead has been actively touting their story. Millennial CFO Michael Avon recently participated in investor meetings organized by Canaccord Genuity Analyst Michael Graham, which left Mr. Graham gushing. Meanwhile, Millennial CEO Paul Palmieri appeared on Jim Cramer's "Mad Money" pumping his company's story. And later today, Mr. Palmieri will be presenting at Goldman Sachs Communicopia Conference.
Notably, if this were pre-IPO, Millennial would not be permitted to hype their shares in this manner. Ironically, the company may end up selling far more shares post lock-up than they did in their IPO.
We don't know the intentions of Millennial's VCs Bessemer Venture Partners, Columbia Capital, Charles River Ventures, or New Enterprise Associates. They did not sell on the IPO, however that could be for a variety of reasons, including advice of underwriters. Perhaps they will make a move such as Yelp's (NYSE:YELP) and add an additional self-enforced lock-up - although, notably, no insiders sold on Yelp's IPO, which is not true with Millennial. What is clear is that the cost of shares to VCs is dramatically below the current price, and that they would reap huge returns selling shares, even at significant discounts to the current share price.
Issuances of Stock in Private Financing Rounds

Click to enlarge
(Click to enlarge)
Source: Millennial Media IPO Final Prospectus page F-21
We'd anticipate sales from former executives of Condaptive, a company purchased by Millennial on May 6, 2011, for $2.1 million, 24,329 shares of common stock, and 1,448,080 shares of restricted stock. If one wants to guess what Condaptive management might be thinking, look no further than a blog post from Paul Martino of Bulldog Capital on the day of Millennial's IPO. Mr Martino praises former Condaptive CEO Hemang Gadhia for taking so much pre-IPO stock.
"Congrats and let's hope that stock price stays high when the lock up comes off!"
We think that sums it up perfectly.
Intense Competitive Environment
We believe the competitive environment is far more challenging than Millennial Media has led investors to believe. For example, in the "Mad Money" interview, Mr. Palmieri made it sound as if there are few serious competitors other than Apple and Google. He suggests that Apple likes Millennial because Millennial provides app developers a way to make money. What Mr. Palmieri fails to mention is that dozens of companies do exactly the same thing as Millennial. For investors that don't dig deeper, Millennial sounds exciting, but they are one of many offering essentially the same services. In their SEC filings, Millennial comments that:
"The mobile advertising market is highly competitive, with numerous companies providing mobile advertising services. We compete primarily with Google Inc. and Apple Inc., both of which are significantly larger than us and have more capital to invest in their mobile advertising businesses."
As if Google and Apple were not threatening enough, there are other enormous publicly traded companies now entering the mobile ad exchange market - notably Samsung and Facebook. Clearly, Facebook has extensive analytics capabilities and deep relationships with advertisers, which should drive rapid growth and customer acquisition.
Outside of the large players, Millennial claims to be the "leading independent." In its prospectus, Millennial notes that based on a December 2011 report from IDC, they are the second largest mobile display advertising platform in the United States with a 16.7% market share. In the hyper-growth mobile advertising market, this is a powerful claim, and obviously a boast that could lead to hundreds of millions in market cap. Of course, there are many ways to slice data, and apparently many in the space, also believe they are the leader. As we detail below, numerous large, well-capitalized competitors make exactly the same claim, that they are the leader in mobile advertising.
Below is a list of competitors in the mobile advertising space. We recognize that the list is incomplete, but note that it includes numerous competitors that are well capitalized with deep managements and Boards of Directors, industry contacts, and funds to grow rapidly.
Mobile Advertising Competitors
Company: Velti PLC (VELT)
Description from company: "Velti is the leading global marketing platform, connecting brands with consumers around the world. We deliver technology and services that enable companies to engage with and reach their consumers through innovative mobile marketing and advertising efforts. Our mGage platform is available for agencies and companies ready for a set of self-service based tools that consolidate media management, simplify mobile asset production, and deliver highly engaging messaging campaigns."
Funding: Publicly traded
Notable: Trades at 15x consensus 2012 EPS estimates
Company: InMobi
Description from company: "Since our inception in the Asia-Pacific region in 2007, InMobi has grown to become the largest independent mobile ad network and a global leader in the mobile technology space."
Investors: Kleiner Perkins, Sherpalo Ventures, SoftBank
Currently hiring: 86 positions
Notable: 850 employees, but still not profitable. Hired 2 senior Millennial Media employees in summer 2011. More than twice as many monthly impressions as Millennial Media
Company: Jumptap
Description from company: "The leader in targeted mobile advertising. Our patented targeting technology, exclusive data partnerships and carrier relationships give us unparalleled insight into the mobile landscape. We use data to help us create the most effective programs for advertisers, as well as industry-leading research about how to best target mobile users."
Investors: General Catalyst Partners, Redpoint Ventures, Summerhill Venture Partners, Valhalla Partners, Alliance Bernstein, WPP, Keating Capital
Currently hiring: 40 positions
Notable: Reported to be planning an IPO in the next 12 months
Company: Mojiva
Description from company: "The team from Mojiva makes your job easier by developing unique, cutting-edge mobile advertising campaigns and monetization strategies for agencies, brand advertisers and publishers around the world. Mojiva provides a monthly reach of over 1 billion unique devices worldwide, with 270 million of those devices coming from the U.S."
Investors: Vaux les Ventures, Pellon Venture Partners, Bertelsmann Digital Media Investments, Shamrock Capital Advisors
Currently hiring: 4 positions
Company: Adfonic
Description from company: "We offer advertisers and agencies a smarter way to buy mobile inventory with the widest possible access to global mobile web and app inventory - over 100 billion global ad impressions each month through a single buying point. We bring together the best people, the latest tech, the fastest algorithms and the deepest data. This is why our mobile advertising formats, performance metrics and dedicated agency console give customers better results with more control."
Investors: Gordon Shields
Currently hiring: 18 positions
Notable: Currently Headquartered in London, 100 employees
Company: Greystripe
Description from company: "Greystripe, a division of ValueClick (VCLK), is the leading mobile ad network generating exceptional results for brands."
Funding: $17.6 million prior to acquisition by Valueclick
Investors: Owned by ValueClick . Prior investors Incubic Venture Fund, Monitor Ventures, Steamboat Ventures, Peacock Equity
Currently hiring: 10 positions
Notable: Acquired by ValueClick on April 25, 2011 for $70 million cash. ValueClick currently trades at approximately 15x 2012 EPS.
Company: Smaato
Description from company: "Smaato provides a one-stop shop to mobile app developers to maximize mobile advertising revenues globally. Smaato provides Ads for Apps, and operates the leading mobile advertising optimization platform. More than 58,000 fast-growing app developers and publishers use Smaato to monetize their content in over 230 countries."
Funding: $18 million
Investors: Aeris Capital, Wilson Sonsini Goodrich & Rosati, EDB Investments
Currently hiring: 9 positions
Company: a-mo-bee
Description from company: "[a•mo•bee] is the world's largest digital advertising technology company that leads the market with: the most advanced platform for publishers and operators to monetize their digital advertising inventory. Digital advertising expertise and innovative proprietary technology to deliver high ROI digital ad campaigns for large brands and agencies."
Funding: $54 million prior to acquisition by SingTel for $321 million
Investors: Accel Partners, Sequoia Capital, Globespan Capital Partners, Vodafone Ventures, Cisco, Motorola Solutions, Telefonica, Amdocs
Currently hiring: 21 positions
Company: MoPub
Description from company: "MoPub is a one-stop ad serving platform designed for mobile application publishers to manage their ad inventory on iOS and Android. MoPub enables app publishers to optimize multiple sources of advertising - including direct ads, house ads, ad network, and real-time bidding through MoPub Marketplace - in a single product."
Investors: AngelPad, Accel Partners, Harrison Metal Capital
Currently hiring: 20 positions
Notable: Founded in 2010 by a group of former Google and AdMob engineers and product managers
Company: Burstly
Description from company: "Burstly helps app developers cross-promote their new apps and drive in app purchases, work with a ton of 3rd party monetization partners, as well as enable them to create direct sales relationships. The toolset works across multiple products including custom badges and buttons, display ads, and in-game rewards."
Investors: GRP Partners, Rincon Venture Partners, Alex Karelin, Softbank Capital
Currently hiring: 10 positions
Company: Flurry AppCircle
Description from company: "Flurry AppCircle empowers companies to efficiently build high-quality audiences for their apps. Powered by consumer insight that Flurry Analytics gathers from 600 million mobile users per month - creating the world's largest app audience data-set - Flurry AppCircle uses advanced targeting to find the right users for your app and keep them coming back."
Investors: Draper Fisher Jurvetson, InterWest Partners, Union Square Ventures, First Round Capital, Borealis Ventures, Menlo Ventures
Notable: The leading apps analytics/big-data company now expanding into mobile advertising
Clearly, there is a lot of competition in the space, with a lot of players that view themselves as the leader.
Intellectual Property Not Quite Worth $1 billion
Much of Millennial's almost $1.1 billion market cap can be attributed to its "proprietary technology and data platform, known as MYDAS" which "determines in real-time which ad to deliver, to whom and when, with the goal of optimizing the effectiveness of advertising campaigns regardless of device type or operating system."
This sounds pretty powerful. However, there are a couple of points worth noting. First, most competitors in this sector have their own "proprietary" analytics algorithms designed for the same purpose as MYDAS. Second, MYDAS had zero patents at the time of Millennial's April IPO, with the company noting "we have begun to seek patent protection for certain of our technologies and currently have five U.S. patent applications on file, although there can be no assurance that these patents will ultimately be issued." Third, Millennial is actually being sued for patent infringement by Augme Technologies (AUGT.OB). Last, in the five years leading up to Millennial's IPO, Millennial spent less than $10 million in aggregate on technology and development.
So MYDAS, the powerful "proprietary" technology and data platform, the basis for a $1.1 billion valuation, presumably cost under $10 million to develop.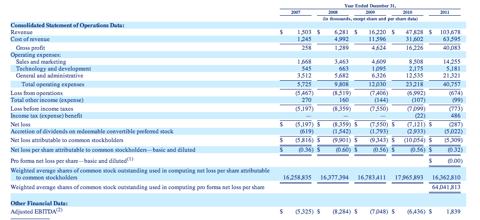 Click to enlarge
(Click to enlarge)
Source: Millennial Media IPO Final Prospectus page 38
This is not a technology that keeps competitors out of the mobile advertising industry. This is not something that numerous competitors aren't developing and improving upon. This is an analytics tool that is necessary simply to be in the game of online advertising, a low-margin, non-scalable business.
Slowing International Expansion Does Not Compute
On Millennial's 2nd quarter earnings conference call CEO Palmieri commented:
"While we continue to make investments in Europe, and recognize the long-term potential in this market, we made a strategic decision to proceed at a slower pace in our roll out in the region during the quarter in light of the prevailing macroeconomic conditions and instead opportunistically have shifted some OpEx to facilitate our growth in Asia along with greater investment in extending our technology differentiation."
Frankly, we find it ludicrous that Millennial would blame macroeconomic conditions in Europe as a reason to slow growth in that important region. If mobile is growing at a 65% CAGR over the next several years (and presumably more in the earlier years), then even with a macroeconomic headwind, we'd expect Europe to be growing 60%, or 50%, or 40% - still hyper-growth mode. Millennial has $123 million in cash on its balance sheet. If, as Mr. Palmieri claims in his "Mad Money" interview, that "we're in it for the long-term" shouldn't Millennial be maintaining its investment? We find it very confusing and believe that this geography - which already has a number of large competitors - may simply not be profitable. We believe its possible Millennial is backing away from this geography because it will negatively impact the company's P&L, harming the stock price and making insider sales more challenging. This strikes us as a far more logical explanation than a cash rich company backing off a slightly less hyper-growth market than they had anticipated.
Slowing International Expansion Does Not Compute
We are highly skeptical regarding Millennial Media's long-term profitability. On their 2Q conference call, Stifel, Nicolaus analyst Jordan Rohan asked "Is significant EBITDA profitability something that's on your mind as you look at 2013 or 2014? What should the trajectory in margins really be?" With Millennial CFO responding "I really can't talk about 2013 at this point."
We don't anticipate meaningful EBITDA in either 2013 or 2014. Gross margins are capped at approximately 40-42%. Millennial essentially buys space on apps, and captures a 40% margin. We would expect that as the industry gets more crowded, this number could actually decline. To grow top-line, Millennial needs to hire.
As Jim Edwards wrote in his May 15 article on businessinsider:
"The technology and the medium may be cutting edge, but the revenue model is decidedly old school: Millennial makes its money by employing a lot of guys to drum up business through sales calls."
To quote from Millennial's 10-Q for the 1Q, "The number of full-time sales and marketing employees increased from 48 at March 31, 2011 to 84 at March 31, 2012." The story did not get better in 2Q with Millennial stating in its 10-Q, "The number of employees in sales and marketing functions grew from 44 at December 31, 2010, to 100 at June 30, 2012, and we expect our sales and marketing expense to increase in the foreseeable future as we further increase the number of our sales and marketing professionals and expand our marketing activities."
Overall headcount increased from 119 employees on December 31, 2010 to 295 employees at June 30, 2012.
For those who hope it will get better, the empirical evidence does not suggest this to be the case. Specifically, we site InMobi. InMobi, with 850 employees, across 30 countries, including 125-150 in the United States, is still losing money. Fortunately, following a $200 million financing round last year, InMobi can afford to grow and compete aggressively, and to lose money. According to InMobi CEO Naveen Tewari, "We are in investment mode so we're concentrating on that. We have internal targets but we'd rather keep it that way."
Again, to be clear, this is an advertising business. The mobile medium is exciting, but like TV or print advertising, it is a sales call driven business. Investors should not be confused and mistake mobile for viral - this is not LinkedIn (NYSE:LNKD), Facebook, Twitter or Pandora (NYSE:P). There is no social element and nothing viral. Advertising companies simply do not sell for 100x forward earnings.
We estimate that Millennial may have revenues of $500 million in 2015. Generously applying a 10% EBITDA margin would result in $50 million of EBITDA, or about $0.50 of EPS. Applying an 8-10x EBITDA margin or 15x 2015 EPS, would result in a price of approximately $6-$7.50. Of course, profitability could prove far more elusive.
Improbable buyout candidate
It has been suggested that Millennial may be acquired by a larger player. Specifically, in 2011 both Microsoft (NASDAQ:MSFT) and Research in Motion (RIMM). Previously, Google acquired AdMob in 2009 for $750 million and in 2010 Apple acquired Quottro Wireless for $275 million. In our view, Google likely paid a large premium to acquire the market leader (and they were bidding against Apple). Notably Apple's price for Quattro was far less. At Millennial's current $1.1 billion valuation, we simply think the asking price would be far too high for what any buyer would get (RIMM's market cap is only $3.7 billion!). We believe there are plenty of potential companies that larger players could acquire and invest in if they want to participate in this market. We just can't see anyone paying $1 billion, or even half that, for a company which built its technology platform for less than $10 million.
This is an exciting market, but other than for the likes of Apple, Facebook and Google, certainly not an essential one.
Conclusion
There is a profound difference between an exciting company in an exciting market, and a good investment. Mobile advertising is of course hot, and likely will remain so. That doesn't mean the players placing the ads will make good investments. As an analogy we'd suggest looking at the solar industry. That sector has enjoyed hyper growth, with huge y/y MegaWatt growth for the last decade. Unfortunately for investors who bought the hype, and shares of companies like market leader First Solar (NASDAQ:FSLR), growth and excitement did not equate to a good investment. We believe Millennial is riding a similar hype cycle which will end badly for investors.
Disclosure: I am short MM. I wrote this article myself, and it expresses my own opinions. I am not receiving compensation for it (other than from Seeking Alpha). I have no business relationship with any company whose stock is mentioned in this article. I am long Apple. We conduct thorough research on our ideas, but our views are our own. Please do your own research.