Bank of New York Mellon Corp. (NYSE:BK) is a uniquely positioned company with a business model that is quite attractive in the banking industry. The company's expertise is in managing and servicing investments. It assists in creating, trading, or holding assets, and if need be in distributing or restructuring them. While other companies offer some similar services, no other company possesses the scale or breadth of products to match Bank of New York Mellon. The global custody business is an oligopoly with six firms administering 75% of all financial assets, and with BK being the largest of the bunch, it tends to be the low-cost operator. Record-low interest rates have crimped the profitability of Bank of New York in many ways, but by the time interest rates begin to climb, the stock will likely have already appreciated a great deal, reflecting increased future profitability. BK offers an extremely well-financed and conservatively run financial institution, at trough levels of earnings power, with significant total return potential moving forward.
Typically, Bank of New York Mellon earns close to 78% of revenues from recurring fees, and the company takes very little credit risk. Fee revenue is even more attractive now in this stricter regulatory environment than it was in the past, as it enables the company to generate revenue without necessarily leveraging the balance sheet to the same extent as a more traditional bank such as a Wells Fargo & Co. (NYSE:WFC) or JPMorgan Chase & Co. (NYSE:JPM). The company has two core businesses with many subdivisions. Investment Services encompasses asset servicing, clearing, collateral management and alternative investment services, among other things. These fee-generating businesses benefit with growth in assets under custody (AUC). Investment Management focuses on the wealth management side of the business, where the company has specific strategies tailor-made for its clients' needs such as liability-driven investment strategies. Often this business can generate fee and performance revenue, where performance revenue is derived from outperformance relative to a benchmark. Bank of New York is consistently enhancing its global reach, and much of its future growth is likely going to come from emerging and other international markets, as their financial needs become more complex.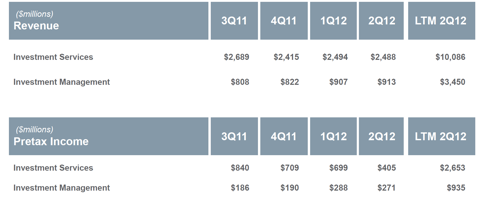 Click to enlarge
The above table highlights how the revenue and pretax breakdowns are for both core businesses. Investment Services and Investment Management have about 26-27% pretax profit margins, which are the envy of the banking sector. It is this core profitability that allows BK to generate some of the highest returns on tangible book in the industry as seen below.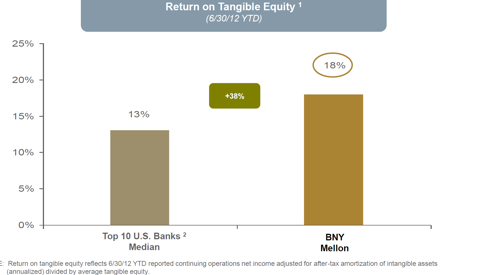 Click to enlarge
At $23.46, BK trades at about 8.9 times Morningstar's mean earnings estimates for 2013, and about 0.8 times book value. While this may seem fairly valued relative to the other large banks (which I've argued are absurdly undervalued), it is quite inexpensive when you consider that this is a bank capable of 25% returns on tangible equity, and that has far less exposure to credit risk.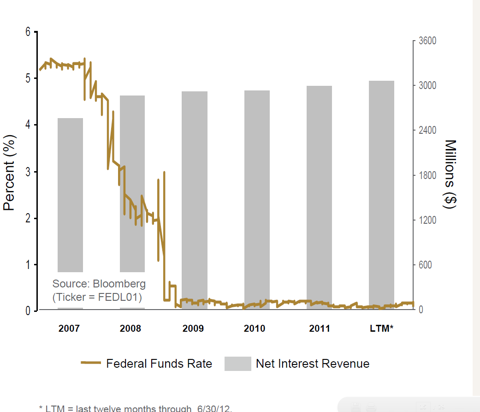 Click to enlarge
Since 2007, interest rates have embarked on a historic plunge, pressuring net interest margins for BK and other banks. Net interest revenue has grown slowly due to a significant climb in assets under management. Assets have continued to accumulate to BK due to its best-in-class financial strength, and the overall anxiety surrounding European financial institutions which have seen deposit outflows. While it's fair to assume that some of these assets are likely to be short-term in nature, and might reallocate when interest rates climb, BK is winning new business but the benefits haven't hit the bottom line yet due to the handicap of low rates.

Click to enlarge
The above table highlights the developments in net interest revenue. In 2009 the net interest margin was 1.82% and in 2011 it was 1.36%. Both numbers are low reflecting the economic environment, but even if net interest margins increased back to 1.82% on the much larger amount of average interest-earning assets, the net interest revenues would be over a billion dollars greater. This hidden earnings power could help push BK's normalized EPS up to $3.50-$3.75 from the current $2.50 range, and that is not even really factoring in the organic business growth that BK has been generating on its other business lines.
While BK has had a number of problems over the last several years, including credit losses, a Forex scandal, and various lawsuits, the company has been able to rebound to pristine credit quality largely because if its capital generative business model.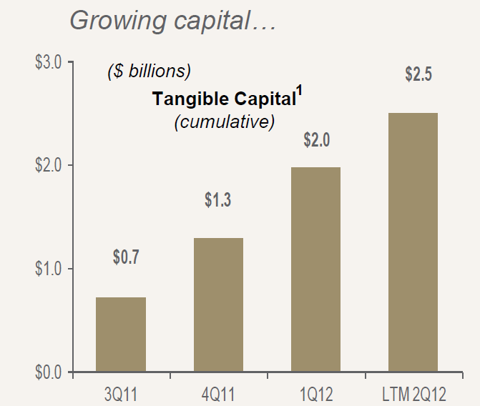 Click to enlarge
In the last 12 months, BK has created $2.5 billion in tangible capital, and ended the 2nd quarter with a Basel III Tier 1 common ratio of 8.7%. Like most banks, the company is in the midst of an aggressive cost cutting program that should result in net savings of $71MM per quarter. As time goes by, the company is going to be able to increase the dividend from the current $0.13 per quarter. In addition, BK should aggressively increase its stock buyback plans from its 2nd quarter pace where the company bought back about 1% of its shares outstanding. Three to five years down the line, I believe BK could easily be earning $4.50-$5.00 and paying out $2.00-$2.50 per share in dividends. If the company were to earn 12.5-15% on current equity of roughly $29.25 per share, EPS would be between $3.65- $4.38. Higher interest rates and a more buoyant macroeconomic environment could make this realistic in a couple of years, and it is important to factor in retained earnings which should help equity grow. BK is not a stock that is likely to increase substantially based on one strong quarter, but instead as the business performs over time, and with the accumulation of high returns on tangible book, the stock could easily increase by 50-100% over the next three to five years including dividend returns.
Disclosure: I am long BK, JPM, WFC. I wrote this article myself, and it expresses my own opinions. I am not receiving compensation for it (other than from Seeking Alpha). I have no business relationship with any company whose stock is mentioned in this article.