Wow, I can't believe that Halloween is just weeks away. I was out shopping this past weekend and my wife and kids convinced me to load up the trunk with some big orange pumpkins. With autumn already in full swing, our customary pumpkin patch gala always signals the preface to the traditional guising and masquerading around the neighborhood in costumes akin to Dora the Explorer, Tinker Bell, and Jay-Z.
I am sure all of you know that in the classic cartoon, It's The Great Pumpkin, Charlie Brown, the Peanuts gang sets out to find the Great Pumpkin. While trick-or-treating, everyone gets assorted candy, apples, gum, cookies, money, and popcorn balls except for Charlie Brown, who gets a rock from every house they visit. The disappointing night for Charlie Brown sets the stage for the age old tradition of trick or treating and of course, finding the next Great Pumpkin.
Spirit Realty Capital: Trick or Treat
So maybe the next "Great Pumpkin" this year will be Spirit Realty Capital, a triple-net sector REIT that plans to list its shares on the New York Stock Exchange today under the symbol SRC. The Scottsdale-based company, which is backed by Macquarie Group Holdings and hedge fund TPG-Axon among others (Morgan Stanley is the lead underwriter of the offering), said it plans to sell 27.06 million shares between $16 and $18 each.
Excluding fees, Spirit Realty expects to generate about $418 million from the IPO (assuming mid-point price of $17 per share) and of that, $399 million will be used to pay debts. Spirit counts $3.6 billion in real-estate investments and loans. Its 1,183 properties nationally were roughly 98.2 percent leased as of midyear. The majority (98.3 percent) of the company's assets are free-standing triple-net properties (1,096) and the remaining (1.7 percent) are commercial mortgages and equipment loans (87 properties). The weighted average lease term for the portfolio is 11.4 years and 96 percent of the properties provide for increases in future base rent.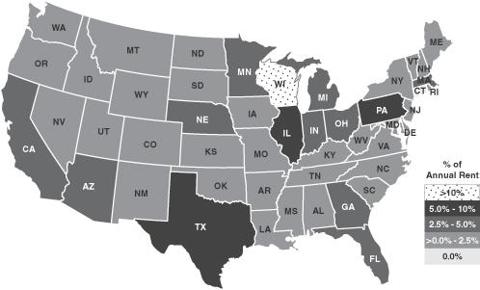 The portfolio of 1,096 owned properties are located in 47 states and are leased to approximately 165 tenants. Spirit's tenant base is comprised of 18 different industries, including general, specialty, and discount retail; restaurants; movie theaters; automotive dealers; educational and recreational facilities; and supermarkets.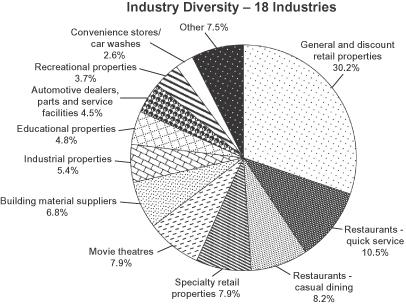 Spirit appears to have a diverse portfolio of tenants spread across markets and industries. According to the company's S-11, Spirit focuses on investing in properties leased to unrated small and middle market companies that are determined to have attractive credit characteristics and stable operating histories. Here is a snapshot of Spirit's top 10 tenants (source: company S-11):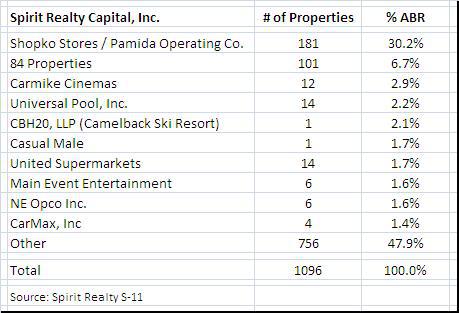 It's The Great Pumpkin, Charlie Brown
In February 2012, two of Spirit's general merchandising tenants, Shopko and Pamida, completed a merger. Prior to Shopko's merger with Pamida, Spirit leased 114 properties to Shopko and 67 properties to Pamida. Currently, Spirit leases 181 properties to Shopko/Pamida, 179 of which are leased pursuant to three master leases. Specialty Retail Shops Holding Corp., parent company of Shopko/Pamida, guarantees the Shopko/Pamida leases.
The combined Shopko/Pamida operation has around 350 locations in 22 states, and the company said earlier this year that it expects to open new stores starting in the second half of this year. Shopko has 55 locations in Wisconsin, including six Shopko Hometown stores, a smaller version of its traditional department stores that's at the heart of an expansion effort.
For about six years before 2005, Pamida was a division of Shopko. The chains were split up when Shopko, then a publicly traded company, was sold to Sun Capital Partners of Boca Raton, Fla. Sun Capital has continued to own both chains, operating them separately.
Shopko, with $3 billion in revenues and 158 discount department stores, will need to continue expanding its present operations to remain competitive in the long run with much larger rivals such as Wal-Mart Stores Inc. (NYSE:WMT), Kmart Corp. (NASDAQ:SHLD) , and Target (NYSE:TGT)); however, the Pamida acquisition poses business risk due to Shopko's inexperience operating in small towns, integration risk is minimized as management plans to operate the businesses fairly independently.
According to Spirit's S-11:
Shopko/Pamida's future financial condition and results of operations will depend, in part, upon the successful integration of Shopko and Pamida, which operated as separate companies prior to their merger in February 2012. Shopko/Pamida has indicated that it intends to convert Pamida locations to the Shopko store concept and brand. In connection with this conversion, Shopko/Pamida will likely incur additional costs, including costs associated with liquidating Pamida merchandise, restocking Pamida locations and converting Pamida locations to the Shopko brand. We expect that these expenses will initially reduce the property-level rent coverage ratio and the ratio of corporate-level EBITDAR to net interest and rent expense of the Shopko Guarantor.

Though we believe that expenses of the merged Shopko/Pamida entity will normalize over time, it is also possible that the expected benefits of the Shopko/Pamida merger ultimately will not be realized, will only partially be realized or may take longer to realize than anticipated. If the Shopko/Pamida integration costs are more than expected or if expected benefits do not materialize over the intermediate term, Shopko/Pamida's creditworthiness may deteriorate, and it may seek rent discounts or deferrals from us or default in its lease obligations to us.
Further the Spirit S-11 explains,
Effective January 2009, we (Spirit) began deferring collection and recognition of a portion of Shopko's rent for a two-year period totaling $3.0 million in the aggregate and postponed scheduled contingent rent increases during this time. In September 2010, Shopko repaid, and we recognized, the total accumulated deferred amount ($2.6 million) plus interest before its contractual due dates. As agreed, the scheduled contingent rent increase from Shopko was postponed from its originally scheduled date of June 2009 to June 2011, at which time Shopko began to pay and we began to recognize the increased rent amount.

As a result of the significant number of properties leased to Shopko/Pamida, our results of operations and financial condition will be closely tied to the performance of its stores and the retail industry in which it operates. Shopko/Pamida operates as a multi-department general merchandise retailer and retail health services provider primarily in mid-size and larger communities in the Midwest, Pacific Northwest, North Central and Western Mountain states.
Indeed, having a substantial number of rocks in one Halloween bucket is scary, especially when Spirit's largest tenant is an unrated discount retailer competing with other discount retail merchants as well as mass merchants, catalog merchants, internet retailers, and other general merchandise, apparel and household retailers. It would be one thing to own retail stores leased to Shopko/Pamida in Chicago, Los Angeles, or Portland. But not in Valentine, NE; Crete, NE; or Dillon, MT. Clearly. Shopko/Pamida faces strong competition from large national discount retailers, such as Wal-Mart, Kmart and Target, and mid-tier merchants such as Kohl's (NYSE:KSS) and JCPenney (NYSE:JCP). Adverse economic conditions in the Shopko/Pamida regions may materially and adversely affect its results of operations, retail sales and ability to make payments under the leases.
Another notable concern for the Spirit portfolio is the company's significant concentration (6.7 percent of ABR) of revenue that is master leased to 84 Properties, LLC. This privately held building materials and service supply-company operates more than 280 stores, component plants, door shops, installation centers and engineered wood product shops in 35 states. Because a significant portion of Spirit's revenues is derived from rental revenues received from 84 Lumber, defaults, breaches or delay in payment of rent by 84 Lumber may materially and adversely affect the company.
According to Spirit's S-11:
84 Lumber generated operating losses for the past three years and has historically used cash generated from the sale of surplus properties and loans from shareholders to fund these operating deficits. There can be no assurance that 84 Lumber will have the ability to continue to do this or that shareholders will continue to provide loans.
I was hoping that the third largest tenant in the Spirit portfolio would be a Snicker's or a Tootsie Roll. But no, it's a Milk Dud. Carmike Cinemas (NASDAQ:CKEC) has performed well over the last year (doubled its price from around $6 per share to $12.60); however, the smaller Columbus, GA based theater chain is a possible takeover target and in the event of a suitor stepping-in, there could be store closures (due to cannibalization). Also, many of Carmike's facilities are in smaller markets and the buildings are virtually useless when they are no longer used as cinemas (churches typically don't pay much rent).
I spoke with a few industry experts this week regarding Spirit's valuation and it appears that the portfolio of properties will likely be valued at around a 9 percent capitalization rate (based on mid-level pricing). Given what I consider to be a low-quality portfolio, I do not think the cap rate expectations are reasonable. (There is a Carmike available in my city at a 10 percent cap rate and I don't think it will sell for a 13 percent cap rate. In my opinion, it is worth the cost of the land only).
Spirit: What Do You Want to Be When You Grow Up?
A few weeks ago, I wrote an article, Attention Dividend Shoppers: O What A Great Bargain For This Triple-Net REIT. In that article, I compared Realty Income's (NYSE:O) recently announced acquisition of American Realty Capital Trust (NASDAQ:ARCT) as a marriage of the "low cost" producer (i.e. Wal-Mart) and the "high-quality" performer (Target). I utilized the analogy as I believe Realty Income's balance sheet to be one of the best in the REIT sector and "in the triple-net investment sector, a higher multiple is what you strive for since the lower cost of capital is the mantra for success" - the high multiple equates to being the low cost provider. So the highest valuation has the cheapest cost of capital, the best margins and the best strategically flexible operating platform.
As I wrote:
American Realty Capital operates more of a Target model in that it is not as much of a lost cost leader as it is a high-quality operator. Around 75 percent of American Realty Capital Trust's rental revenue (of the 501 properties) is investment grade tenants that include FedEx (NYSE:FDX), Walgreen (WAG), CVS (NYSE:CVS), the GSA, Dollar General (NYSE:DG), Express Scripts (NASDAQ:ESRX), PNC Bank (NYSE:PNC). The largest tenant in the combined portfolio will be FedEx, representing 6 percent of annual rental income. Beyond that, the next 14 tenants each represent between 1.8 percent and 3.8 percent of total rental income.
So maybe the best analogy for Spirit is its largest tenant, Shopko/Pamida, a mid-market chain that faces fierce competition with some of the best triple-net REITs in the world. In addition to Realty Income (and its newest proposed acquisition of ARCT), Spirit faces formidable triple-net REITs such as National Retail Properties (NYSE:NNN), American Realty Capital Properties (ARCP), CapLease (NYSE:LSE) and Agree Realty (NYSE:ADC). In addition, W.P. Carey (NYSE:WPC), a globally recognized high-quality player is set to convert to a publicly listed REIT in a few weeks.
Beware. Spirit IPO Spooks Me
Benjamin Graham, the father of value investing and much of modern security analysis, recommended in his treatise, The Intelligent Investor, that investors steer clear of all initial public offerings. The reason? During an IPO, the previous owners are attempting to raise capital for expanding the business, cash out their interest for estate planning, or any other myriad of reasons that all result in one thing: a premium price that offers little chance for buying your stake at a discount. Often, he argued, some hiccup in the business will cause the stock price to collapse within a few years, giving the value minded investor an opportunity to load up on the company he or she admires.
The problem with Spirit comes from the fact that the largest two tenants have questionable business models (small towns and competing with Wal-Mart and Dollar General) and even with the debt reduction (from the IPO proceeds) the company will have high leverage and considerably high payout ratios (Spirit reported a loss of $21million, or 82 cents, a share based on historic results for the first half, during which revenue totaled $141 million).
Spirit spooks me and that is why it is important to compare cost of capital and consider investing in established companies - a proposition that delivers safety in principal and repeatable dividend performance. These higher quality REITs (like Realty Income, National Retail Properties, and W.P. Carey) are proven fixed-income alternatives and accordingly enjoy sustainably robust dividend yields.
Source: Spirit S-11
Disclosure: I have no positions in any stocks mentioned, and no plans to initiate any positions within the next 72 hours. I wrote this article myself, and it expresses my own opinions. I am not receiving compensation for it (other than from Seeking Alpha). I have no business relationship with any company whose stock is mentioned in this article.