With the impending purchase of Canada's Pure Energy Services (OTC:PUEYF), Houston-based FMC Technologies, Inc. (NYSE:FTI) adds frac flowback treatment and clean-up services to its portfolio of offerings. In doing so, the company enters the service-side of the fracking game more as water-boy than as athlete, more satisfied to clean up after the segment's higher-profile stars, than to challenge them at their own game.
But why?
Most industry observers seemed relatively nonplussed at the deal's announcement. Some tout shale activity as the engine poised to drive the nation's economic recovery, thus viewing the $285 million acquisition as a tiny drip in a very big barrel. Others seemed disappointed FMC would focus incremental resources on anything other than its bellwether subsea equipment business.
On the surface, the two companies share few synergies. Water separation and management do connect them indirectly. But one is a top global player deeply entrenched in the subsea market, with a strong focus on products and engineering. The other is predominately a land-based completion-related services company. Not only are their headquarters thousands of miles apart, their core operations and competencies are as well.
Nonetheless, when a giant moves, it's hard to ignore.
Flowback Could Decide the Game
The case can be made that FMC is putting itself in a more noteworthy position than the dollar value of the deal, or the market place's lukewarm response to it, might suggest. Clearly, the fracturing process sets off a number of environmental concerns from conservation organizations, regulators and residents.
Flowback, the water that comes back up from the well infused with particles from the process and natural underground sources, is the most scientifically salient point in their argument. It's service providers that recycle and/or dispose of the flowback.
How flowback is handled in the field has become a major business issue for both production and service companies as the political battle rages. Earlier this year, the International Energy Agency warned that unmitigated environmental concerns "threaten to hold back, and perhaps halt, the unconventional gas revolution."
To the extent FMC can help the industry ameliorate such concerns via better environmental processes and performance - not only in the U.S. and Canada, but internationally - the company effectively could place itself ahead of the field by providing cost-effective solutions that head off stricter regulation.
Not Without Risks
The unsettled nature of the environmental debate, though, also adds risk to the deal even while it offers opportunity. EnergyPoint Research's data suggest FMC might take on a additional risk as acquisitions askew from core operations can cause dips in performance and, in turn, customer satisfaction. With Pure currently employing 1,300 employees, FMC will have plenty of work to do from an integration, workforce management and quality assurance standpoint.
There's also the risk that forays into the completion-services side of the business detracts from FMC's management of, and focus upon, its subsea business lines. While FMC has benefited from significant secular growth in the subsea segment over the last several years, EnergyPoint's customer satisfaction data suggest there are still plenty of challenges to be met by FMC and others in the space.
The subsea equipment sector is one of the lowest rated segments that EnergyPoint tracks in its ongoing surveys, and customers can ill afford for one of its largest participants become strategically cross-eyed.
Click to enlarge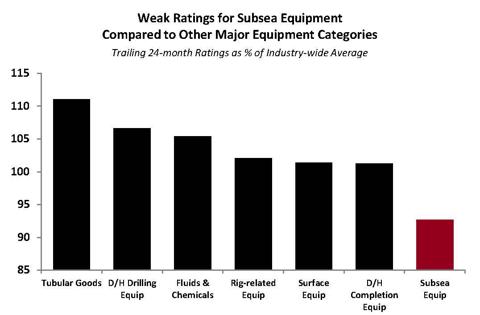 Leaping to the longer view, FMC could be positioning itself to become a serious competitor in the hydraulic fracturing market. Already a subsea leviathan, the company would certainly boost its onshore shale-site presence with a boots-on-the-ground workforce dedicated to flowback and related services. FMC President John Gremp clearly sees the acquisition as part of a strategy to pursue growth platforms through the entire hydraulic fracturing cycle.
The largest participants in the fracturing segment - Halliburton (NYSE:HAL), Baker Hughes (NYSE:BHI) and Schlumberger (NYSE:SLB) - already have their own flowback processes, but there's evidence these integrated players have begun to lose a bit of their panache in the space.
Others certainly view the burgeoning field as open territory, with wastewater-treatment company Heckmann Corp (HEK) recently agreeing to merge with privately-held Power Fuel, a complimentary wastewater/flowback firm.
For now, FMC will carry the water for the established veterans. So, it's a quiet entry point. But even All-Stars tend to take notice of the brawny water-boy.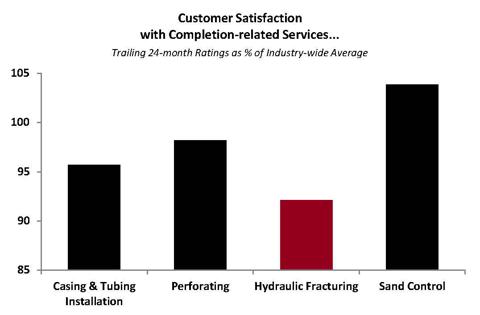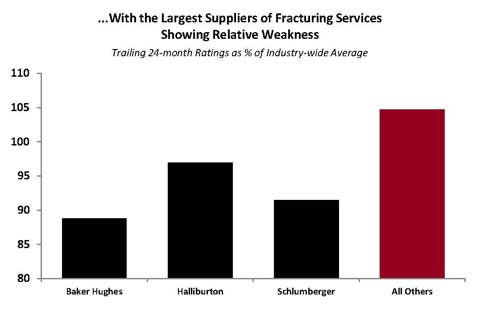 Disclosure: I have no positions in any stocks mentioned, and no plans to initiate any positions within the next 72 hours.
Business relationship disclosure: EnergyPoint Research does and/or seeks to provide for-fee data subscriptions to oil and gas industry participants and stakeholders, including the companies covered in this article.