AG Mortgage Investment Trust Inc. (NYSE:MITT) is a REIT that invests in Agency RMBS, Non-Agency RMBS, CMBS, and ABS. The total Agency RMBS are fair value $2,249,892,387, and the total credit portfolio (non-Agency, ABS, and CMBS) is $440,548,141 at the end of Q2 2012. The Agency RMBS are 83.63% of the combined portfolios. This means a huge percentage of the combined portfolios are very sensitive to interest rate decreases because they already have low yields.
The Fed recently announced the extension of low interest rates into 2015, the continuation of Operation Twist through the end of 2012, and a new open ended round of quantitative easing via MBS buying of $40B/month to start. This is likely to lead to further tightening of the interest rate spreads in the Agency portfolio, if only by a little. It will mean less profit for MITT via the Agency portfolio. MITT saw this coming, and it increased its allocation to Non-Agency RMBS and CMBS securities. It will likely do more of this now that the Fed has actually committed to QE3.
Specifically MITT's management has predicted lower yields, higher MBS prices and values (good short term if you sell some Agency RMBS), and a possibility of increased refinancing (prepayments) due to lower long term rates. MITT has decreased its prepayment risk by increasing its numbers of mortgages with low loan balances and also new loans refinanced under the HARP (Home Affordable Refinance Program) or HARP 2 programs. MITT has already started its own program to increase the number of higher yield, non-Agency MBS in its total portfolio. Many analysts expect MITT to sell some more of its Agency backed portfolio, especially at likely higher prices. MITT should be able to realize gains. I note that the fair value as of June 30, 2012 of its Agency RMBS was $2,249,892,387 while the current face value was $2,516,532,524.
MITT will then use that money to buy more non-Agency RMBS, CMBS, and ABS. Since MITT announced and started in this direction before the Fed announcement, it is safe to believe that it will continue significantly along this path now that the Fed has made its announcement. This action will help to keep MITT's overall interest rate spread higher, and it should prevent a significant cut to the dividend rate. MITT has already announced a Q3 2012 dividend of $0.77 per share payable on October 26, 2012 to shareholders of record as of September 18, 2012. This is a raise from the Q1 2012 dividend of $0.70. This dividend of $0.77 ($3.08 annualized) is 13.06%. I will look with interest to see the break out of MITT's portfolio at the next earnings report in order to better assess the dividend prospects.
With respect to the above, MITT has also made moves to raise money recently. It maintains lower leverage on the higher risk non-Agency assets it buys. Hence it makes sense to raise money, so it is able to keep a strategically safe amount of leverage on these riskier assets. On August 9, 2012, MITT announced the exercise in full of the over allotment option for its 8.25% Series A Cumulative Redeemable Preferred Stock with a liquidation preference of $25.00 per share. The total offering was 2,070,000 shares, and it produced $51.75 million before expenses. On August 10, 2012 it entered into an agreement with several underwriting brokerages to sell 6,900,000 shares of common stock. On September 6, 2012 it entered into an agreement with other underwriting brokerages to sell up to 3,000,000 shares of common stock from time to time. On September 19, 2012, MITT announced an offering of Series B Cumulative Redeemable Preferred Stock with a liquidation preference of $25.00 per share. The company plans to grant underwriters a 30-day option to purchase additional shares to cover over allotments.
I apologize for the vagueness of the above data, but the company and/or the press has been vague so far. MITT does plan to apply to list the Series B Cumulative Preferred Stock on the NYSE, so it seems likely that the company is planning further sales of this stock type in the future. Some might think all of the above is dilutive, and therefore bad. Instead it probably shows that the company has good plans to grow in the near future, especially in the area of non-Agency MBS. It needs more capital to do this effectively, and it is quickly pursuing this capital. That is usually the sign of a well managed company. Rather than significantly undoing its Agency portfolio, which it has spent time and effort assembling, it is pursuing needed capital through the equity markets.
The table below shows MITT's portfolio as of the end of Q2 2012.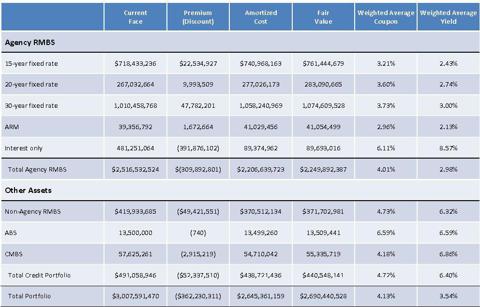 Click to enlarge
The following table shows a better break out of MITT's non-Agency holdings.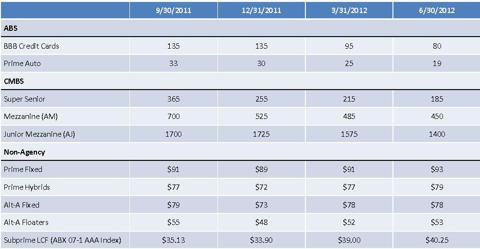 Click to enlarge
It will be interesting to see how the above two tables change by the Q3 and Q4 2012 earnings reports. If you invest in this stock, you will want to keep a close eye on the data in these tables. I for one was not enamored of the Subprime holdings, although I am sure they present good value for their risk. If this category grows much, I would be very disturbed with the US facing the fiscal cliff. I might even be worried about the relatively high percentage of junior mezzanine CMBS.
In Q2 2012 everything did seem to be working well. MITT managed a 5.5% constant prepayment rate (CPR) on the Agency RMBS for the quarter, which is excellent. It has 6.79x leverage as of the end of Q2 2012. It managed a 2.55% net interest margin for Q2. It recorded $0.86 per share of Core Earnings ($2.85 in GAAP net income), which was an increase of $0.15 from Q1 2012's $0.71 per share. It increased its book value by $2.15 per share from $19.63 to $21.78. It paid a $0.70 per share dividend for Q2, which has already been announced as $0.77 per share for Q3. In sum, the company gives every impression of doing well. The anticipation of the Fed move, and the quick reaction to it seem to show that MITT management is on the ball. MITT is a buy.
The two year chart of MITT gives some technical direction to this trade.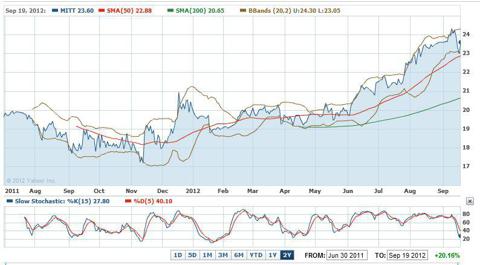 Click to enlarge
The slow stochastic sub chart shows that MITT is near oversold levels. The main chart shows that it bounced strongly off its 50-day SMA on September 19.2012. The main chart also shows that MITT is in a strong uptrend. MITT is trading at a PE of 4.73, which is excellent. This stock is a micro cap with a market capitalization of only $372.89 million. Therefore it has not garnered much of an analyst following as it has only been incorporated since 2011. However, Zacks recently gave it a #1 ranking (a strong buy), and it carries a CAPS five star ranking. It is a buy, although you may wish to average in. The overall market is overbought, and it is due for a retracement. Plus it is well to remember the fiscal cliff, which is becoming ever more prominent in the news.
If you think you like this kind of investment, you may also wish to look at American Capital Agency Corp. (NASDAQ:AGNC), Annaly Capital Management (NYSE:NLY), Two Harbors Investment Corp. (NYSE:TWO), and Apollo Residential Mortgage Inc. (NYSE:AMTG).
Note: Some of the fundamental fiscal data above is from Yahoo Finance.
Good Luck Trading.
Disclosure: I have no positions in any stocks mentioned, but may initiate a long position in MITT over the next 72 hours. I wrote this article myself, and it expresses my own opinions. I am not receiving compensation for it (other than from Seeking Alpha). I have no business relationship with any company whose stock is mentioned in this article.