Sycamore Networks (NASDAQ:SCMR) is likely to pop in Thursday's trading as the company has recently reported two huge positives for this unloved tech stock. Investors should take note as these could be some of the catalysts that drive the stock substantially higher.
Two recent key positives for Sycamore:
The company just announced a $10 a share special dividend for holders as of October 1st. This dividend will distribute $300mm of the $439mm its cash balance to shareholders. The distribution is a big vote of confidence by the company and a huge plus for shareholders.
It also just reported quarterly revenues of $16.8mm, up from $13mm in the same quarter in 2011.
"Sycamore Networks engages in the development and marketing of intelligent bandwidth management solutions worldwide. It provides SN 16000 and SN 9000 optical switches that enable bandwidth management in regional and core optical networks; SILVX network management system, which offers comprehensive performance management services; DNX cross-connect platforms for traffic aggregation and grooming handle narrowband to broadband switching and transport; and ENvision Plus network management software for path protection and disaster recovery." (Business description from Yahoo Finance)
4 reasons SCMR still has upside:
Even after dividend disbursement, the company should still have approximately $4 a share in net cash on its balance sheet.
This is highly speculative stock, albeit one with significant downside protection given its cash position. If its IQstream product line catches on with customers it will drive significant revenue growth as well substantial margin expansion, and thereby significantly higher EPS
Credit Suisse has an "outperform" rating and a $28 a share price target on SCMR, roughly double the stock's price level prior to this morning's announcements.
Even before these catalysts, the stock had looked like it had bottomed and recently crossed its 100 day moving average (See Chart)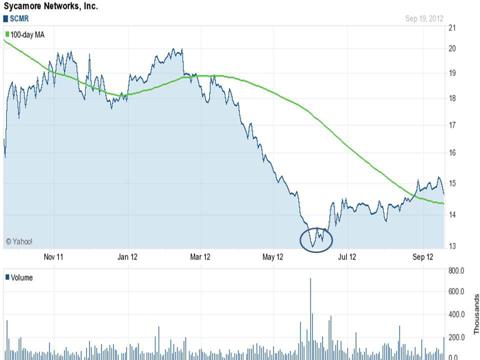 Disclosure: I have no positions in any stocks mentioned, but may initiate a long position in SCMR over the next 72 hours. I wrote this article myself, and it expresses my own opinions. I am not receiving compensation for it (other than from Seeking Alpha). I have no business relationship with any company whose stock is mentioned in this article.