Canexus Corporation (OTCPK:CXUSF) is a Calgary, Alberta-based industrial chemical company whose stock has a proven record of providing stable dividend income. The stock broke out of its trading range yesterday on higher than normal volume based on positive developments for its business. The stock closed at $8.22 CAD yesterday and trades on the TSX with symbol CUS. All numbers below are in Canadian dollars.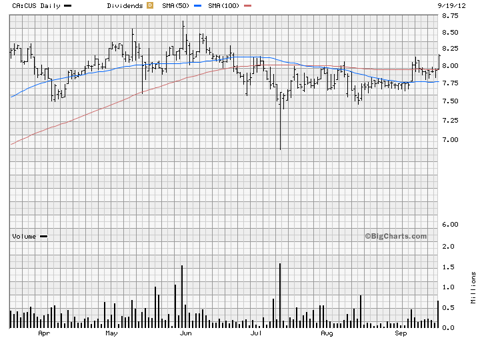 Canexus is a leading and low-cost North American producer of sodium chlorate used primarily for kraft paper pulp making. It also produces sodium hydroxide (caustic soda) and elemental chlorine, co-products in chlor-alkali production, which are used in a wide variety of industries from oil and gas refining to alumina treatment to municipal water treatment. Canexus produces pulp chemicals for Fibria's (NYSE:FBR) Espirito Santo plant, with a fixed margin cost plus contract that will last for another dozen years. Fibria, the largest pulp producer in Brazil, takes 80% of Canexus's production with 20% going to the market. Finally, Canexus plans to establish a fourth reporting segment, called NATO.
Canexus has five manufacturing plants, with the flagship 300,000 ton/year sodium chlorate plant located in Brandon, Manitoba having a very low cost of electricity, which along with common salt (NaCl) is a basic cost input to these chemicals.
Canexus produced 434,000 metric tons of sodium chlorate and 235,000 metric tons of chlor-alkali in fiscal 2011, generating $540 million in revenues and $125.3 million in cash operating profit.
The President and CEO, Gary Kubera, presented at a Scotia chemicals conference Tuesday afternoon, and elaborated on some corporate developments that I believe will add at least $1 to the stock price.
Kubera hasn't done a lot of institutional presentations this year to my knowledge, and the stock was weak most of the summer due to a poor, but in my view one-off Q2 caused mainly by planned plant maintenance shutdowns.
Kubera indicated Canexus will generate $140-$145 million in cash flow this year ($1.155 to $1.195 per share), and $160 million next year. That's $1.31 per share and the bullish guidance was a welcome relief from the understandable but still weak Q2 earnings report.
I confirmed the recently announced operating cash flow guidance with Canexus's CFO, Richard McLellan, last night, which is based on its growth projects and assumes no deterioration in its base business.
He said they would formally announce the updated 2013 guidance in December.
Canexus generated $18.6 million in cash flow before working capital changes in the Q2 2012 versus $23.1 million in Q2 2011. The quarterly dividend requirement runs at $16.6 million. First half 2012 cash flow totaled $52.1 million, so the company would have to do about $90 million in the 2H to make its forecast. I think it is possible, as all plant turnarounds are behind the company and unit production costs will drop dramatically.
The stock at current prices yields a respectable 6.7%, after backing out the quarterly dividend of 13.68 cents that the stock will go "ex" next Thursday, September 26.
Kubera talked about the conversion of its old Bruderheim, Alberta plant site to a transloading terminal (truck to rail and vice versa) for bitumen, crude oil, condensate, dilbit, and fracking liquids because of its siting on both the Canadian National (NYSE:CNI), and CP Rail (NYSE:CP) main lines.
I've known and followed Canexus's plan for this site (called the North American Terminal Operations or NATO by them) and am happy to say it sounds promising.
Kubera says NATO will generate $3-5 million in incremental cash flow for 2012, but this will expand to $20 million next year (16.4 cents per share). That was a surprise to the market apparently, because the stock was up 3.7% yesterday.
The increasing importance of rail to get crude oil to market while new mainline pipeline construction remains stalled, bodes well for the NATO growth plan. Kubera expects throughput to reach 35,000 bbls/day by the end of 2012, and reach 50-60,000 bbls/day if a deal with MEG Energy (OTCPK:MEGEF) to interconnect with their terminal, is signed.
At the recent 6.6 times multiple on cash flow the stock has been trading at, NATO should add approximately $1 to the stock price not including a revision of the multiple upwards for the better growth profile of the company.
Kubera also said markets for its three main chemicals - sodium chlorate, caustic soda and chlorine - have been improving. A recent plant turnaround at Fibria's plant in Brazil is over too. One negative is that U.S. Gulf polyvinyl chloride manufacturers have been running at high operating rates due to lower natural gas feedstock. This has increased the supply of caustic soda co-product, which has to find a home. However, Kubera indicated Canexus has a freight advantage shipping out of North Vancouver to Asia.
A headwind it has been facing (skyrocketing chlorine transportation costs) hopefully will be mitigated by a two-phase expansion of a chlorine to hydrochloric acid conversion they are bringing forward at their North Vancouver, British Columbia chlor-alkali plant. The first expansion goes on-line Q1 2013 and is estimated to add $10 million in incremental cash flow, followed by another at the end of 2013. Hydrochloric acid is increasingly in demand as an additive for drill "fracking" fluid in Alberta and British Columbia, and could be another growth market for Canexus.
I expect a $9 stock price by the end of the year, because the growth initiatives warrant a higher multiple on the stock than 6.6 times and the high yield of the stock is supportive, barring a plant explosion or other unforeseeable event.
I suspect traders and analysts are taking what Kubera gave them, and are changing their expectations to incorporate this bullish guidance on the stock, so analyst upgrades are likely to come in the typical two or three days after new information is divulged.
As to its background, Canexus Corporation used to be the pulp chemicals division of oil and gas producer Nexen Inc. (NXY). I followed Nexen for years and noted the oft-ignored chemicals operation generated about $100 million in cash flow per year very reliably. Nexen partly spun it off into an income trust called Canexus Income Fund in 2005.
To rationalize assets, Nexen unloaded the rest of its position in January 2011 at $6.40, which I thought was a fire sale at the time.
Canexus converted to a corporation in July 2011 and had 121.3 million shares outstanding as of June 30, 2012.
Goodman and Company, a value-oriented investment counselor in Toronto, owned 20.8 million shares or about 17% as of March 2012 and has not filed any change to that.
The Q2 result of a $.03 loss on $141.1 million revenues versus last year's $.07 profit on $130.5 million revenues was mainly due to a shortfall in chlor-alkali operating margin to 7% versus 26% in Q1, caused by lower prices (down 17% Q/Q) and exacerbated by higher shipping costs and a planned two-week plant shutdown which raised fixed costs per ton. Also, demand and prices for hydrochloric acid was weak in Q2 due to the reduced drilling caused by spring breakup. The company expects demand to rebound in Q3.
Margin on sodium chlorate was 28% in Q2 versus 32%in the prior quarter as all three sodium chlorate plants were taken down for planned maintenance. The company estimated the chlorate industry operating rate at a healthy 95%. Margin in South America was 17% versus 24% as sales revenues were down 9% due to the planned maintenance shutdown of its biggest customer, so Canexus took down its plants as well.
The company had $21 million working capital as of June 30, 2012, $308 million in long-term debt and $142 million in fair value of convertible debentures outstanding.
I feel the total debt of $500 million, while high compared to book equity of $138 million, is manageable due to the diversification of the company into four segments. Note most income trusts had very little equity when issued, due to the structure which allowed flow-through of profits to unitholders.
There are three convertible debentures outstanding, $14.7 million principal value 8% due the end of 2014 exercisable at $5.10, $60 million 5.75% due end of 2015 exercisable at $8.30, and $60 million 5.75% due end of 2018 exercisable at $11.35. The shares yield more than any of the debentures.
Unlike a number of forced trust to corporation conversions caused by the October 2006 closure of the tax loophole, Canexus left its dividend rate untouched at $0.5472 per annum, because it had sufficient net operating losses to shelter tax, and it has invested in its business to increase depreciation and amortization, with the largest investment being the 2010 conversion of the sodium alkali plant in North Vancouver to a more modern and environmentally-friendly process. The North Vancouver site has its own dock with deep water access as well as rail access.
The stock has been in a trading range from about $7.50 to $8.00 for the past few months (except for one big volume downdraft on July 12) but has recently broken out to the upside yesterday above its 50-day moving average ($7.77), with big volume yesterday. I think this was due to the positive growth prospects for NATO and the better than expected 2013 cash flow guidance. This should follow through to new highs on the stock.
The downside risks to my bullish case on Canexus, are a deterioration in chlor-alkali and/or sodium chlorate prices or volumes. However, the company said in its Q2 report that price increases were announced for chlor-alkali for Q3. Another negative would be further strengthening in the Canadian dollar versus the USD, which would reduce revenues and compress margins for Canada-based pulp and chemical makers. The company has had a $5 million USD hedge per month traditionally, but I have not been able to confirm it still is in place. However, my forecast is for easing oil prices, which should stop the rise of the CAD. A recovery in the euro would be positive for N. American producers as it reduces the global competitiveness of European pulp and chemical exporters.
One thing always attracted me to Canexus: there is an oligopoly in the North American pulp chemicals business which protects Canexus, due to high freight costs and limited imports. Major paper and pulp producer Domtar (NYSE:UFS) is always complaining that pulp chemicals keep rising in price, but doesn't seem to do anything about it.
A positive factor for the Canadian pulp chemical producers is that some foreign-owned pulp plants in Canada are operating at a loss but are refusing to shut down. One is in Mackenzie, B.C., and is owned by Paper Excellence BV, a division of APP, a large Indonesian conglomerate. Some kraft pulp plants that were closed such as Terrace Bay, Ontario, are being bought out, in this case by Indian Aditya Birla Group (OTC:ABWAF), to be reconfigured to produce dissolving pulp.
Another one being restarted is a paper plant in Port Hawkesbury, Nova Scotia. These plants will continue to consume pulp chemicals, and there are only a handful of producers in Canada.
Canexus's low-cost position in sodium chlorate due to cheap electricity in Manitoba is very attractive. Its plan to expand chlorine conversion to hydrochloric acid to serve the fracking industry in the oil patch will add margin. Both are hazardous substances, and have high transportation costs, but HCL is in greater demand in the oil and gas patch not too far from Canexus's main plant sited in North Vancouver.
Either the sodium chlorate business or the chlorine-based water chemicals business, which operates locally in B.C. and the PNW, could be attractive to the few players operating in those businesses in North America, they being subsidiaries of Dutch AkzoNobel (OTCQX:AKZOF), Superior Propane (OTC:SUUIF), French Arkema (OTC:ARKAF), Chemtrade Logistics (OTC:CGIFF), and Finnish Kemira Oyj (OTC:KMRAF).
On the sodium hydroxide side, Canexus is a small player, with major U.S. producers including Dow (NYSE:DOW), Olin (NYSE:OLN) and FMC (NYSE:FMC). Prices are trending down for caustic due to oversupply and weakening global industrial growth this fall.
My target for Canexus is $9.17 Canadian based on a modest multiple expansion from 6.6 to 7.0 and assuming the $1.31 CFPS in 2013 is realized. The shares would have a 6.0% yield at that price, and more upside if the dividend were raised. CEO Gary Kubera said they'd review the dividend if and when the payout level target of 50% were achieved.
Disclosure: I am long OTCPK:CXUSF. I wrote this article myself, and it expresses my own opinions. I am not receiving compensation for it (other than from Seeking Alpha). I have no business relationship with any company whose stock is mentioned in this article.