One of the great joys of being at or near retirement age is welcoming grandchildren to the world. Our first appeared in June, 2007, courtesy of my young son, with some help from his wife. Whether courtesy was his prime motive is subject to debate, but the result is the same.
I'll confess that I take little interest in infants after the first few weeks. They're cute as kittens, but let me know when their eyes open. The fun part starts when they get mobile and start "pulling up" and otherwise start learning the fundamentals of gravity.
As they develop, they are introduced to various aspects of the world. The world of foods, and toys, and animals. The world of geographic features like oceans, and mountains, and caverns. The world of holidays, and sports, and music.
I also want her to learn about the world of investing when the appropriate time comes; especially stocks. It is a given that the most important asset any investor has is time. She has no inkling of that, so that's where Grandpa stepped in a few months before Christmas, 2007. She would get the usually assortment of toys and games each year, all of which would be lost, broken, or forgotten before Easter. She would also get something more durable, though she may not know for many years.
Those who have read my previous articles may recall that 2007 predates my conversion to Dividend Growth Investing (DGI), my addiction to the Champions, Contenders, And Challengers (CCC) list, the adoption of a dollar target allocation model for my core portfolio, spiced with Trading Around a Core. So I bought 110 shares of stock; 10 for her, 100 for me so I would be motivated to follow the stock along with her.
At that time, my discount broker would issue a paper stock certificate for free. I felt it was important to do that, then frame the certificate in a colorful frame, and hang it on her bedroom wall in her parent's home. Sooner or later, she would ask "What is that?", then the game would begin.
I had the certificate issued under the Uniform Gift to Minors Act (UGMA), with her father as trustee, and a 21 year "age of maturity." I'd have made it 35 if I could have (the age required to be President), but laws are laws.
For those of you wondering what stock I considered appropriate for a six month old, give that a few seconds of thought.
Give me a short drum roll here.
Time's up.
The Walt Disney Company (NYSE:DIS). How predictable is that? But there were good reasons for choosing DIS, the main one being that the certificates are adorned with Disney characters in "Living Color." Sure to attract a young child's attention. How's that for due diligence?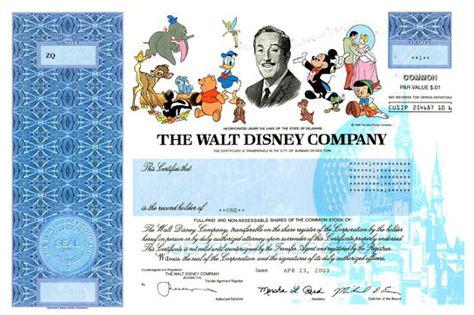 Actually, I did check the fundamentals before buying because it was obvious that very little trading was going to happen in an account that small. The transaction costs take a chunk out of the account value, so the less trading, the better. The "DIRT FeeT" principle applies strongly under these circumstances. (Do It Right The First Time.)
So I got a red shiny plastic frame, put the certificate in it with a few pieces of paper for padding, then a copy of the broker's confirmation. A handwritten note on the confirmation calculated her share of the basis, so it would not become lost in someone's files.
Time rocked on as time is wont to do. Her second certificate was for 10 shares of The Boeing Company (NYSE:BA) purchased in August, 2008. The certificate isn't as pretty, but the thought was that Boeing has years of backlog for the 787 Dreamliner, a product that the airline industry sorely needs to cope with rising energy prices. Also, high barriers to entry for competitors, a leadership position among its few peers, and little threat of technological obsolescence. This time, it was a shiny blue frame, with a copy of the confirmation enclosed as before.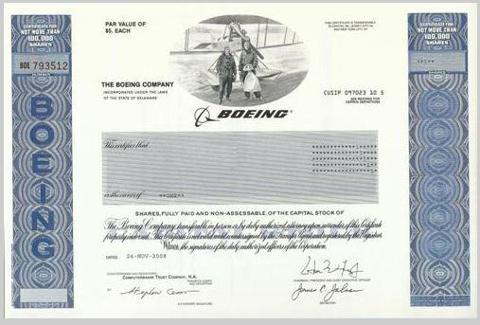 Again, this was in my pre-DGI days.
By December, 2009 the dollar target allocation model had been adopted, and rebalancing required 30 shares of McDonald's (NYSE:MCD) to be sold in my account. So I sold 24 shares, then transferred six shares to her account. Her first CCC stock.
By this time I had second thoughts about hanging hundreds of dollars worth of negotiable instruments on the wall, and high quality color printers were commonplace. So her dad and I unframed the certificates, made color copies of the fronts only, opened a UGMA account at a discount brokerage, and registered the certificates in street name. The copies were framed, and placed back on the wall. If two certificate copies will not get her attention, neither will three.
Her next acquisition was 20 shares of Sysco (NYSE:SYY).
In addition to the stocks mentioned above, she is the oblivious owner of 10 shares of Wal-mart (NYSE:WMT) and 10 shares of Aflac (NYSE:AFL). She started school a few weeks ago, so I think the curiosity factor will take hold three to five years from now. For the time being, she is a buy and hold investor, with Grandpa doing the monitoring. No sales have occurred in her account.
So how has this astute little investor done? Results are shown below.

Subtracting the Purchase Price from the Market Value, then dividing the result by the Purchase Price shows a total return of 26.04%. The results are better than that figure would imply. I think.
During the early years when the stocks were held in certificate form, trustee son opened a UGMA savings account at a local branch of Enormous Amalgamated Bank (the name has been changed to protect the guilty), so he could deposit the dividend checks. There was a $100 minimum to avoid a monthly service charge, so we deposited that. It was later raised, so we deposited that too.
After the brokerage account was opened, trustee son closed the bank account and transferred the cash to the brokerage. No minimum required. No meaningful interest paid either, but that is more than offset by freeing up the hundreds of dollars to be invested without incurring monthly service charges. With the dividends added, no additional cash was needed to purchase the AFLAC shares. It would take someone with better accounting skills than I possess to calculate the rate of return, especially since these stocks were purchased over a period of years. Only Disney has been held for over five years. Aflac was purchased in July of this year.
The good news is that grandchild #2 is due in January (rumored to be a grandson), grandchild #3 is due in April. The bad news is that it may be a little difficult funding three UGMA accounts at the same time, especially when even more grandchildren are a distinct possibility. So for the time being, granddaughter's account has been enrolled in Dividend Reinvestment Plans (DRIPs.)
The plan is to open UGMA accounts for the newcomers, fund them initially at about the same dollar/year rate as the first grandchild for the first five years, then enroll the younger two in DRiP programs. After that, it is a simple matter to annually plot each grandchild's age in months on the X axis of semi-logarithmic graph paper (the linear axis), and the value of the portfolio of each on the semi-logarithmic Y axis directly above their age. Draw a straight line through two of the data points such that one data point is below the line. Then play catch up with the laggard. More than likely I will find a computerized method of doing this between now and then, "then" being mid-year 2018. Continue contributions as funds and number of grandchildren allow.
That begs the question "What five stocks will be purchased to pique their interest, give them a headstart on financial independence, and can reasonably be expected to profitably be held for the next 21 years or so?"
Predicting what stocks will be attractively priced years from now is fraught with peril, but as T. Boone Pickens said, "A fool with a plan can outsmart a genius with no plan." So the plan is to buy, in no particular order, Proctor & Gamble (NYSE:PG), Emerson Electric (NYSE:EMR), Abbot Laboratories (NYSE:ABT), McDonald's , and Chevron (NYSE:CVX). A well diversified portfolio straight from the CCC list.
What follows is not stock analysis or due diligence, just a few thoughts regarding why these particular stocks seem appropriate.
Proctor & Gamble. A consumer staple provider with a 10-year average dividend growth rate of 10.9%. A large and growing international presence, with well known and well regarded brands. Toilet paper, diapers, laundry detergent and toothpaste will be in demand 21 years from now, unless smartphones develop an app for that.
Emerson Electric. Technology for adults, especially engineers and critical computer operations. 45% of revenue comes from the U.S. and Canada. 45% comes from Europe and Asia. The remaining 10% from the rest of the world. Emerson is your father's General Electric (NYSE:GE), before GE became a bank that makes things.
The CEO, David N. Farr, tells it like it is without flinching, hedging, or weasel words. I recall a recent earnings conference where a reporter asked about something that had been previously covered in the presentation. Mr. Farr pretty much told him to pay attention and take notes, or read the transcript on his own time. He doesn't suffer fools gladly. Currently 57 years old, he can reasonably be expected to be there for another five years. The candor often causes the stock price to drop for no good cause. I plan to take full advantage of that at every opportunity.
Abbott Laboratories. A 40-year serial dividend raiser. For the most recent 10-year period, raising the dividend by 8.7% on average. For one-, three- and five-year time spans, even higher. The company is going to be split in two later this year, and I wish it wasn't. It messes up my allocation scheme, and forces me to make a decision. Doing nothing is also a decision. At some point, an investor must accept that management may know what it is doing, especially when it has been doing it so well for so long.
Perhaps I'm unduly influenced by the story of Grace Groner, a secretary at Abbott Labs who bought three shares of "specially issued stock" in 1935 for less than $200 total. She never sold, reinvested the dividends, then died at the age of 100 in about 2010, leaving an estate of $7 million from the investment. I wish that Yahoo and The Wall Street Journal had been clearer about what "specially issued stock" means. The article cited puts a negative twist on the story, warning of the lack of diversification, especially in the stock of your employer. So I will not repeat her "mistake."
McDonald's. What is there to like about McDonald's, aside from the 79% total return over the last 5 years? Having locations in 119 countries is good. Getting 57% of operating income from outside the U.S. is good. It's a big world out there. The concept can be adapted to meet local needs and preferences, as they are doing in India and Australia. McDonald's has a long history of making changes to suit the shifting landscape. Franchisees are highly motivated because they are working for themselves. I seldom go to McDonald's, but billions do.
Chevron. A new addition to the Champions of the CCC with a mere 25-year history of annually increasing dividends. With a P/E of 8.35 and a payout ratio of about 26%, there is ample room to increase dividends for years to come. The need for oil will not disappear anytime soon, neither will the supply. The price is not likely to go down much either.
So there are a few of my favorite things. Grandchildren, a few good stocks, and the combination of both. Thank you for reading.
Disclosure: I am long MCD, SYY, EMR, PG, ABT, CVX. I wrote this article myself, and it expresses my own opinions. I am not receiving compensation for it (other than from Seeking Alpha). I have no business relationship with any company whose stock is mentioned in this article.
Additional disclosure: I have no position in DIS, BA, AFL, or WMT, and no plans to initiate any positions within the next 72 hours.