I bought my first shares of Petrobank Energy (OTCPK:PBEGF) in June 2010 after listening to CEO John Wright speak at the 2010 Petrobank Annual General Meeting. I've been buying more shares on a regular basis ever since as I've gotten more comfortable with the company and its management team.
Petrobank was and still is (in my opinion) a terrific combination of these items:
1) A CEO who has a huge chunk of his net worth invested alongside shareholders
2) A CEO focused on per share value creation and not empire building
3) A very attractive valuation
4) A solid balance sheet
5) A free option on a potentially game changing technology called THAI
I haven't made any money so far on my Petrobank investments that span a period of two years. In fact, the only reason that I'm not down considerably is because I have been regularly buying more and lowering my average acquisition cost.
But I'm ok with that, because I'm happy with the progress the Petrobank business is making, and eventually that progress will be reflected in the Petrobank share price.
One catalyst to force Mr. Market to realize some of the intrinsic value that exists in Petrobank's assets is an upcoming spin-off to shareholders of Petrobank's 60% owned subsidiary Petrobakken (PBKEF.PK). Petrobank has regularly stated publicly that this spin-off will occur before the end of 2013. In the last quarterly conference call CEO Wright stated that the spin-off could potentially happen much sooner.
This spin-off will unlock value for shareholders. It has to. Consider that Petrobank has 3 main assets:
1) Each Petrobank share entitles shareholders to 1.08 shares of Petrobakken. At the current Petrobakken share price of $14.60 that is (1.08 x $14.60) $15.76 per Petrobank share
2) Petrobank has $1.00 per share in net cash on its balance sheet
3) Petrobank has a heavy oil business unit and patented heavy oil / oil sands technology that is worth at least something
Add those three assets up and even if you value the heavy oil unit and technology as being worthless you arrive at $16.76 per share. Petrobank currently trades for $13.80 per share.
Today as a Petrobank shareholder each share I own trades for $13.80. If the spin-out were to happen tomorrow, I would then own $15.76 of Petrobakken shares and a share of Petrobank which would surely at least trade for the value of the cash on the balance sheet which is $1.00.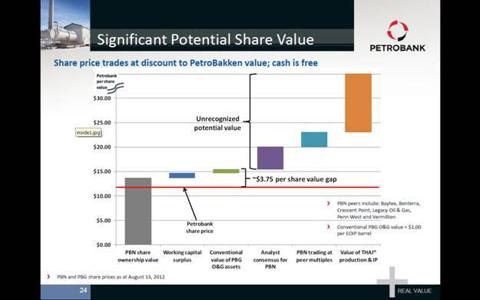 For me however, the unlocking of value is not the most exciting part of the spin-off. What I am most looking forward to is the fact that post-spin-off I will be receiving directly the dividend that Petrobakken pays on a monthly basis. Right now that dividend is paid to Petrobank in the form of shares.
That Petrobakken dividend is $0.96 per year paid monthly on each Petrobakken share. Since each Petrobank share owns 1.08 shares of Petrobakken I will be receiving 1.08 x $0.96 = $1.03 for each share of Petrobank that I currently own.
At the current Petrobank share price of $13.80 that is a dividend yield of 7.5%. Not too shabby.
This spin-off combined with what I expect will be a significant ramp up in production by Petrobakken over the next year or so will hopefully result in good times for shareholders.
Disclosure: I am long PBKEF.PK, OTCPK:PBEGF. I wrote this article myself, and it expresses my own opinions. I am not receiving compensation for it (other than from Seeking Alpha). I have no business relationship with any company whose stock is mentioned in this article.