Lennar Homebuilders (NYSE:LEN) reports its fiscal 3rd quarter earnings before the bell on Monday, 9/24, with analyst consensus expecting $0.28 in earnings per share on $1.062 billion in revenues for expected year-over-year growth of 150% and 28%. In last year's Q3 '11, LEN printed $0.11 in earnings per share on $820 million in revenue.
Since the fiscal 2nd quarter '12 release, even though earnings per share consensus has stayed constant at $0.28 the revenue estimate has been slowly revised upward the last 3 months, from $1.028 billion to $1.052 billion or 2% since mid-June.
There is no question that housing is in the early stages of recovery with yesterday's August '12 housing starts rising 2.3%. Year-over-year, housing starts are up over 29%, while home prices are up 9.5% (and that is dependent on the source of your data).
The August '12 750,000 housing start run rate is still about half of the '05 - '06 trend north of 1.5 - 1.6 million we were seeing so this recovery continues to be in very early innings of a 9-inning ball game.
Probably the clearest indication that housing is in a recovery happened last June, when Lennar reported their fiscal Q2 '12 and the auditor made LEN recognize the deferred tax asset (DTA) of $2 per share. (As i understand it, the deferred tax asset accrues as an asset on a homebuilders balance sheet during cyclically-down times for the homebuilders when the companies run operating losses, and then are allowed to carry-forward the operating loss into future quarters. At some point, when there is a recovery in their business, the auditors then force the homebuilders to recognize this loss as a tax benefit, which is why last quarter, when LEN consensus earnings per share estimate was for $0.17 per share, the actual earnings per share was $2.06. Quite an upside surprise, but most of it non-operating.)
Estimate revisions for LEN have been positive starting about 3 quarters ago: here is just the current revision we've seen for LEN's earnings from the June report to today, just prior to the fiscal 3rd quarter report:
FY '15: $3.59 from $3.11
FY '14: $2.15 from $1.90
FY '13: $1.39 from $1.37
FY '12: $2.81 from $0.87 ( distorted by deferred tax asset realization last qtr)
As the reader can quickly glean, current valuations seem more to be based off 2014 and 2015 valuations and assumes a strong recovery, rather than current worries, of which we have a few.
If we subtract the $1.95 - $2 per share DTA from last quarter's results, and look at LEN on an operating basis for fiscal '12, it looks like the current full year earnings estimate is $1 per share (roughly) and $1.39 for next year.
Our biggest worry around LEN and the sector in general is the absence of cash-flow generation by the companies. Granted these companies operate with a lag relative to the sales cycle, except the last three quarters, here is LEN's operating cash-flow history:
5/12 Q2 ($81,363)
2/12 Q1 ($132,144)
11/11 Q4 ($64,783)
Again, the cycle from construction to sale to cash realization is a long one for the homebuilders, but given their 45% - 48% debt-to-cap ratios, cash is important. We'd like to see LEN and some of other homebuilders start to show positive cash-flow.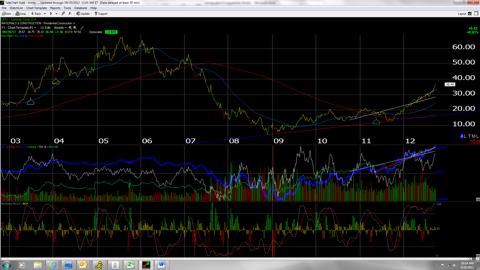 To conclude, although we are long LEN having traded it off the October '11 low, buying near $20, selling near $26 and buying again in the low $30's, we would like to see a pullback to some of the longer-trend lines in the above chart. This is a very good looking chart, but we are awaiting some lower risk buy points to add to our position.
LEN is one of the better homebuilders in our opinion, and the stock is early in the cycle, but we think the first phase is over in terms of the stock performance RELATIVE to underlying fundamentals. We are also long TOL, and consider both homebuilders best-in-breed within the sector, given that only one homebuilder (NYSE:TOL) carries an investment-grade credit rating.
"Normalized earnings" seems to be the key valuation metric and given the deferred tax asset and the unusually low effective tax rates, we continue to struggle with what should be "true" operating earnings for the homebuilders.
Watch margins, and watch cash-flow when LEN reports Monday morning, 9/24.
Disclosure: I am long LEN, TOL. I wrote this article myself, and it expresses my own opinions. I am not receiving compensation for it (other than from Seeking Alpha). I have no business relationship with any company whose stock is mentioned in this article.