One of my favorite ways to gauge market sentiment is to track short interest across sectors and market cap. The data allows you see if the market is likely to be friend or foe over the coming months.
What is short interest saying about Mr. Market today?
Let's start with large caps. The universe includes over 500 widely traded stocks and provides a solid proxy for short interest across S&P sectors.
During the past month, short sellers increased bets as markets rallied. The average large cap stock saw days to cover climb nearly a half day from the middle of August.
The biggest increase came in industrials, which saw days to cover expand by 0.94 days.
Only technology saw short interest fall, dropping 0.12 days to cover from a month ago.
However, technology shorts remain far more optimistic than a year ago, with the average large cap technology stock currently having 3.12 days more to cover.
Short interest remains overly pessimistic - bullish ahead of positive Q4 seasonality. Short interest is 0.76, 1.13 and 1.97 higher than mid June, mid January and a year ago, respectively.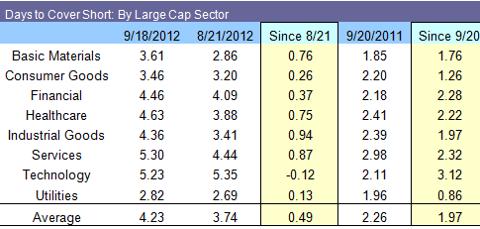 Short interest climbed across all mid cap sectors this past month too.
Across more than 400 mid caps, the average stock saw short interest increase by 0.53 days, led by a 1.24 day increase in consumer goods.
Mid cap short interest is 3 days above this time last year and 1 day higher than June. Short interest across mid cap supports upside, particularly in heavily shorted baskets. For example, services has 3.71 days to cover more than a year ago.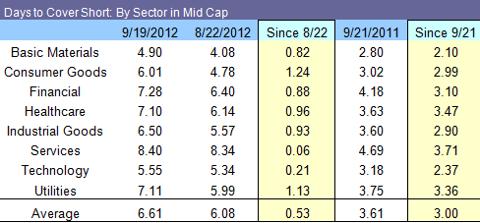 Unlike large and mid cap, short interest is falling in small cap.
Last month's reading across the more than 600 names in my small cap universe was extremely pessimistic at an average 11.22 days to cover.
Short sellers agreed, cutting exposure by nearly a day to cover since mid August.
The biggest drop came in financials, which was the most heavily shorted sector and saw short interest fall by more than 2 days. Only healthcare saw short interest increase.
Despite the covering, five sectors continue to have double digit average short interest - unsustainably negative. Across all sectors, short interest is 3.45 days higher than this time last year.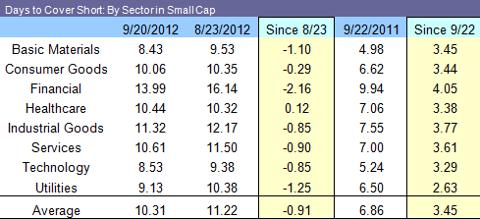 Short interest trends provide market support on both rallies and pullbacks.
Typically, small cap short interest leads large cap as investors tend to move more quickly in and out of illiquid, higher beta names. The decline in small cap and increase in large cap suggests short sellers are less comfortable with beta short exposure, leading them to cover in small cap and reposition bearish bets in more liquid large cap.
The covering in small cap is likely to trickle up into large cap over the course of the next month as markets shift out of the most historically troublesome Q3 and move into the more seasonally accommodative Q4.
In essence, the boat has tilted precariously to one side and short sellers are increasingly inclined to use weakness to unwind. Similarly, weaker hands are being forced to unwind into rallies. As a result, short interest suggests a floor underneath pullbacks likely around the S&P 500's 1400-1420 technical support.
Disclosure: I have no positions in any stocks mentioned, and no plans to initiate any positions within the next 72 hours. I wrote this article myself, and it expresses my own opinions. I am not receiving compensation for it (other than from Seeking Alpha). I have no business relationship with any company whose stock is mentioned in this article.