Before Norfolk Southern Corp (NYSE:NSC) slashed its outlook, most railroads were trading near their 52-week highs, despite an abysmal carload performance for coal. Coal has been the main source of carloads for railroads in the past. Although a large part of increases in stock prices have been driven by productivity enhancement initiatives, oligopolistic pricing has also played an important role in the stocks' performance. Regulators have been lenient with this industry in the past, given the poor returns and the revenue declines caused by the reduction of coal carloads, mainly because of mass switching towards natural gas.
Railroad margins are expected to face pressure in the future due to the following factors:
Fuel prices are expected to rise in the future. However, this can also help the industry grow, as railroads are more fuel efficient than trucks, and therefore, they will attract a part of trucks' demand.
Regulators are expected to come hard at rail prices in the future, as railroads no longer have the excuse of lower returns. In this context, many believe that the elections will be a solid catalyst for the industry pricing mechanism. The Republicans are expected to be more receptive to railroads' pricing arguments.
It will be important to see whether pricing improvements will be able to cover rail inflation, which is expected to be 2%-4%, especially if future volumes of carload remain weak.
The following carloads were observed YTD: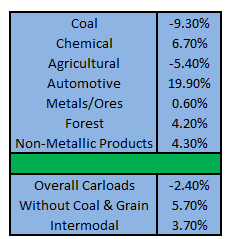 Railroads are expected to experience an increase in demand from some commodities, but a decline in others. Rises are expected in the following:
Automotive - increasing SAAR is giving a bullish perspective to the market.
Intermodal - increasing fuel rates have improved truck-to-rail conversions.
Housing related - lumber carloads is expected to rise, as the housing recovery is around the corner. Yesterday's data, released by the National Association of Realtors, shows that house sales have risen by 7.8%, sequentially. Housing Starts also rose by 2.3% YoY.
Chemicals - this product range has helped to cover the losses from the shale gas boom (lower natural gas prices because of shale gas boom are responsible for coal-to-natural-gas-switch). Declining gas prices have helped plastics and industrial chemical volumes.
Fracking sand - another advantage of the shale gas boom; however, natural gas drills are down.
Potential threat to carloads:
Utility coal - volumes are considerably down, but headwinds are moderating.
Met coal - this is a big threat to railroad pricing. Due to lower demand, met coal prices are down internationally, and railroads will have to lower prices in order to attract more volumes.
Agricultural - the drought has hurt crop yields resulting in lower grain volumes to be transported.
The market is bearish on railroads, given the unfavorable pricing to follow, coupled with the potential threat to volumes.
Norfolk Southern Corp
UBS, in a report published yesterday, downgraded the whole railroad sector due to the declining coal and grain demand. NSC was downgraded to Neutral from Buy. Also, Wells Fargo downgraded NSC today.
Yesterday, during post market trading, NSC slashed its EPS outlook for the third quarter from $1.64 to somewhere between $1.18-to-$1.25. The revenue is expected to be $120 million lower in 3Q YoY. NSC disclosed that the earnings outlook was slashed after viewing weak demand of coal and low supplies for grains due to the drought. Also, fuel surcharge revenue is expected to be $80 million lower YoY for this quarter. The JPM analyst thinks the company will also suffer from soft growth in the automotive segment. More clarity will be gained after NSC makes its presentation in Citi's Industrial Conference tomorrow.
After this news, the stock is 9% down. We think that the bad news has now been priced in the stock. Therefore, we will stick to our recommendation of going long on the stock. No doubt, coal and grain remain the biggest threats to railroad stocks, but NSC's productivity plan is well on its way to improving the margins. It is interesting to note that stockpiles at NSC-served utilities have reduced to normal levels, unlike the southern utilities served by CSX Corp (NYSE:CSX). Both CSX and NSC have 25% exposures in coal.
NSC is also working aggressively on the growth of the intermodal business. The Memphis terminal was opened on July 1, and new terminals at Birmingham and Greencastle are expected by the end of this year. Given the increasing challenges in the Trucking Industry, like expensive trucks, shortage of drivers and increased safety regulations, intermodal seems to be a long-term growth story.
It is interesting to note that fracking sand carloads are decreasing due to reduced rig counts at the shale gas sites. The activity has been decreased after the decline in natural gas prices. However, NSC still enjoys better access to some of the main shale gas sites, as compared to CSX.
Conclusion
UBS' downgrading has also been priced into NSC stock. Also, NSC is working on the cost part of the equation, and therefore, may not be hit by the reduction in future demand that much.
Valuations for NSC and CSX are quite comparable, given the proximity of exposures to different commodities. However, YTD performance for CSX is +2.5%, whereas it is -10% for NSC. Therefore, this price divergence can reverse as the market realizes NSC's better position in the railroad industry. NSC is also trading at a lower PEG.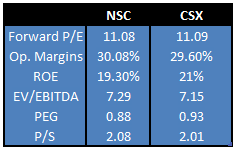 Disclosure: I have no positions in any stocks mentioned, and no plans to initiate any positions within the next 72 hours.
Business relationship disclosure: The article has been written by Qineqt's Industrials Analyst. Qineqt is not receiving compensation for it (other than from Seeking Alpha). Qineqt has no business relationship with any company whose stock is mentioned in this article.