On Tuesday, September 18th, we saw Research In Motion (RIMM) jump about 2% on news that it has licensed Mircosoft's (NASDAQ:MSFT) exFAT file system for upcoming BlackBerry devices, most likely ones running the upcoming BB10 OS. It created a volume spike which looks quite interesting in context of the previous ten days' trading volume.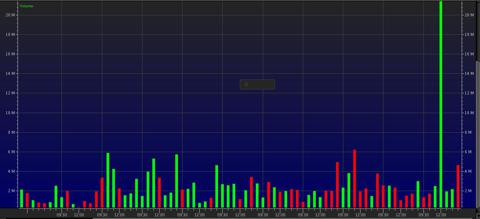 Click to enlarge
While many longs might believe this movement is an upward correction that accurately prices in the value of the agreement, I see this as RIM currently turning overbought as the cherry on top of an immediately negative competitive climate. I believe there is a closely looming downward correction. I do not believe the market is currently pricing RIM's stock accurately.
The situation may seem obvious, but technical analysis shows RIM as currently overpriced in the face of industry events. RIM began an upward trend four days before the iPhone 5 (NASDAQ:AAPL) announcement on September 12th. On the day of the iPhone announcement, RIM dropped notably during Apple's keynote before rebounding to slightly less than the day's opening price. On September 14th, RIM hit a multi-week high before retreating slightly. This high was partially due to the Fed's announcement of QE3. However, that same day RIM hit its multiweek high, Apple shattered smartphone sales records with 2 million iPhones presold. This includes all the September 21st deliveries, which sold out completely in about an hour. In the middle of the night.
The numbers for how many BlackBerry users have changed to the new iPhone haven't been released yet. But a Consumer Intelligence Research Partners report on the previous iPhone 4S indicated a large percentage of consumers were switching to the 4S from Android (NASDAQ:GOOG) or BlackBerry. Additionally, a more recent survey, conducted after the iPhone 5 launch, indicated 56% of current BlackBerry users plan to switch to the new iPhone. This means RIM has lost a notable but somewhat unknown percentage of users since Friday. And yet, its stock currently trades around the same price as the day before the iPhone announcement and before the market knew just how massive Apple's presale demand would be.
After a slight pullback September 17th, and the 18th's jump on the exFAT license, RIM is trading around 90 cents higher than 4 trading days before the iPhone announcement. This looks unsustainable.
This is a chart of RIMM's performance in 2012, with daily volume. Let's see where this latest volume spike fits in context: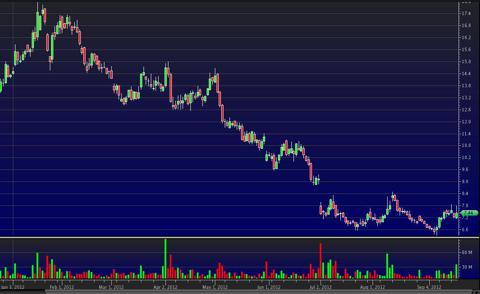 Click to enlarge
A couple times this year we've seen upward pricing pressure events for RIMM with single day volumes above 30 million shares. We saw it in early and mid-January, March and early April, early June, July, mid-August, and September 18th. I believe these events are indicators of RIMM being overbought. With the exception of 2 of the 3 occurrences in January, these single-day positive price/volume spikes have been followed immediately by a decline, and recently they've become quite sustained.
After the massive April trading day and almost immediate collapse, RIMM dead-cat-bounced for a month before steadily declining for another entire month into June. In the July price/volume spike, declines went on almost until August, and the pattern repeated itself again; a mid-August positive volume spike greater than thirty million shares and a subsequent sustained decline into this month.
This most recent overbought volume spike I believe is unlikely to create a dead cat bounce like the April event. That April overbuy was close to triple, volume-wise, of the event we just saw. Dead cat bounces for RIMM seem to happen at around 60 million shares or higher. But make no mistake; this pattern has repeated itself in a few different forms all this year, and twice in a row this summer. If it happens again from Tuesday's overbuy, make that three times in a row this summer.
Conclusion
The competitive environment data seems to indicate that BlackBerry users are not only defecting, but the pace of their defection to the iPhone is actually accelerating. And this does not take into account additional defection to Windows or Android, both of which have brand new operating systems and new devices to run them.
Additionally, RIM has been trading upwards even as their most threatening competitor is at a pivot point of unprecedented launch success. Add a volume spike which quite likely indicates overbuying, and RIM looks extremely ripe for a pullback, repeating what we've already seen several times this year. If you were a recent purchaser of RIM stock, you've done quite well over the last month, and I believe we are seeing one of the last opportunities to take those profits as we are just slightly on the other side of RIM's multi-week high and only hours past an overbuy event.
Those bullish on RIM for the long term, especially with a focus on BB10 in early 2013, should definitely be buyers when the stock is trading closer to recent lows after a correction. In terms of correction severity, if we continue a slightly downward trend from RIM's high on September 14th, I think we may be seeing $6.50 to $6.80 per share by the end of the week.
I also would not be surprised by a notable sell off, as I doubt many of the shares purchased in today's volume spike are held by longs planning to hold. What is definitely clear is more negative numbers for RIM are coming. Apple and its carriers have demonstrated a history of trickling out sales data for the iPhone when it hits post-launch milestones. Based on the speed the iPhone sold out Friday, those numbers are likely to be out quicker than ever before.
As I say in my disclosure, I may initiate a short position in RIMM. I will short if I see another day this week with positive price momentum and single-day volume above 30 million.
Disclosure: I have no positions in any stocks mentioned, but may initiate a short position in RIMM over the next 72 hours. I wrote this article myself, and it expresses my own opinions. I am not receiving compensation for it (other than from Seeking Alpha). I have no business relationship with any company whose stock is mentioned in this article.