Microsoft (NASDAQ:MSFT) stock is infamous for being one of the most stagnant stocks on the market. The company's shares have for the most part traded between $20 and $35 over the past ten years with no distinguishable growth trend. At over $31 in what I believe to be a strong market, Microsoft appears to be at the high end of what will inevitably be a bear run back to the $20 range. But this time, there is reason to believe that shares will not revert back to usual ways because Microsoft is becoming a big dividend stock.
Microsoft started paying a regular, quarterly, 8 cent dividend in mid 2004, and after its $3.08 "special" dividend in November 2004, the company has stayed pretty regular with its dividend payments. The dividend has had an upward trend ever since, and just got raised to 23 cents per share.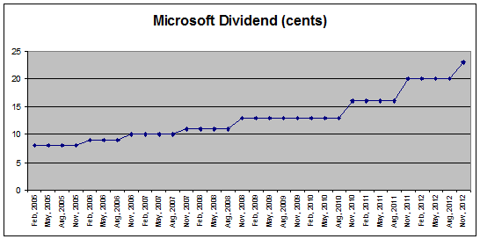 The recent increase raises the company's dividend yield around 3 percent, which puts it the same arena as dividend blue chips like Procter and Gamble (NYSE:PG) and AT&T (NYSE:T). As the company's dividend yield climbs, Microsoft stock will attract more conservative, income oriented investors who typically do not invest in tech stocks.
Another attractive quality of Microsoft as a dividend stock is its low reinvestment ratio relative to what it is paying out to shareholders. When companies have positive earnings, they can either reinvest it into the company, pay it out as dividends, or hold it as cash or receivables. Microsoft has typically paid out between 19 percent and 25 percent of its cash flow from operating activities as dividends.
What's good for dividend investors is that Microsoft's financials are dominated by cash cows and the company has had less to invest in over recent years. The company had a lot to invest in during fiscal years 2009 and 2012, but actually had $7.2 billion in operating cash left over after investing activities and dividend payments in 2011 and had $8.1 billion left over in 2010. As Microsoft becomes a more mature company, cash surpluses like these will become more common from year to year, which will mean more dividends and a faster dividend growth rate for shareholders.

The above table represents my projected dividend yield and payout ratio for Microsoft in fiscal years 2013 and 2014. With strong earnings to support an elevated earnings multiple along with a dividend yield that will be over 3 percent in the next year, I believe that Microsoft shares at these yields justify a higher price that its current $31. I put a one year target on the stock of $35. With dividend investors getting in on Microsoft along with the company's consistent financial performance, I believe shares will break out of their ten year funk and Microsoft will become a stock that generates long term returns.
Disclosure: I have no positions in any stocks mentioned, and no plans to initiate any positions within the next 72 hours. I wrote this article myself, and it expresses my own opinions. I am not receiving compensation for it (other than from Seeking Alpha). I have no business relationship with any company whose stock is mentioned in this article.