Goldman Sachs (NYSE:GS) is nothing if not a survivor. Not only has one of the primary villains of the financial crisis survived, it has thrived. The so called "Great Vampire Squid" came through the crisis with its dominance and clients intact. It recently ranked #3 in investment banking revenue of $1.7B in the first half of 2012. It also had $9.6B in trading revenue over the same time period, which was down 5% Y/Y but off much less than Morgan Stanley (NYSE:MS), where trading revenue was down over 30%. The stock is up some 25% YTD which is better than its peers. Given recent stumbles from its prime competitors it should be able to increase its market position and continue this outperformance.
Problems for prime Goldman Sachs' competitors:
JPMorgan (NYSE:JPM) took an almost $6B loss and got dragged through various congressional committee hearings for its so called "Whale" trade.
Barclays (NYSE:BCS) has paid a huge fine and is still dealing with its part in a Libor fixing scandal.
Morgan Stanley is still dealing with the Facebook (NASDAQ:FB) debacle and it was recently noted the company also took a $380mm stake in the social media company at the IPO price of $38 a share. It also seems content to become more of an asset manager with acquiring the rest of the Smith Barney brokerage operations from partner Citicorp (NYSE:C).
"The Goldman Sachs Group provides investment banking, securities, and investment management services, as well as a range of financial services to corporations, financial institutions, governments and high-net-worth individuals worldwide." (Business description from Yahoo Finance)
4 reasons Goldman Sachs is a buy at $117 a share:
The company has easily beat earnings estimates each of the last three quarters and sells for just over 9 times forward earnings.
The stocks sells for just 87% of book value and has a five year projected PEG of under 1 (.80).
Easy liquidity and a lack of organic growth prospects should eventually lead to an acceleration of M&A activity, which would be a positive for Goldman Sachs. Credit Suisse has an "outperform" rating and a $145 a share on GS.
The stock bounced nicely off intermediate technical support and is now solidly above its 200 day moving average (See Chart)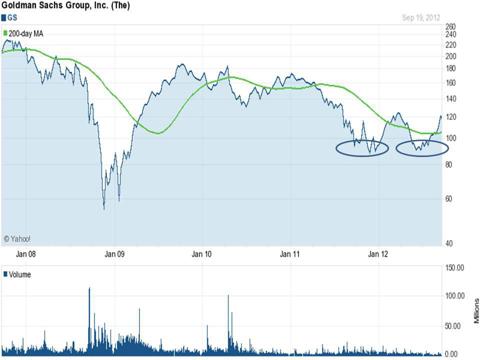 Disclosure: I am long GS, JPM. I wrote this article myself, and it expresses my own opinions. I am not receiving compensation for it (other than from Seeking Alpha). I have no business relationship with any company whose stock is mentioned in this article.