Rudyard Kipling wrote "If you can trust yourself when all men doubt you but make allowance for their doubting too," then you'll be a man. But that trust shown by early investors in financials has resulted in more of a 'poorer man'. I believe just as the financial sector goes through typical complete purge by 'investors', it's high time to look at financial company, which is building a financial institution in this turmoil - Capital Source Inc. (NYSE:CSE).
Capital Source is an almost $3B market cap leading middle market finance company, which was providing loans to SMB (small medium businesses) and especially to healthcare sector. The Company was enjoying REIT status. But now it is changing gears strategically to make good of current lending expertise and acquiring great deposit sources to make itself a good middle market focus bank with a great balance sheet in a market desperately seeking one, which is southern CA. In essence, CSE is bringing together a fund distribution knowledge base with its secure and growing fund raising capability.
Reshaped (not reinvented) business model: Acquired cheap/steady funding source (acquired a bank). The Company recently acquired Fremont bank out of bankruptcy focusing on the southern CA region, starting operations this past Friday with 65,000 customers and 22 retail branches. Overall steady deposit source would help not just on cost of capital side but also a steady source of new assets. By the way, lots of these new bank branches are close to Indymac's (which in and of itself can raise some deposits).
Raising more assets (separating healthcare REIT): The Company is planning to spin off Healthcare sales lease back assets into a separate REIT (by virtue of specializing in Healthcare lending business), which can raise $300M or so (Company's projection). It should give a capital boost to already well capitalized company. The Company might soon also change its status away from being a REIT.
Overall, these steps should help on the supply side of capital.
Return of capital security: This is in an environment where suddenly return of capital is far more important than return on capital. The Company with its recently acquired bank has almost completely altered its funding profile. Now more than 40% of funding comes from a steadier deposit base and reliance on term debt goes from 60% to 39% of total business, while reliance on credit facilities goes down further to 13%. Suddenly when peers are raising capital to help their balance sheets, this Company is one of the better capitalized, right out of the door, making it not just a great lender but a great stock too.
Reduced leverage and better liquidity: Some key facets are the Company has all performing loans and starting operations with Tier 1 risk based capital ratio of almost 16%. Its portfolio has senior debt orientation of 90%. Capital ratio (capital to assets) is expected to be close to 15-25% over the next three years (average 8-10%).
Overall, it's well positioned to be a lender with lending capabilities, not to mention well timed and well positioned (southern CA market).
Return on capital beauty: The new bank is starting operations with $5.2B of cash and other assets but there is potential to increase deposit base since 1.) Company would be opening the door with healthy balance sheet drawing assets from customers looking for stable banks during unstable times. 2.) As the Fremont assets were bought through bankruptcy, there is definitely potential to increase assets from previous customers as well as gain bigger share from existing customers with cosmetic service changes (2 years ago deposit base was $8B).
Increasing ROE: As the cost of capital decreases (more funding through deposits), margin spreads for the company increase. Cost of funding is expected to be 75-100 bps over the LIBOR. The Company expects 11-16% ROE with full taxation. But as more and more lending is done through internal deposits, we should only expect improving margin metrics. Another positive should be as non-core assets are taken off the books.
This available capital should be respected more since it's available right now, at a time when yields are rising and most of the banks/institutions aren't lending, especially in the middle market segment. Average spreads of middle market loans have increased from 250-300 bps (in 2007) to almost 700-800 bps over the LIBOR this year.
Overall, cheap raw materials (cost of capital) and rising prices (lending rates) make any business go from being good to being great.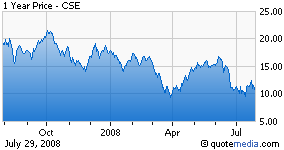 Valuation: As the company losses it REIT status, it will do away with its high dividend policy to a more "bank like" (company's term) dividend policy. So while the dividend should be coming down, stock recognition needs to move from 'dividend stock' to 'growth stock.'
So this 'growth stock' with a very well capitalized balance sheet in a completely unloved sector is trading at less than 12x 2008 PE (expected) and less then 8x 09 expected P/E ratios. Its stock is trading close to book value.
Smart long term investor base: Farallon Capital, a respected private equity firm, is already the biggest holder of public equity and continued to increase its holdings recently according to filings.
Disclosure: Long