Barrett Business Services (NASDAQ:BBSI) announced 2nd quarter earnings Tuesday after the bell. Diluted earnings came in at $.29/share for the quarter, down from the previous year's 2nd quarter earnings of $.42/share. However, they did beat analysts' (all 2 of them) average estimate of $.22/share. Net revenue for the quarter were $72.2m, up $8.3m or 13% from the previous year's quarter and gross revenues were $269.5m, up 0.7% over the similiar period in 2007.
The outlook for the 3rd quarter:
"The Company also disclosed today limited financial guidance with respect to its operating results for the third quarter ending September 30, 2008. The Company expects gross revenues for the third quarter of 2008 to range from $277 million to $282 million, as compared to $296.8 million for the third quarter of 2007, and anticipates diluted earnings per share for the third quarter of 2008 to range from $.34 to $.36 per share, as compared to $.54 per share for the same period a year ago."
Analysts had estimated 3rd quarter estimates at $.26/share, so the company's guidance for the 3rd quarter is a positive despite the decline from the previous year's period.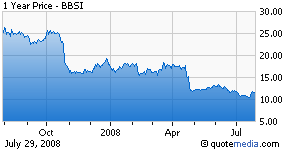 Analysts FY 2008 earnings estimates of $.74/share appear well within reach. If the company meets analysts earnings expectations for FY2008, the forward PE is 15.6.
Historically, the 3rd quarter has been their best. If we assume $.35/share for the 3rd quarter and $.22/share for the 4th quarter, which on a percentage basis is roughly the same 37.5% drop as the 3rd quarter earnings projections from the previous years same period, then the company earns $.87/share for 2008 which projects to a PE of 13.3. According to my calculations, the price/book as of yesterday's close is 1.16 and the quick ratio is 1.87, giving the company, in my opinion, a cushion for any upcoming challenges.
Obviously, it is never encouraging to see negative earnings growth. Significant share appreciation may be difficult to come by for BBSI until negative macrotrends ease. However, the company's current valuation and balance sheet make it an attractive stock for long term value investors.
The conference call is Wednesday at 12pm ET and should make for an interesting listen.
Disclosure: None