Edited by Kate Boehme
Nokia Corp (NYSE:NOK) is one of the world's largest producers of cell phone devices. The corporation's cell phones provide buyers with experiences in voice, video, video gaming, direction-finding, Internet, photos, and many other features. Through its 50 percent ownership of the Nokia-Siemens Networks joint venture, Nokia provides devices and services to system operators, service suppliers, and companies.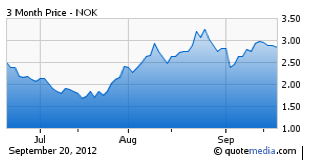 Nokia's stock has experience a surge recently, reaching the $3 mark for the first time in the last three weeks. Nokia's stock price has been continually on the rise since the introduction of the Lumia 920 phone. This recent increase in value has investors wondering whether this is a fluke or whether Nokia will be showing such positive figures for the long haul. In the following analysis I will attempt to draw some conclusions on this matter.
Financial analysis
There is no doubt that Nokia is struggling at present. Nokia's net losses rose to €1.41 billion from €369 million. Devices and services sales, meanwhile, dropped by five percent during the second quarter. At the same time, the volume of mobile phones has increased by 74 million units this quarter. Lumina, in particular, has increased in volume by four million units. Even so, both phone shipments and sales were higher than the first quarter levels. Overall, this report certainly showed some mixed results. I believe that device and services revenues will remain under pressure in the third quarter. The operating margin for Nokia devices and services will remain at a negative 9.1 percent during the third quarter.
When assessing a company's health, it is first and foremost important to examine that company's margins. In the following table are displayed the margin numbers for Nokia for the past three years.
| | | | | |
| --- | --- | --- | --- | --- |
| Margins % of Sales | TTM | 2011-12 | 2010-12 | 2009-12 |
| Revenue | 100.00 | 100.00 | 100.00 | 100.00 |
| COGS | 72.85 | 70.72 | 69.80 | 67.64 |
| Gross Margin | 27.15 | 29.28 | 30.20 | 32.36 |
| SG&A | 13.98 | 12.71 | 11.76 | 12.39 |
| R&D | 15.65 | 14.52 | 13.81 | 14.42 |
| Other | 6.94 | 4.83 | -0.25 | 2.64 |
| Operating Margin | -9.42 | -2.78 | 4.88 | 2.92 |
| Net Int Inc & Other | -0.63 | -0.32 | -0.67 | -0.57 |
| EBT Margin | -10.05 | -3.10 | 4.21 | 2.35 |
The drop in gross margins seen above is certainly not the best news for this company. These numbers do, however, show that Nokia reduced some of its cell phone prices in an attempt to further its product sales. Gross margin dollars have dropped by nearly 36 percent, in comparison to the 24 percent drop in sales during the first half of 2012. When we look at operating expenses, it is apparent that they have remained constant year-over-year. However, when a company's sales drop by 24 percent and operating margins remain level, as is seen here, this can only ultimately grind down the operating margins. This is clearly happening in the case of Nokia. Nokia sales are dropping year-over-year, but on the other hand operating expenses are increasing. Furthermore, Nokia reported 4.21 percent of EBT in 2010, followed by a negative 3.10 percent in 2011, at the same time that the company has retained considerable cash resources. In the following table we can see the cash trend followed by Nokia.
NOKIA GROUP CASH FLOW AND FINANCIAL POSITION

EUR million

Q2/2012

Q2/2011

YoY Change

Q1/2012

QoQ

Net cash from operating activities

102

-176

-590

Total cash and other liquid assets

9418

9358

1%

9793

-4%

Net cash and other liquid assets

4 197

3891

8%

4 872

-14%
Net cash and other liquid assets increased by €306 million during the second quarter 2012. Such increases are primarily due to cash flows related to IPR. This increase also includes a €400 million receipt of prepayments from existing IPR licenses. Meanwhile, net cash and other liquid assets dropped by €675 million during the second quarter of 2012. This decrease can chiefly be attributed to the payment of an annual dividend totaling €742 million in conjunction with operating losses in the devices and services sector. In addition, cash outflows related to restructuring and capital expenditures, can be partially offset by flows related to IPR, which includes €400 million in prepayments from IPR licenses. A high yield share of the Nokia-Siemens Network, and the receipt of €196 million in the form of a quarterly platform support payment from Microsoft, will also help to improve Nokia's cash flows.
With the year-over-year fall in sales and significant losses, Nokia's balance sheet has not shown terribly negative trends over the past few years. Below are a few key metrics that demonstrate this trend.
| | | | |
| --- | --- | --- | --- |
| Liquidity/Financial Health | Latest Qtr | 2011-12 | 2010-12 |
| Current Ratio | 1.31 | 1.46 | 1.55 |
| Quick Ratio | 0.94 | 1.04 | 1.16 |
| Financial Leverage | 3.48 | 3.05 | 2.72 |
| Debt/Equity | 0.44 | 0.33 | 0.29 |
Even with the negative reports in recent years, I do not believe that Nokia is in any real difficulty yet, especially since it reported €4.2 billion in net cash during the second quarter. There is always a risk that cash could be burnt off from both operating losses, along with the corporation's continuous restructuring efforts, if sales have similar trend. However, I believe that €4.2 billion in net cash could be enough to cover the coming two years' business obligations.
Final Thoughts
Nokia has kept the net cash resources at a stable stage since it drastically cut dividends paid to the shareholders. In my opinion, Q3 will remain difficult; Nokia needs to return its Devices & Services business to a positive operating cash flow as quickly as possible. I believe that restructuring the program is critical for Nokia. The company should dispose of noncore assets such as Vertu. Nokia is moving in the right direction by closing Ulm and Germany research and development sites. In addition, the closure of the factories in Salo and Finland are continuing on in a collaborative spirit.
In mobile phones, Nokia intends to improve its competitiveness and profitability. Early results of the innovation can be observed in Nokia's latest Asha phones. All of these ambitious plans are the results of the sustainability goal of Nokia in the world market.
Ultimately, I believe that the most important factor in determining the health of this company is Nokia's sales trends. Nokia supplied four million Lumia smart phones in the second quarter and plans to update the current Lumia products over time. While, the collaboration with Microsoft (NASDAQ:MSFT) could be the last hope for Nokia, I believe the Windows Phone 8 launch will be a vital catalyst.
Disclosure: I have no positions in any stocks mentioned, and no plans to initiate any positions within the next 72 hours. I wrote this article myself, and it expresses my own opinions. I am not receiving compensation for it (other than from Seeking Alpha). I have no business relationship with any company whose stock is mentioned in this article.