With so much at stake in the finance and investment world, there are constant debates about investment performance, asset allocation, active vs. passive approaches, and more. In this article, we review recent articles on the application of quantitative models to the investment world - and look at the stock market's technical outlook.
History can tell us where we have been -- and a scientific and mathematical approach can help guide our investment decisions going forward. Quantitative analytics can be applied to many areas within finance, ranging from asset allocation and risk management to trading / investment strategies and the growing interest in alternative assets.
Mystery of Underperformance
In the July/August 2012 issue of the Financial Analysts Journal, Charles Ellis, CFA wrote an interesting article entitled, "The Mystery of Underperformance (Murder on the Orient Express)". Ellis writes how various funds -- including mutual funds, pension funds, and endowments -- have a consistent pattern of underperformance. He states that "…investment policies and decision-making processes -- no matter how complex they might be to implement -- were all too often oversimplified, documented with 'selected' data, and then crisply articulated as convincing 'universal truths'…" The article says that even with the best intentions, investment practitioners systematically underperform due to varied interests and motivations of each relevant party -- and that "many investment committees have misdefined their objectives and are organized in ways that are counterproductive."
In fact, analysis performed at the actuarial firm Kwasha Lipton (now a part of PriceWaterhouseCoopers), quantified the level of potential underperformance for pension plans and defined contribution plans. While at Kwasha Lipton, my team used a "utility function" analysis to show that certain investment committee preferences could reduce long-term performance.
The "utility function" results support Ellis' observations that varied interests and motivations of investment committees can result in suboptimal results. More specifically, by modeling various preferences with utility functions and objectives, we showed how long-term performance could suffer. The team used this quantitative analysis to discourage a focus on short-term objectives -- which would impact overall long-term results negatively.
Quantitative Models = Objective Analysis
In an article in CFA Magazine last summer (July/August 2011), Mark Kritzman, CFA, discussed the benefits of quantitative models. Kritzman highlights "…rigor and a slight nod to realism" when applying quant models. According to Kritzman:
… We should take more care to apply them thoughtfully, and we should strive to develop new and better models. Toward that end, investors should review the quantitative modeling currently underway to measure systemic risk and assess its impact on asset values. This area is relatively unexplored and thus far seems to offer intriguing insights for risk management.
Kritzman discusses a useful risk measure, called "within-horizon exposure," which can give investment committees a better feel for risk within a given time horizon. Tools such as "within-horizon exposure," as well as "downside risk," are very useful risk management tools that can help us to better understand the risks and rewards of various investments and asset mixes.
Investment practitioners cannot predict the future, but we can describe potential future scenarios and compute the associated probabilities. Stress-testing -- and other related systems and strategies -- can yield a probabilistic and informative view of the future. It is important for institutional investors to evolve and keep up with the times. A scientific approach using data-driven analyses and robust mathematical methods can help to uncover information and lead to objective results.
Athletes, Traders & Repeatability
Interestingly, psychotherapist and sports psychologist, Dr. Jay Granat notes that athletes use similar systematic techniques. Granat encourages his clients to come up with their own "ritual" to help with focus. This can take the form of tennis players bouncing the tennis ball three times before serving, or baseball batters taking several practice swings before each pitch, for example. In some ways, these rituals and habits are designed to improve repeatability -- and are an athlete's method of systematizing his or her approach.
Dr. Granat, who has worked with athletes of all levels, including Olympic gold medalists, has also worked with professional traders. On trading and investing, Granat notes:
I teach professional traders how to stay calm, focused, confident, and relaxed under pressure. Interestingly, I teach traders the same mental skills that I have taught to top athletes around the world.

Managing emotions like greed, fear, anger, and frustration are essential for good trading and intelligent investing. A carefully planned, tested, and well-thought-out trading methodology or system can help keep emotions in check… and manage peaks and valleys.
Improving Investment Decisions with Quantitative Analysis
The investment community and especially institutional investors, bear a tremendous responsibility when managing investors' savings. This responsibility, along with today's "I want it now" mentality, can put a tremendous strain on portfolio managers. Indeed, investment committees and boards often struggle with myriad decisions.
Quantitative approaches can be used to improve investment decisions by producing objective analysis. The goal is to improve investment results and the probability of repeatability. Math and scientific methods can help put history and patterns on our side. Here are some important takeaways:
Varied interests and motivations can reduce optimal investment decisions.
Performance data is not necessarily useful in predicting future results, especially when studying short-term manager performance.
Behavioral finance has shown that many investors overreact to recent events, and tend to ignore long-term historical patterns.
Mathematical models can minimize the negative impacts of greed and fear, improving discipline -- and taking emotion out of the equation.
Robust quantitative analysis can improve "forward information" and repeatability.
Systematic and scientific approaches can yield meaningful information and help improve long-term performance by providing objective analysis to investment committees.
(click image to enlarge)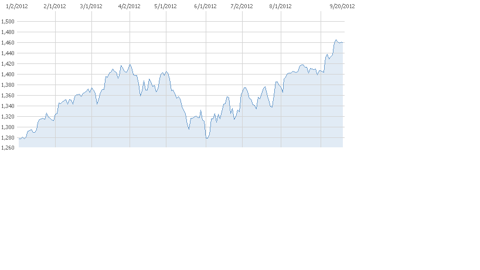 A Quant Model and Recent Stock Market Action
Since reaching lows in the area of 1278 on the S&P 500 in early June, the stock market has had a steady climb to its current levels in the 1460 region, which are levels we have not seen since 2008. Indeed, since the lows touched in November 2008 in the 750 range, the stock market has had a nice bounce back to current levels.
We track a number of financial market indicators. For the equity markets, these indicators cover the range from short-term to long-term quant models. These indicators have kept us long in the stock market during the equity market's run since early June.
Recently, the stock market received an additional boost due to the Federal Reserve's launching of its third round of Quantitative Easing, commonly referred to as QE3. What do our stock market quant models say now?
After the sustained rally, our intermediate-term overbought/oversold stock indicators are flashing a warning sign for U.S. stocks. Although overbought indicators are bearish, it is noteworthy that long-term stock indicators remain bullish due to the sustained rally.
Traders should be wary of the next downdraft in the stock market. Long-term investors may want to wait for the potential decline before adding to stock positions.
This has implications for investors in the SPDR S&P 500 ETF (NYSEARCA:SPY), as well as other stock sectors in general, such as the iShares S&P 500 Index ETF (NYSEARCA:IVV), and small stocks, such as the Powershares QQQ Trust (NASDAQ:QQQ).
Past performance is not necessarily indicative of future results.

An investment in futures may result in losses.
Disclosure: I have no positions in any stocks mentioned, and no plans to initiate any positions within the next 72 hours. I wrote this article myself, and it expresses my own opinions. I am not receiving compensation for it (other than from Seeking Alpha). I have no business relationship with any company whose stock is mentioned in this article.