The 67 Bcf increase in natural gas in storage reported this morning by EIA came on top of the consensus (65 Bcf). While slightly bearish, the report does not suggest that a "containment" outcome is likely at the end of this year's injection season. The largest change from the week before relates to the Producing Region, which saw a 20 Bcf injection after two consecutive weeks of draw downs.
EIA Weekly Storage Report (Week ended 9/14/2012)
During the week ending September 14, the inventory surplus relative to the same time last year narrowed by an additional 22 Bcf and the surplus relative to the five-year average shrank by 6 Bcf. Total working gas in storage was 3,496 Bcf, 320 Bcf higher than last year and 278 Bcf above the 5-year average. Relative to the five-year average, the surplus was 76 Bcf in the East Region, 52 Bcf in the West Region, and 150 Bcf in the Producing Region.
(click images to enlarge)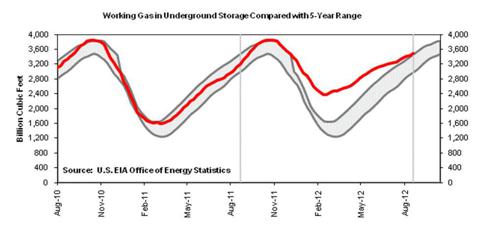 Click to enlarge
The pace of injection into storage remains substantially lower than during the same period last year. Using a three-week average to reduce the impact of short-term fluctuations, the weekly year-on-year differential in the injection rate is 39 Bcf/week, or 5.6 Bcf/d. While it would be precarious to try to extrapolate this differential on to the next several weeks, it appears that some degree of balance between supply and apparent demand has been achieved in August and the first two weeks of September. The very strong production levels appear to be compensated by the increased industrial and power demand. Assuming seven "big" injection weeks remaining in this year's season, 70 Bcf per week on average would be required to reach the 4.0 Tcf storage level by the end of the season (in line with the previous two years once storage additions are taken into account).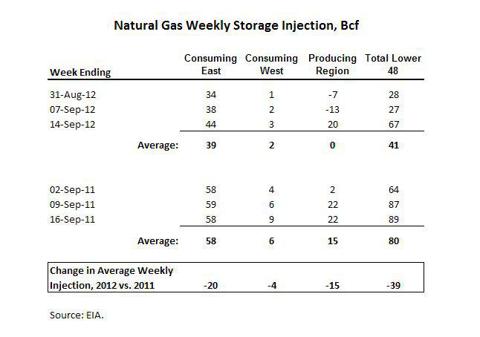 Click to enlarge
While the surplus in the Producing Region remains the highest relative to the five year average, both in absolute and relative terms, the region also has the largest spare capacity: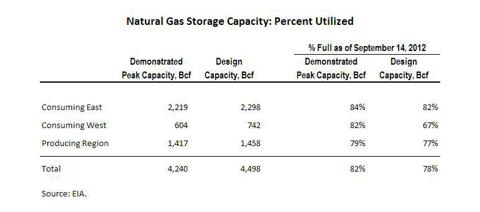 Click to enlarge
Storage Capacity Likely Increased by Additional 40 Bcf Since April
Growth in natural gas underground storage has largely kept pace with the increasing size of the natural gas market, and remains a significant factor that should not be overlooked when estimating the potential outcome of this year's injection season.
EIA data shows that from April 2011 through April 2012, design storage capacity increased by 10 Bcf in the East Region, 48 Bcf in the West Region, and 52 Bcf in the Producing Region. The operationally flexible salt cavern additions were particularly large, with 60 Bcf of capacity added in the Producing Region alone. Since April 2012, another 7.5 Bcf has been added to working gas storage capacity, and EIA analysts believe from anecdotal information that there is the potential for another 32 Bcf to be in operation by year-end.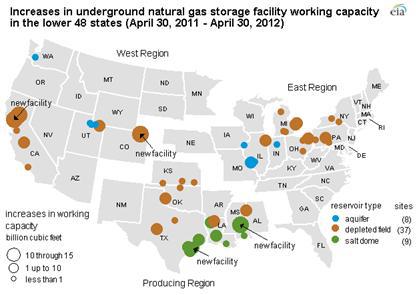 Implications for Natural Gas Prices
With storage injections remaining at healthy levels, natural gas prices may remain subdued in the near term to prevent an accelerated unwind of remaining curtailments and increased power burn (as an illustration, a $4/MMBtu price, if materialized at this time, could trigger over 2 Bcf/d of combined supply and demand response, or 120 Bcf over a two month period, and put in question storage sufficiency).
The low natural gas price at the front end creates a strong contango, which is an incentive to operators to hold out, at least until the end of the injection season, with opening up wellhead valves to release the restricted volumes into the market.
The below 3.00/MMBtu pricing also assures competitiveness of natural gas versus coal in key power markets (while models vary widely, there are many respected opinions that suggest economic motivation to switch to coal may not kick in below $3.25-$3.50 on consequential volumes, given today's CAPP and PRB pricing).
On the other hand, a containment pricing similar to what we saw in April appears unlikely at this point, given ample spare storage capacity.
At current strip pricing, very few dry gas wells can be drilled profitably (particularly once wellhead price discounts to Nymex are factored in). Further reductions in gas-directed rig count would not be surprising in the near term, and are key to restoring the health of the natural gas business. As the "rigless" supply (backlog wells, shut-ins) gets worked off during a next several months and additional dry gas rigs go on the sidelines, a positive price signal (closer to $4 Nymex) may become necessary to secure adequate levels of gas supply during the winter season 2013/2014.
This discussion of natural gas fundamentals bears relevance to natural gas producer stocks. My natural gas producer index includes:
Chesapeake Energy (NYSE:CHK)
EnCana Corporation (NYSE:ECA)
Devon Energy (NYSE:DVN)
Southwestern Energy (NYSE:SWN)
Ultra Petroleum (UPL)
EXCO Resources (NYSE:XCO)
WPX Energy (NYSE:WPX)
Cabot Oil & Gas (NYSE:COG)
Range Resources (NYSE:RRC)
QEP Resources (NYSE:QEP)
Quicksilver Resources (NYSE:KWK)
Forest Oil (NYSE:FST)
Bill Barrett (NYSE:BBG)
Disclosure: I have no positions in any stocks mentioned, and no plans to initiate any positions within the next 72 hours. I wrote this article myself, and it expresses my own opinions. I am not receiving compensation for it (other than from Seeking Alpha). I have no business relationship with any company whose stock is mentioned in this article.