The run up of markets in recent weeks was based on speculation over potential easing measures brought on by Central Banks. They eventually acted in accordance to what many believed, and there was a subsequent relief rally. Where we stand now is at a fork like structure in the road. One path leads to sideways action with a limited downside, while the other looks to expound on 52 week highs.
Most major banks threw some form of hat in the ring, proving that they aimed to do what was necessary to stabilize markets. The Fed put its sights on housing markets and unemployment as targets to recovery. The ECB aimed to lower sovereign yields, and take pressure off of their respective borrowing costs. Although the question now lies with what will happen next with Spain, the hope is that cohesive action will take precedence over divide. Japan eased in an effort to stabilize its ever stronger currency, and aid exports, which through a transitive property aids GDP. Economic factors remain suppressed worldwide and recent data foreshadows looming recessions, but central bank action looks to provide a floor for excessive gloom.
What the markets are saying right now is that a halt in enthusiastic upward trade looks probable. Evidence of overhead resistance and waning euphoria currently weighs on markets. The first indicator of choice is junk corporate debt (NYSEARCA:JNK) over long term treasuries (NYSEARCA:TLT). This indicator correlates strongly to risk assets and has seen considerable strength during the QE environment. The indicator took off days prior to the Fed's announcement, and has had spouts of predictive ability before major turns. The indicator bounced off of yearly highs a few days ago and doesn't look to break higher unless another major catalyst is presented.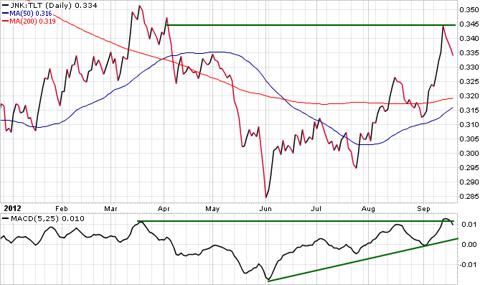 Click to enlarge
The next interesting indicator to look at is an equal weight index of the S&P 500 (NYSEARCA:RSP) over the S&P 500 (NYSEARCA:SPY) itself. This is a breadth indicator that shows the overall participation in the move. When the equal weight index leads, this entails broad strength in the rally. In early August the indicator finally began ticking up, which was a bullish sign for risk assets. The indicator looks to be subsiding now, and a brief pullback could follow. A pullback in the indicator does not necessarily lead to a market downturn, but it does indicate weaker participation and potentially lower volumes.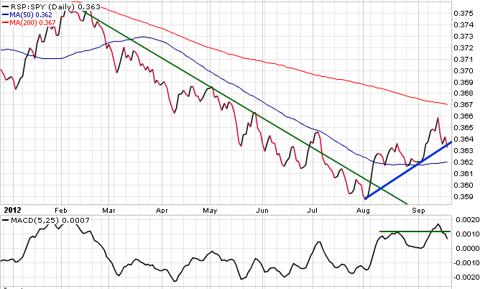 Click to enlarge
The last indicator of interest is Spanish equities (NYSEARCA:EWP) over world equities (NYSEARCA:VT). Spain has littered the headlines recently, and future sentiment in the Eurozone is closely tied to the EU's dealings with the region. The uptrend is still intact with the price action, but the MACD has hit a point of resistance. The break in the MACD uptrend could be indicative of further declines, which would be bearish for the broader market. More definitive news out of Spain in the following weeks will provide direction to this indicator, and thus risk as a whole. Although a pullback may ensue, the losses look to be limited.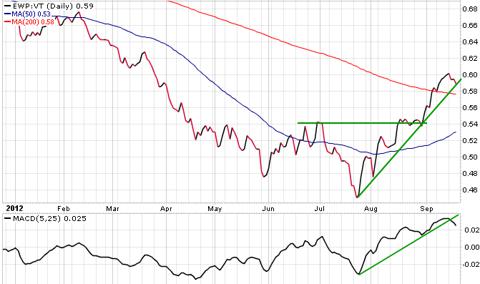 Click to enlarge
Disclosure: I have no positions in any stocks mentioned, and no plans to initiate any positions within the next 72 hours. I wrote this article myself, and it expresses my own opinions. I am not receiving compensation for it (other than from Seeking Alpha). I have no business relationship with any company whose stock is mentioned in this article.