Year-to-date REIT returns stayed strong, at 17.54 percent, as the commercial real estate industry continues to reap the benefits of favorable supply/demand dynamics, low interest rates, and wide open capital markets. Weak job growth and economic uncertainty have made businesses reluctant to expand, employers reticent about hiring, and these factors have kept investors uneasy.
The latest August job numbers reinforce the outlook for slow economic recovery (unemployment dropped to 8.1 percent in August from 8.3 percent in July) in which REIT returns have been muted by investors' growing concerns about the economy, both domestically and internationally.
All Properties Are Not Created Equal, Especially Health Care
One sector expected to grow in spite of the slow recovery trends is the health care sector. In a recent Chilton Capital Management article, Benjamin W. Atkins wrote:
According to the Bureau of Economic Analysis, health care is the largest industry in the US economy based on GDP. The National Health Expenditures Report published by the Centers for Medicare and Medicaid Services (CMS) predicts average annual health spending growth of 5.8 percent over the period 2010 to 2020, outpacing the expected growth rate for the overall economy by 1.1 percent. Importantly, the average annual growth rate accelerates to 8.3 percent in 2014 due in large part to the Affordable Care Act. The report predicts health spending will reach $4.6 trillion by 2020 representing 19.8 percent of GDP, up from $2.0 trillion in spending comprising 16.0 percent of the economy in 2005.
Given the anticipated growth in health care spending over the next 10 years, health care real estate should enjoy similar demand growth within the backdrop of limited supply. The total value of health care real estate is estimated to be close to $1 trillion, but only about 8 percent is owned by public REITs (source: Chilton Capital Management, LLC).
Due to their superior access to both equity and debt capital, the health care REITs should continue to increase their market share versus their private peers through accretive acquisitions and prudent development.
Health Care Real Estate Supply and Demand
Health care REIT properties can be broken down into five subsectors: senior housing, medical office buildings (MOBs), skilled nursing facilities (SNFs), life science (lab space), and hospitals, with each subsector influenced by unique drivers.
For example, senior housing demand is influenced by home prices and employment levels. Higher home prices increase affordability for senior housing because tenants often use the proceeds from the sale of their primary home towards rent. Low unemployment contributes positively toward higher rents because more people have the ability to contribute to their parents' rent.
The physician tenant base, a derivative of the needs of the surrounding population, drives MOB demand. Government subsidies in the form of Medicare and Medicaid reimbursements are a large factor in the ability to increase rents on tenants in multiple subsectors. Specifically, Medicare and Medicaid fund about 75 percent of total SNF revenues, leaving tenants highly exposed to government actions.
As explained by Benjamin W. Atkins with Chilton Capital Management, LLC:
One of the driving forces behind the projected increase in health care spending is the aging population. Based on US Census Bureau data, the population segment consisting of individuals 85 years of age or older is projected to grow at three times the national average. Advances in medicine, technology, and treatment have created a self-fulfilling prophecy, where a higher life expectancy increases population and the amount of health care used per person. As demand rises via a higher volume of patients requiring more treatment, tenants will be able to afford to pay higher rent to their landlord and will need more space.
Health Care: A Defensive Sector
Health care is predominantly considered a defensive sector due to its non-cyclical nature - namely, people do not tend to change their health care spending patterns depending on the economy. Health care REITs indirectly participate in the defensive nature of their tenants through their lease payments.
Many leases in the health care sector are long in duration and triple net, meaning the tenant is responsible for taxes, insurance, and common area maintenance fees. The triple net feature allows for a more predictable cash flow stream because the building owner is not burdened with having to pay for the variable costs. Often a triple net lease will contain contractual annual rent escalations, providing the REIT with steady cash flow growth over time.
Many tenants enjoy triple net leases because it gives them ownership of a part of the cost equation. Triple net tenants are incentivized to manage their properties efficiently because they can increase their cash flow by reducing real estate expenses.
Due to the non-cyclical demand for their product and above average costs to relocate, health care tenants also prefer long-term leases to make their expenses predictable. As investors, this serves as a defensive governor on earnings because landlords are less likely to be forced to renew leases at a time when the market is weak. Consequently, rents do not fall as much as in other real estate sectors during economic downturns and alternatively, they do not rise as much during economic upswings.
Despite being widely thought of as a defensive sector, select subsectors of health care facilities can be additive to performance when the economy is strong. For example, RIDEA (REIT Investment Diversification and Empowerment Act) senior housing facilities have many of the same fundamental drivers of its close relative, the multifamily sector. As explained by Matthew Werner, CFA with Chilton Capital Management explains:
Unlike the other subsectors, health care REITs are able to participate in the profits of the senior housing operators, increasing the volatility and upside potential of their lease payments. As home prices have been declining around the country, many seniors are no longer viewing a home as a good investment and are choosing to lease a unit in a senior housing community.
Health Care REIT Investment Environment
While there are property specialists in the health care REIT sector, many diversify their holdings among the subsectors. HCP, Inc. (NYSE:HCP), Ventas (NYSE:VTR), and Health Care REIT (NYSE:HCN) each own a different combination of hospitals, senior housing, SNFs, lab space, and MOBs. However, Omega Health Investors (NYSE:OHI) focuses only on nursing homes, and Healthcare Realty Trust (NYSE:HR) and Healthcare Trust of America (NYSE:HTA) specialize in MOBs.
Health Care REIT, Inc. announced an agreement in August 2012 to acquire Sunrise Senior Living (SRZ) for $1.9 billion. It marked the latest in a string of deals involving a publicly traded U.S. health care REITs in the last two years. During that period, Ventas completed the acquisitions of Cogdell Spencer Inc. and Nationwide Health Properties Inc. for a combined total of more than $8 billion. Prior to those deals, Tiptree Financial Partners completed the acquisition of Care Investment Trust Inc. in the second half of 2010, with a transaction value of $264 million.
According to Chilton Capital Management, the average health care REITs trade at a 6.0 percent implied cap rate, resulting in a 30 percent premium to net asset value (NAV)*. As Matthew Werner, CFA explains,
The implications of this are two-fold: first, investors are ascribing to these stocks a premium valuation due to the predictability of their earnings growth, and second, the smart capital allocation decision for them is to acquire accretive assets. When a REIT is trading at a premium to NAV, it means that the public stock is trading at a premium valuation to the price it would command by selling its assets in the private market.
Balance Your Portfolio with Offense and Defense
Health care REITs are viewed as steady growth companies (most have contractual rents of 3 percent), and the primary advantage to owning health care properties is that they tend to be recession resistant in that demand for health services is relatively inelastic. That consistency in need-based services is the primary reason that health care REIT shares have performed significantly better than their peers during periods of economic weakness.
When building a defensive REIT portfolio, health care REITs are usually the most stable sector, and similarly, these REITs are often over-weighted in long-term portfolio management practices. Historically, health care REITs have provided low volatility and the consistent dividend yields have become core real estate holdings for many investor portfolios. By gaining exposure to the health care sector, investors can further diversify their portfolios (reducing risk) while also maximizing overall dividend performance (increasing returns).
There are 11 health care REITs that are included in the composite FTSE NAREIT All Equity REIT Index. This necessity-based sector has a market capitalization of around $64.093 billion which represents around 12.4 percent of the entire equity REIT capitalization (as of August 31, 2012 the total market cap was $ 517.297 billion). The health care sector has the highest overall average dividend yield performance as the sector boasts a current yield of 4.74 percent and year-to-date total return performance of 16.81 percent.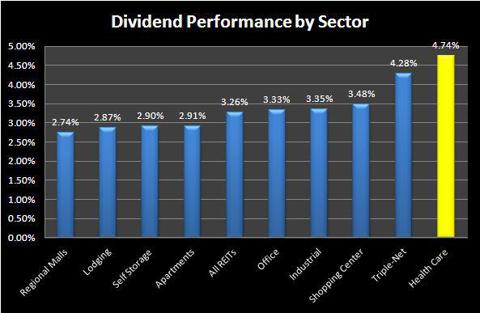 SWAN (sleep well at night) investing is all about owning shares in companies with low volatility and defensively risk-aligned characteristics. The following health care REITs are differentiated by their exceptional ability to provide a balanced offense (repeatable dividends) and defense (durability). By owning shares in the REITs below, an investor is able to gain access to consistent income and reliable capital appreciation.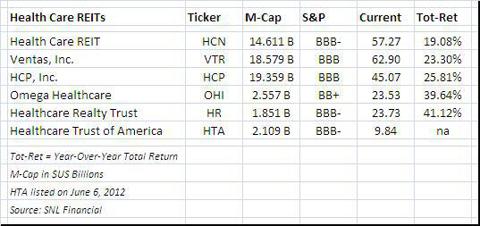 Ventas is trading at a premium to NAV of 47 percent, while HCP is trading at a 57 percent premium. Both companies have the ability to tap into equity markets in the future to possibly finance other acquisitions. Perhaps the best "pure dividend" values today in the health care sector are Omega Healthcare, paying a 7.14 percent dividend, and Healthcare Trust of America paying a 5.84 percent dividend.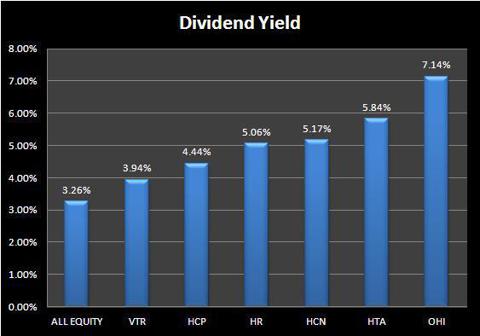 Source: Excerpts from this article were taken from Chilton Capital Management's May 2012 newsletter (Health Care: The Age-Old Story). Also, other sources include SNL Financial and NAREIT.
(*) As of April 30, 2012
More Information: For more information on these REITs click the tickers: HTA, VTR, and OHI
Disclosure: I have no positions in any stocks mentioned, and no plans to initiate any positions within the next 72 hours. I wrote this article myself, and it expresses my own opinions. I am not receiving compensation for it (other than from Seeking Alpha). I have no business relationship with any company whose stock is mentioned in this article.