Pfizer Inc. (NYSE:PFE) has had quite an impressive run over the past couple years. Since July of 2010, Pfizer has climbed from around $15 to around $24. During the same time, it has also increased its quarterly dividend from 18 cents to 22 cents per share. After such a nice rise, does the company still have more room to run, or is it time to take profits?
Click to enlarge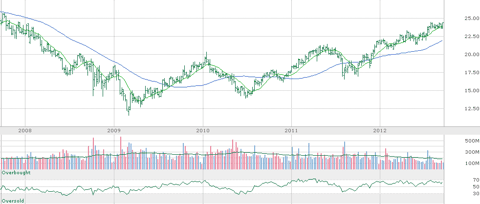 Pfizer is a powerhouse in the global pharmaceutical industry. The company has an unmatched drug portfolio, with many household names in it's family. Pfizer's top seller, the cholesterol-lowering drug Lipitor, generated $9.6 billion in sales in 2011. However, sales are expected to drop sharply as generic versions become available in 2012. Other impressive Pfizer drugs include Lyrica, an epileptic seizure drug at $3.7 billion, Prevnar and Embrel also at $3.7 billion apiece, Celebrex at $2.5 billion, and the ever-popular Viagra at $2 billion.
Pfizer also has an animal health business (Zoetis) that generates $4.2 billion in annual sales. The company plans an IPO of up to 20% of its animal health business, expected to be completed in the first half of 2013. Also expected to be completed in the same time frame is the sale of its nutritional division to Nestle SA for $11.8 billion in cash.
Add the proceeds from the above two transactions to the $26.8 billion in cash and equivalents Pfizer had on hand at the end of 2011, and you have a company with around $40 billion in cash on hand, or $5.36 per share in cash. Pfizer is certainly a company that knows what to do with extra cash. It owes a large portion of its growth over the last decade to the acquisitions of Warner-Lambert Co. in 2000, Pharmacia Corp. in 2003, and Wyeth in 2009.
Yield is one area where Pfizer is lagging its peers. The company has preferred investing its profits back in its business to giving a large dividend to shareholders. This is by no means a bad business strategy, but not an ideal one for retired investors who want more of an income/growth balance. Pfizer pays a 3.7% annual yield, while its major competitors pay much more. AstraZeneca Group plc (NYSE:AZN) pays 6.1% while trading at only 7 times earnings, and GlaxoSmithKline (NYSE:GSK) pays 5.3%.
Pfizer currently trades at 10.89 times 2012 earnings, and 10.17 times forward earnings. This sounds like a cheap stock until your realize that this company is only projected to have 3% annual growth for the foreseeable future. Considering the possible setbacks related to the upcoming IPO and sale of the nutritional division, it is my conclusion that there is too much potential downside, relative to potential upside.
Granted, the likelihood that the two events mentioned will proceed as planned is high, however I find it to be a lot of risk for a projected 3% growth rate. This growth rate leads me to believe that the stock is a bit overvalued, and should trade at a discounted multiple. I would definitely consider taking profits on an existing position in Pfizer, or possibly selling covered calls to protect myself should things go wrong.
Don't get me wrong, Pfizer is definitely a stock that deserves to be owned, however I would wait for a pullback. One possible strategy is to sell puts and hope the share price goes down to create a better entry price. I would play it by selling the January 2014 $22 put for $1.70.
If the stock were below the $22 level at that point, you would have the right to buy at $22, and with the options premium collected, you have a cost basis of $20.30, which is 16.8% less than the current price of the stock. If I'm wrong, and the stock does not pull back, you simply keep the options premium collected, or $170.
Considering that $2200 in cash or margin would be tied up in your account to create this trade, that would be a 7.7% gain if the put expired worthless.
Disclosure: I have no positions in any stocks mentioned, and no plans to initiate any positions within the next 72 hours. I wrote this article myself, and it expresses my own opinions. I am not receiving compensation for it (other than from Seeking Alpha). I have no business relationship with any company whose stock is mentioned in this article.