As I wrote in this weekend's summary, after a good 11 months to start the fund's life, we've been disemboweled in the month of July, so I wasted a nice Michigan weekend (they are rare, trust me) scrounging through the underbrush to find ideas that ARE working in this environment. There must be something working. By "working" I mean down less than 15% in the past 2 months (it's all relative). And further - trying to avoid names the hedge funds won't ruin - which means smaller than our normal fare.
I found a few ideas, but the smaller you go the more risk (and potential reward) you have. Two of the companies I found report tonight and since I am risk averse I won't buy ahead of earnings . The first I am interested in (I've actually had this on a watch list for a few months but have not had time to research it until I got peeved with the rest of the portfolio this weekend) is $350M market cap Exactech (EXAC).

For those of you who follow the orthopedic market, you would be familiar with a Stryker (NYSE:SYK) or Zimmer Holdings (ZMH) which used to be great growth stocks. Still solid stocks but slower growers nowadays. Exactech (EXAC) might be thought of in the same vein but of a much smaller variety- or we could place it into a very broad category which would include NuVasive (NASDAQ:NUVA) another name of similar ilk (but much more specialized) [Jul 25: NuVasive - At What Price Growth? It Seems "Any" Price] Again, this is in a "favored" sector (healthcare), does not have FDA risk like a biotech (a few of which I also found this weekend), and is of the size that hedge funds are not smashing or pumping it (and reversing course) on a weekly basis. It's off the beaten path.

From the company website:

Exactech, Inc. is an orthopaedic company that develops, manufactures, markets, distributes and sells orthopaedic implant devices, related surgical instrumentation and biologic services to hospitals and physicians in the United States and internationally.

Product list here

I don't want to recreate the wheel when others have already done a good job so I will point out this excellent summary on SeekingAlpha from last fall - The Long Case for Exactech
Exactech (EXAC) is a micro cap orthopedic implant device manufacturer with strong management and large insider ownership that is primed to reap the rewards of the aging populations in western cultures. Supported by a growing research and development entity and a strong sales force, Exac has what it takes to compete with larger firms in this ever growing industry. Management has a lot on the line since 41 percent of the company is owned by insiders
Exactech's business is very simple: they make orthopedic implant devices. Orthopedic implant devices are used to replace or repair a movable joint such as knees, hips and shoulders. These orthopedic implant devices, help people with damaged joints gain back strength and range of motion. Even though the company's end consumers are the patients, Exac's real customers are the orthopedic surgeons who decide which product the patient needs. Additionally, this Florida based company's biggest business is in knees, but they also have large sales in hips, shoulders, and other products such as biologics (don't worry, we'll talk about this below). Instead of analyzing the business as a whole, it would be easiest to dissect (sorry) the company's various sections.
(click to enlarge)


So we have knees, hips, shoulders, and biologics - again I won't copy it all here - the article did a wonderful job presenting each consumer line. The biologics business is interesting and something I had never heard of before encountering this company.

On to our main concern when a little guy is competing with big fish : What are the competitive advantages? They don't have size or scale to compete, so either they need to be a unique niche (such as NuVasive in the spine arena) or some other "differentiation," Mr Lutz believes

Given this information, the question is how does Exactech compete with the larger firms? After all, these bigger companies must have access to much greater resources compared to a small Southern company such as Exactech. The answer lies in Exactech's superior product quality and increasing innovation. All of the products EXAC has on the market right now are extremely competitive and the company is continuously pumping out more and more innovative ideas. In 2006 alone they launched five new products. Additionally, the company has been increasing R&D substantially (more on R&D later). Exactech protects its products with a patent portfolio, which should help differentiate EXAC from its competitors. Also, Exactech can make major market share gains in areas that the big boys overlook.

Now that could be true - or not true. Every company would feed you that line. But what I use for "truth serum" are the earnings reports ... and the chart. Unlike company management, revenue growth and charts rarely lie to us. ;) er, I mean stretch the truth.

Some highlights from their last earnings report
Exactech,

Inc. (Nasdaq: EXAC), a developer and producer of bone and joint restoration products for hip, knee, shoulder, spine and biologic materials, announced today revenue of $39.8 million for the first quarter of 2008, an increase of 34% compared to $29.6 million for the first quarter of 2007. (note, that was not all organic growth - some was due to acquisition)
Knee implant revenue increased 18% to $18.5 million (knees dominate the current revenue mix)

Hip implant revenue increased 16% to $6.4 million
Biologic services revenue up 34% to $4.7 million
Shoulder implant revenue increased 132% to $3.7 million
Initial revenue of $2.0 million in spine product sales from

Altiva Corporation

Net income for the quarter was $2.8 million, or $0.23 per diluted share, a gain of 49% from the $1.9 million, or $0.16 per diluted share, in the same quarter a year ago. First quarter diluted earnings per share included a gain of $0.03 due to a forward currency call option and a loss of $0.01 per share due to Exactech's minority investment in Altiva prior to the acquisition.

Gross margins decreased to 62.9% in 2008 from 63.3% in 2007, primarily as a result of strong international sales growth. (still a solid number in the low 60s)

Exactech President David Petty said, "The

start-up of new distributors in Europe spurred a 67% increase in our international sales to $11.5 million from $6.9 million during 2007.

International sales for the quarter represented 29% of total sales, compared with 23% in the same quarter last year. (we like that)
Guidance
Looking forward,

Exactech continues to anticipate 30% to 36% revenue growth for the full year 2008, targeting a range of $162 million to $169 million and diluted earnings per share for the year 2008 in the range of $0.92 to $0.98. For the second quarter ending June 30, 2008, the company targets 27% to 36% revenue growth to the range of $40 million to $43 million and diluted earnings per share in the range of $0.22 to $0.24.
The chart? A thing of beauty. Yes, it has come a long way in a year, but most important is the relative strength of late. Not even flinching in all this market turmoil. We like that.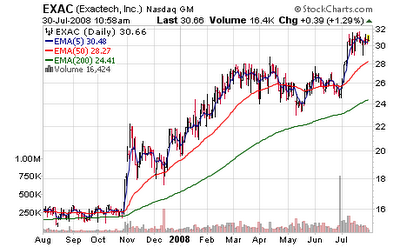 The company reports after the bell tonight, so the gambler would buy ahead of earnings hoping for the pop. I'm not the gambler. So we'll watch tonight to see how they do after the bell. Will this be a name rising 150% in a year? No. But we've been spoiled by some of these commodity runs - we can live with 20-30% yearly type of gains. Especially in this market. My personal hope is some sort of disappointment so I can get in at a level closer to the 50 day moving average in the low $28s. The stock has built a base for nearly a month now...

Disclosure: No position