Let's face it, investing in biotechnology stocks is a high risk proposition. There are a wide variety of risks and pitfalls such as binary events, short sellers, failed clinical trials, dilution, intellectual property challenges, competitive drugs and therapies, bear raids, navigating the FDA, insurance reimbursement challenges, drug safety or recall issues, and the list just goes on and on. Any one of the above challenges can put a serious dent in even the largest pharmas' revenue streams - however most large pharmas have either multiple drugs on the market and/or pipelines stuffed with drug candidates in various stages of development. If a large, diversified pharma loses a drug, it typically doesn't inflict a "going concern" degree of damage. Conversely, there are biopharmas operating with only one main revenue-generating drug on the market without new drugs in the pipeline or with prospects still years from coming to market, if ever. I call these "one-trick ponies." Any one of the above mentioned risks or pitfalls could be severely damaging, if not a "going concern" type of disaster to a one-trick pony.
Questcor Pharmaceuticals' (QCOR) implosion this week is a prime example of how the market can severely punish a one-trick pony if one of the aforementioned risks unexpectedly pops up and jeopardizes its one-drug revenue stream or just causes the perception of that one-drug revenue stream being jeopardized. Questcor is now a small to mid-size biopharma with a $1.8B market cap after having nearly $1B wiped off its market cap. Questcor is a one-trick pony that markets a drug called Acthar for 19 approved indications and according to Questcor's most recent 10K, "substantially all of our net sales and profits are derived from Acthar." So this week when it became known that one of the largest managed care providers in the United States, Aetna (NYSE:AET), said it would impose significant reimbursement restrictions on Acthar, it caused a stampede out of Questcor's stock. On Wednesday Questcor opened around $50 per share, dropped as low as $22 and then closed around $26 per share. Questcor's management stated the Aetna issue would not have a material effect but the damage was already done. The stock closed Thursday at $30.33, but the lingering fear is other insurers eventually deciding to significantly restrict reimbursement for Acthar. It could be a rocky road in the near term for Questcor as the market hates uncertainty. I will be watching this saga play out with interest but no investment at this time.
The Questcor issue is a good reminder to look beyond the normal metrics and take into account whether you are riding a one-trick pony or not. There are many commercial biopharmas that have only one significantly revenue generating drug on the market - below are a few examples:
1) Dendreon Corp. (NASDAQ:DNDN)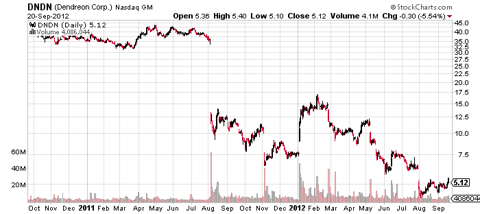 Dendreon markets Provenge for prostate cancer. Provenge sales have been disappointing, and there are new competitors with Medivation's (NASDAQ:MDVN) newly approved "Xtandi" and Johnson & Johnson's (NYSE:JNJ) drug Zytiga. Dendreon doesn't have any other drugs on the market or any candidates in its pipeline close to being marketed. From Dendreon's latest 10Q: "...we will continue to rely on Provenge to generate substantially all of our revenue..."
2) Avanir Pharmaceuticals (NASDAQ:AVNR)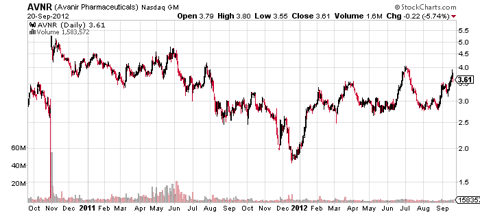 Avanir markets Nuedexta for Psuedobulbar Affect - PBA. Nuedexta launched a little over 19 months ago to slower than expected sales, and though the company is still not profitable, sales are increasing. Avanir has the challenges of selling into what appears to be a relatively undeveloped market for treatable PBA, securing favorable insurance reimbursement, generic manufacturers attempting to invalidate its intellectual property, and possible competition from off-label SSRI therapies. Avanir is testing for additional indications, but those are years off from market. From Avanir's latest 10Q: "Our prospects depend on reaching profitability from the commercialization of Nuedexta."
3) Intermune Inc. (NASDAQ:ITMN)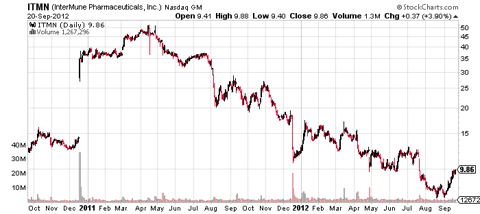 Intermune markets Esbriet (pirfenidone) in Europe for Idiopathic Pulmonary Fibrosis - IPF. Pirfenidone is Intermune's only compound. Intermune is still working on picking up reimbursement throughout Europe and just received good news on 9/11 that France's Economic Committee approved Esbriet for reimbursement. Intermune is also conducting phase III testing on pirfenidone for IPF in the United States. From Intermune's latest 10Q: "our future success is currently dependent on the regulatory and commercial success of pirfenidone for the treatment of IPF in Europe and the United States."
All of the companies listed above share the heightened risk of having only one drug on the market generating nearly all, if not all, revenues. While this does not mean these companies will not be successful, it does mean investors should be aware of the increased risk and weight their portfolios accordingly.
Graphs sourced from StockCharts.com.
Disclosure: I have no positions in any stocks mentioned, and no plans to initiate any positions within the next 72 hours. I wrote this article myself, and it expresses my own opinions. I am not receiving compensation for it (other than from Seeking Alpha). I have no business relationship with any company whose stock is mentioned in this article.
Additional disclosure: This article is informational and intended to spur thought and discussion. This article is NOT a substitute for your own extensive due diligence and does NOT qualify as investment advice. DO NOT BUY OR SELL STOCKS BASED ON THIS ARTICLE. I do not short stocks nor do I invest in options.