On September 19th, Sprint Nextel (NYSE:S) had presented at Goldman Sachs' Communicopia Conference. While Sprint did not divulge iPhone 5 sales figures like AT&T (NYSE:T), we would expect that Sprint sold about 800K iPhones so far based on the fact that Sprint's Q2 iPhone sales were 40% of AT&T's and AT&T announced that it sold 2 million iPhone 5 devices. Sprint shares a common bond with AT&T in that both companies are significantly trailing Verizon Wireless (NYSE:VZ) with regards to 4G-LTE coverage. Both companies have been working feverishly to expand each firm's 4G-LTE footprint in order to remain competitive with Verizon. Sprint has already extended 4G-LTE to 19 cities and metro markets and is expanding coverage in the coming months to over 100 metro markets nationwide. Sprint's CEO Dan Hesse reiterated that Sprint has been able to cut costs by improving its customer service experience and this helped Sprint raise prices last year. These price increases enabled Sprint to help finance the Network Vision project and initiated the 4 year $15.5B purchase commitment with Apple (NASDAQ:AAPL) for its cutting edge iPhone product line.
Hesse also sees potential consolidation in the wireless industry and that Sprint would see itself completing a merger deal once Network Vision has been concluded and if the deal offers realizable synergies. Sprint is aware that it does not have the scale that the AT&T/Verizon duopoly does. If Sprint was to acquire a company, it would be looking to find deals that offer realizable synergies in a quick payback period. We believe that the most logical companies that Sprint would acquire would be the regional postpaid firm U.S. Cellular and the prepaid firms MetroPCS and Leap Wireless since all four firms are legacy CDMA firms and all four are in the process of building out 4G-LTE networks. If Sprint acquired all three of the legacy CDMA firms, it would result in Sprint having over 77M customers and make it a little more competitive to the AT&T/Verizon duopoly.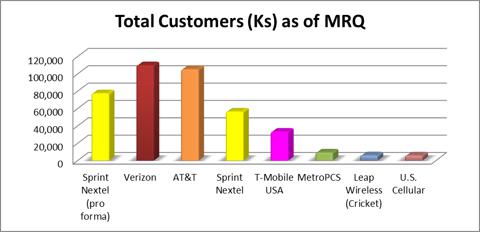 Source: Most Recent wireless carrier quarterly reports
We are surprised that Goldman Sachs wrote a research note shooting down speculation of a Sprint/T-Mobile USA tie-up because we can't conceive of any sane person who would think that Sprint would want to merge with T-Mobile USA. While getting T-Mobile USA's 33M customers (24M contract customers) would significantly increase Sprint's scale overnight, it would rival Nextel for merger related diseconomies of scale considering that Sprint is a CDMA carrier and T-Mobile USA is a GSM carrier. Plus Sprint is picking off T-Mobile USA's subscribers because Sprint has the iPhone and T-Mobile USA doesn't. The last reason why we don't see Sprint taking out T-Mobile USA is because Dan Hesse already spent 4 years dragging Sprint into the 21st century with regards to customer service and we don't think he wants to or needs to repeat that trick with T-Mobile USA's operations.
Sprint's new Sprint Direct Connect phone was the best in breed of the push-to-talk plans and helped Sprint increase its Nextel retention rate to 60% in Q2 2012. Sprint's Nextel iDEN network is still expected to shut down on June 30th and while Sprint did not want to reiterate 60% retention for forward quarters due to the nature of the contracts of the Nextel customers, Sprint is working to effectively reacquire these customers in the face of a strong competitive onslaught from AT&T and Verizon. Sprint is also seeing AT&T and Verizon engaging in willingness to sacrifice price to win contracts through aggressive terms under RFP processes while Sprint is looking to avoid sacrificing OIBDA margin. We were pleased that the company has enough spectrum until 2016 and is looking to be proactive in order to avoid spectrum crunches due to the long lead time for spectrum to come to market. We see the FCC migrating to putting different values on the different spectrum bands in order to provide clarity to the carriers with regards to spectrum.
With regards to unlimited data versus shared data plans, we see that Sprint's Simply Unlimited is a much better value for the consumer than the shared data plans that the AT&T/Verizon duopoly offer. We published our report on September 7th that showed that iPhone customers who use 3GB of data and 450 voice minutes would save over $800 over a 2 year contract cycle if they chose Sprint versus the AT&T/Verizon duopoly. Sprint's CEO Dan Hesse knows the importance of this plan to Sprint's fortunes and he held a meeting with his staff in which the focus was Sprint maintaining the unlimited data plans. We are pleased that Sprint is maintaining its unlimited data at $79.99 and not foolishly raising prices until it closes the distance on LTE coverage versus Verizon. Sprint is aware that the reason why Verizon has been able to maintain its leadership in new subscriber gains is because people are attracted to Verizon's large LTE network and that enabled Verizon to move to the shared data prix fix pricing plan. We believe that Sprint is starting to differentiate itself from the competitors with regards to its unlimited plan because this way, people don't have to worry about how much data they are using or their families under shared data plans.
Sprint has sold 4.8M iPhones in the 3 quarters that it has been carrying the iPhone. Sprint extended the iPhone to its Virgin Mobile USA prepaid brand and it has seen a growing number of iPhone subscribers with that brand. Sprint has seen a number of its new Virgin Mobile iPhone customers pour in from competing postpaid brands. Our June 11th report on Virgin Mobile USA's iPhone showed that Virgin Mobile USA offers the best deal for iPhone customers. We like that the Virgin Mobile USA brand offers a great value proposition and competitive position for the company. We find that Sprint's Boost Mobile and Assurance Wireless brands are targeting lower-income urban customers and the Virgin Mobile USA brand is targeting middle class suburban consumers and the biggest source of distribution for Virgin Mobile USA products and services is through big box retail stores.
In conclusion, we are pleased to have a long position in Sprint. We can see that Sprint is making progress in overcoming the bad hand that Gary Forsee dealt the company by acquiring Nextel. We think that Sprint couldn't have done better than Dan Hesse with regards to hiring a leader to cleanup Forsee's foul up. We believe that Sprint has a great opportunity to make inroads against the AT&T/Verizon duopoly. We think that Sprint should use its progress in selling iPhones on two different consumer platforms in making the case that it should be joining the iPad party next March.
If anything, we believe that Verizon should hope that it can acquire Sprint so as to remove Sprint as a competitive threat. We believe that because of Sprint's history of losses since the Nextel purchase, it has forced Sprint to turn itself around in order to survive as an independent going concern. We believe Sprint offers the best value proposition to consumers and investors based on the following factors:
Sprint's Network Vision project to rationalize its network systems and offer 4G-LTE service
Sprint's reasonable prices for smartphone service
Sprint's product offerings in the prepaid and postpaid channels
Sprint has the iPhone and is making progress in connected device growth
Disclosure: I am long S, AAPL. I wrote this article myself, and it expresses my own opinions. I am not receiving compensation for it (other than from Seeking Alpha). I have no business relationship with any company whose stock is mentioned in this article.
Additional disclosure: This article was written by an analyst at Saibus Research. Saibus Research has not received compensation directly or indirectly for expressing the recommendation in this article. We have no business relationship with any company whose stock is mentioned in this article. Under no circumstances must this report be considered an offer to buy, sell, subscribe for or trade securities or other instruments.