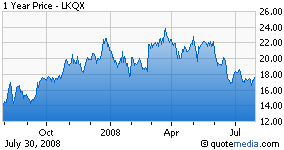 LKQ Corporation (LKQX) is expected to report Q2 earnings before market open Thursday, July 31, with a conference call scheduled for 10:30 am ET.
Guidance
Analysts are looking for a profit of 18c on revenue of $464.78M. The consensus range is 17c to 20c for EPS, and revenue of $448M to $480.52M, according to First Call. In May, LKQ forecast FY08 EPS 75c to 79c vs. First Call consensus of 78c and full-year organic revenue growth of about 10%.
Analyst Views
Due to softening demand and concerns about the company's integration of Keystone Automotive, Raymond James downgraded shares of the company to Market Perform from Outperform on June 19. The firm's change in thinking was related to a number of negative macro trends and a now less sanguine view of the Keystone integration issues. Additionally, the firm said temporary integration issues with Keystone acquisition may continue to hurt LKQ's aftermarket growth, at least through the second quarter, and perhaps for the rest of the year.
The firm said the effects of fewer vehicle repairs and a fall in demand for replacement parts were "somewhat offset" by more attractive wholesale auction-vehicle prices, which helps LKQ's gross margin and recycled fill rates.
RBC Capital said that while there are few near-term data-points, the company's long-term growth potential remains substantial. As there is no change in fundamentals, the firm believes the recent sell-off of shares is "unwarranted."