The price of an ounce of gold fell by $31 last week, yet it was still up more than 11% for the year by Friday.
The price of the metal, which peaked in March at $1,033 per ounce after the announcement of the Bear Stearns (NYSE:BSC) bailout, closed on July 25 down about 10% from the record and off 6% since July 15. That said, it's been locked in the range of $850 to $990 since that spike—still historically high by almost any standard.
That shouldn't be a surprise, given the ongoing volatility of the stock market, increasing concerns about inflation, elevated and erratic oil prices, and geopolitical turmoil in the Middle East, all matters that lure investors to safe-haven, inflation-hedging gold, especially when prices have been rising steadily since 2001.
Nor should it be a surprise that iShares COMEX Gold Trust ETF (NYSEARCA:IAU) has matched the metal's price, hitting an all-time high on March 14, which put IAU's gain since-inception (Feb. 4, 2005) at 132.3%.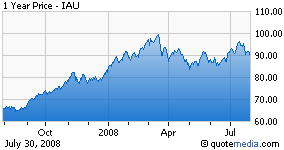 It remains up 114.8% and, despite a one-week loss of 4.8%, up 37% over the last 12 months and 11.2% year to date.
IAU invests directly in gold bullion rather than in stocks of gold mining firms or other gold-related equities. The fund buys bullion and, according to iShares, holds it in a trust, backed by actual gold bars held by the Bank of Nova Scotia.
The fund's NAV directly reflects gold prices set by the closing price of COMEX spot gold. Each share represents one-tenth of an ounce of gold, less IAU's 0.4% expense ratio.
When IAU debuted in January 2005, gold stood at $425.80 an ounce, in the middle of what's become a seven-year rally built on the market's jitters—one that showed little evidence of slowing down until recently, when the dollar rallied mildly against other currencies (from an all-time low of $1.604 to the euro on July 15) and oil prices relaxed.
Gold prices tend to rise with oil, because high oil prices signal inflation and threaten economic growth in general. A weak dollar also emboldens investors to bid up gold prices, because gold becomes A) cheaper to buy with other currencies, and B) an alternative currency with a reputation for holding its value.
In recent weeks, those trends all reversed, if briefly. We added IAU to our ETF Momentum Tracker portfolio in January, and the fund's NAV is up more than 8% since then.
As with any other commodity, the next direction for gold prices is highly uncertain. Analysts are all over the map, but know this: If prices remain high, IAU will likely benefit. But a drop could be painful. The fund is attractive because of its structure, which offers direct exposure to the value of gold in, as Morningstar analyst Haywood Kelly recently wrote, a liquid and convenient format. You pay the fund's expense ratio, he said, "instead of buying guard dogs and a security system" to keep bullion in your basement.
That's made the fund wildly popular, with total assets climbing from $400 million in 2005 to more than $1 billion last September and $1.82 billion recently.
By bypassing gold mining and other stocks, IAU avoids the risks of gold production, particular firms and industry pressures, but it also invites uncertainty.
Most gold in the world is held by investors or banks, but demand for gold for non-investment purposes has grown in recent years. The World Gold Council estimates that annual gold production has averaged about 3,500 tons over the last few years, with close to 2,200 tons of gold used each year to make jewelry and another 500 tons for industrial and dental purposes.
There have been some signs that jewelry demand is down, particularly in India, but S&P's Leo Larkin and other analysts remain bullish on the metal through 2009. Larkin recently cited several reasons, including slowing U.S. GDP growth, a secular bear market in the U.S., the unlikelihood of Fed rate increases due to the financial sector's troubles, stagnant global production over the past 10 years (expected to continue while demand rises), volatility among major currencies, and a movement away from the dollar—and toward gold—by countries with foreign exchange reserves in dollars.
The issue with IAU is risk. As Morningstar's Kelly wrote recently, "The next 10 years could be great for gold prices or they could be horrible. No one knows." What's more, investors who pile into gold late have been burned in the past. This fund is likely suitable as a niche holding only, because of that risk and volatility. From 1979 to 1980, gold jumped from $300 to $850 in about a year. Three years later, it fell below $300—and eventually bottomed out at $253 in 1999, before the current run. This fund has plenty going for it, but investors here should remember the history, so as not to get stung if it repeats.