With the S&P 500 Index (NYSEARCA:SPY) bouncing around its multi-year highs, it is tempting to glance towards the all-time high of 1565 reached in October 2007. Examining today's valuation versus the all-time peak through differences in reported earnings, financial statement trends, index composition, and economic growth should be instructive for Seeking Alpha readers.
Earnings
When the index was at its apex, trailing twelve month earnings were $89.35 per share, producing a P/E ratio of 17.5. With trailing earnings today at $98.30 per share, the market is trading at an earnings multiple of 14.8. If the S&P 500 were trading at the same earnings multiple as at its 2007 peak, the index would be at 1722, roughly 18% higher than the current level despite trailing earnings only 0.5% from their all-time nominal peak.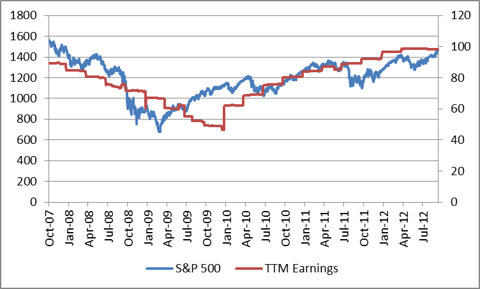 Source: Standard and Poor's; Bloomberg
Some might be quick to point out that too high of a multiple was placed on the market at its peak, especially given that in hindsight we know that the market was overvalued given the looming risks. At a 17.5 P/E multiple, the market multiple at its peak was just a turn higher than the long-run average multiple of 16.5x. Of course, investors do not buy stocks for trailing earnings, markets are inherently forward looking. Is today's earnings multiple discount at 11% to the historical average fair?
Economy
Economic growth in late 2007 was decelerating, and the Treasury yield curve was inverted. While the Federal Reserve had begun its first cuts of the Fed Funds rate one month prior to the S&P 500 making its high, it had only been reduced to 4.75%. With the 10-year at 4.67%, the market was pricing in additional cuts as growth was expected to slow. Markets were shaken by the collapse of two Bear Stearns hedge funds in June of that year, marking the unofficial start of the subprime crisis. The risk premium applied to asset valuations would prove to be too low as the crisis expanded into a deep financial and housing sector driven recession.
Today, economic uncertainty remains high given sovereign debt woes in the European Union, the risk of a hard landing in export-driven China, the fiscal cliff risk domestically, and geopolitical tensions in the Middle East. Whether risk premia are sufficient this time around given this level of uncertainty will be borne out over coming periods.
While economic uncertainty abounds, gross domestic product of the U.S. economy in constant dollars is still 2.2% higher than in the third quarter of 2007. This $300 billion growth in the total income of everyone in the economy,or the total expenditure on the economy's goods and services, is nearly $1,000 per American higher in inflation-adjusted terms since the third quarter of 2007. Despite the ongoing economic uncertainty, our economy has slowly rebounded, outpacing the bounce in the broadest equity market gauge.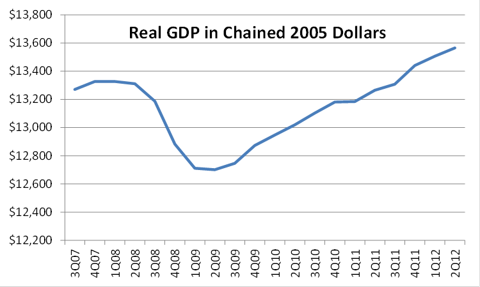 Source: Bureau of Economic Analysis; Bloomberg
Constituents
While the past five years have seen a dramatic reshaping of the economic landscape, the market index has transformed as well. In the table below, investors can get a feel for how the top constituents of the S&P 500 have evolved since the market peak. At a P/E ratio of just 14x, the twenty companies in the S&P 500 with the largest market capitalization are trading at a 23% discount to the earnings multiple of the top twenty constituents nearly five years ago. For the entirety of the index, companies trading at a lower valuation based on trailing earnings outnumber index constituents trading at a higher multiple by a factor of 3.5:1.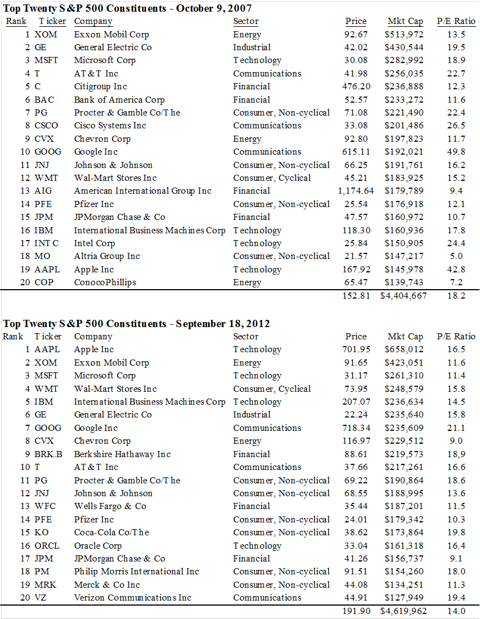 Source: Standard and Poor's; Bloomberg
Companies with the largest declines in market capitalization since the market peak carry some of the deepest scars of the credit crisis as Citigroup (NYSE:C), Bank of America (NYSE:BAC), and American International Group (NYSE:AIG) fell from the 5th, 6th, and 13th largest constituents to the 28th, 29th, and 58th largest constituents respectively, shedding $400 billion of market capitalization, or 62% of their value. The table below shows that financials have had the biggest relative decline in capitalization since the peak. Technology stocks have seen the largest relative gain, although the increase in the market capitalization of Apple (NASDAQ:AAPL) alone makes up the entirety of this figure.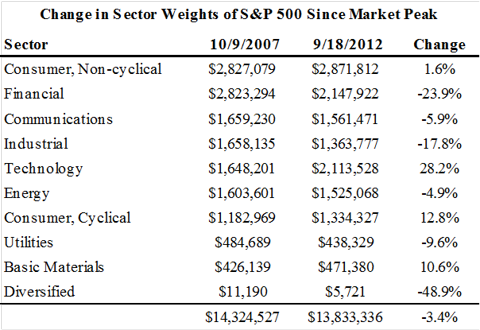 Source: Standard and Poor's; Bloomberg
Financial Statement Analysis
The S&P 500 is not only trading at a lower earnings multiple; the index looks favorable relative to its peak based on a number of other financial metrics. The index is trading at lower multiples of book value, sales, and EBITDA in addition to earnings. The index also now provides investors with a higher dividend yield. Margins have expanded and returns on asset and equity have advanced. The index constituents have better liquidity and are operating with much less debt than prior to the crisis.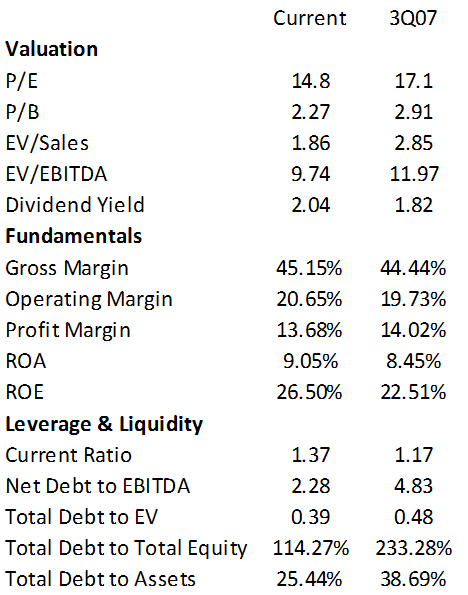 Source: Standard and Poor's; Bloomberg
Summary
Given a culmination of the factors discussed, a bullish picture pointing towards a new S&P 500 high at some point in 2013 can be reached. However, we are in a historically unique macro environment that can not be aptly compared to past periods. Just as the equity markets missed the brewing storm clouds in 2007, investors must constantly re-visit their estimate of the risk discount necessary in asset prices in this fluid investment climate.
Questions linger. Can accommodative monetary policy in the United States offset uncertainty over fiscal policy given our consistent trillion dollar deficits, growing entitlement obligations, and lack of political will to address these issues? Will foreigners who own half of our public Treasury debt continue to be willing to finance our largesse? Can economic and fiscal integration occur in the Eurozone with such disparate national economies and cultures? Will the market ever view the peripheral economies and the wealthier northern countries again as close enough equivalents that a common monetary policy can be successfully enacted? Can China's planned economy successfully transition from export-driven to one with a developed middle class that relies less on the health of its developed world export markets? Will tensions in the Middle East rattle oil markets, generating an inflation speed bump that provides another obstacle for slow global growth? Could the outcome be unthinkably worse?
None of these questions have easy answers. Each will play out over the next several years if not longer. Framing an appropriate discount rate for stocks with these looming challenges is daunting. We do know that valuations are more modest than they have been historically, and are well below the valuations at the market peak. Corporate balance sheets are in much better shape, and these businesses are more profitable today than in 2007 despite sluggish economic growth. Interest rates are low, which means that the discount rate in asset prices is largely compensation for this uncertainty. Tailor your investment portfolio to your own risk profile and market expectations given this level of uncertainty, and be mindful to how the answers to the open-ended questions evolve. I hope this article helped Seeking Alpha investors frame the market relative to its peak, and that a thoughtful discussion about whether the current risk discount is sufficient will ensue.
Disclosure: I am long SPY. I wrote this article myself, and it expresses my own opinions. I am not receiving compensation for it (other than from Seeking Alpha). I have no business relationship with any company whose stock is mentioned in this article.