The Cornerstone Total Return Fund (AMEX:CRF) has been in liquidation for years. This has taken place without shareholder approval despite New York State Laws that require shareholder approval for such actions. Cornerstone is a New York State Corporation and therefore subject to the rules and regulations of New York State. In spite of governing regulations, Cornerstone's board of directors has unilaterally decided to distribute monthly dividends to shareholders at a rate that is totally unsustainable. Liquidation of this fund is virtually guaranteed with the current distribution policy.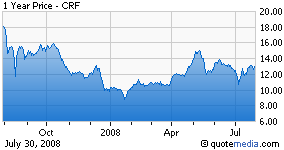 The Cornerstone Total Return Fund is a closed-end mutual fund with $33 million invested in a portfolio of blue chip stocks. With 5,343,138 shares outstanding, each share of stock owns $6.27 worth of these underlying blue chip securities as of July 25, 2008. This value per share is commonly referred to as the net asset value [NAV] per share.
As of January 1 2002, when the current fund portfolio manager took control of the fund, the NAV was $18.30 per share. Since then Cornerstone has been aggressively distributing money to shareholders. From January 2002 through July 2008 Cornerstone has distributed $13.57 to shareholders in monthly dividends. Adding today's NAV of $6.27 per share to the cumulative distributions in the amount of $13.57 per share we can calculate the actual returns earned on the fund's portfolio. Effectively, the portfolio advisor has earned $1.54 for shareholders ($13.57 + $6.27 = $19.84 less the initial NAV of $18.30 per share). Considering this return has been earned over six years and seven months, Cornerstone's annual rate of return on invested assets approximates 1.24 percent.
Regardless of this history of meager returns Cornerstone's board of directors has committed to pay out 21 percent of assets per year, as readjusted annually. However, since the fund has earned only tiny returns the distributions end up liquidating the fund. Historically about 95 percent of the dividends have been a return of investor's capital. Cornerstone is paying back shareholders their own money.
Furthermore, the high payout rate results in faster and faster liquidation rates throughout the year. For example, currently Cornerstone is distributing dividends at the rate of $1.95 per year, which is 31 percent of NAV ($6.27) per share.
Technically, by readjusting the distribution rate every year Cornerstone's ultimate liquidation may be prolonged. This, however, should not be reassuring to investors. Cornerstone already has a high expense ration (1.50 percent per year) and certain costs of running the fund are fixed. Hence as assets decrease the expenses as a percentage of assets go up.
There are two other Cornerstone Funds, the Cornerstone Strategic Value Fund (AMEX:CLM) and Cornerstone Progressive Return Fund (AMEX:CFP) that also have unsustainable aggressive distribution policies. All three Cornerstone funds have market prices well in excess of underlying per share net asset values.
Cornerstone Total Return Fund's premium is 106 percent. Investors are paying $13.00 per share for $6.27 of value. If the music stops and investors end up losing $7 per share will the board of directors have any liability for proceeding to liquidate the fund without shareholder approval? Perhaps someday we will find out.
Disclosure: Short CRF