Nvidia (NASDAQ:NVDA) currently has several product lines that sell to many different markets: GeForce for the desktop environment; Telsa for the scientist community; Tegra for mobile devices, and Quadro for graphics professionals. They even have products in cars and for the military environment. So the question that arises is -- What are Nvidia's future plans?
We will get to that in a moment, but first we have to take a gander at the financial stats.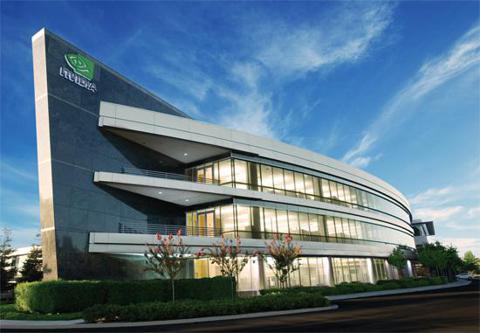 Show Me The Money
1. Revenue stands at $3.99B and Net Income is $473.78M. Levered Free Cash Flow comes in at $501.07M and shows that the company is swimming in positive cash flow. Profit Margins are a healthy 11.88%. Gross Margins are almost 52%.
2. Nvidia has a PEG ratio of just a mere 1.04 with the share price at $13.61. Advanced Micro Devices (NYSE:AMD) boasts a PEG of 1.38 while Intel (NASDAQ:INTC) is sporting a PEG of 0.92 This suggests that Nvidia is a rather good value given its price and growth. Typically, when the PEG for Nvidia reaches 1.45 or higher, we lighten our holdings of this stock to wait for a pullback in share price.
3. The balance sheet of Nvidia is very healthy at $3.28 billion in cash vs. debt of $20.24 million. Cash per share is $5.29. Nvidia at $13.61 per share means that 38.8% of the stock is backed up by cash. That is quite a buffer and a heck of a lot of capital to acquire companies with.
4. Nvidia, through a court case that was settled, stands to make some nice cash flow from future payments from Intel totaling $1.5 billion over the course of five years. Payments began January 18, 2011.
5. The stock is selling for 25% less than the mean analyst price target of $17.3 a share.

Reining the stock back are a couple of things:
1. Sluggish growth -- Qtrly Revenue Growth (yoy): 2.70%
2. Qtrly Earnings Growth (yoy) of -21.50%. We attribute this partly due to Nvidia not having an engaging low-to-middle-ground graphics card. That will soon be resolved via the Geforce 660 and 650 graphics cards that were recently released.
"In the more mainstream space, AMD's $110 Radeon HD 7750 and $210 Radeon HD 7850 are dominant. Nvidia is finally ready to toss Kepler-based competition up against those quick and quiet budget-oriented boards. Today, we're being introduced to the GeForce GTX 650 at $109 and the GeForce GTX 660 expected to sell for $229." -Tomshardware.com
Over the course of the next few weeks to months, the availability of the GeForce 660 and 650 will increase and prices will drop down. This will make the new cards increasingly competitive against AMD.
The PC Dead?
It is very trendy right now to proclaim that the PC is dead. Sales are indeed slowing due to tablet adoption and smartphones, but the PC is not dead; it is just slowing down to a crawl and mutating into new forms -- new forms that Nvidia can capitalize on.
"The worldwide PC market is now expected to grow just 0.9% in 2012, as mid-year shipments slow. According to the International Data Corporation, 367 million PCs will ship into the market this year, up just a fraction of a percent from 2011 and marking the second consecutive year of growth below 2%.

IDC now expects worldwide PC shipment growth will average 7.1% from 2013-2016, down from the 8.4% compound annual growth rate (OTCPK:CAGR) previously forecast for 2012-2016" -IDC
Obviously, 367 million PCs is a huge market to fight over, and while the discrete graphics card market has slowed down, Nvidia has several other areas that are promising and rapidly expanding.
Tegra and Tablets
Nvidia is pushing for growth via its Tegra line of GPUs. They have wins with several vendors, but the two generating the most hype are the win in the Microsoft (NASDAQ:MSFT) Surface and the Google (NASDAQ:GOOG) Nexus 7.
Perusal over numbers:
Worldwide media tablet sales to end users are forecast to total 118.9 million units in 2012, a 98 percent increase from 2011 sales of 60 million units, according to Gartner, Inc (April 10, 2012).

Apple's iOS continues to be the dominant media tablet operating system (OS), as it is projected to account for 61.4 percent of worldwide media tablet sales to end users in 2012 (see Table 1). Despite the arrival of Microsoft-based devices to this market, and the expected international rollout of the Kindle Fire, Apple will continue to be the market leader through the forecast period.

Android tablets are forecast to account for 31.9 percent of media tablet sales in 2012.
The Future of Nvidia
1. Nvidia Cloud Computing and Nvidia GRID
Nvidia forecasts providing the hardware and software behind steaming games throughout the cloud. Nvidia has formed an agreement to provide hardware and software to many companies, but most specifically Gaika, an online cloud gaming service. While this is today a niche market, Sony (NYSE:SNE) has thrown its weight behind the streaming service by announcing the buyout of Gaika for $380 million.
Gaika lists latency as slightly lower than an actual console and TV. While skeptical, we tested it out by taking a free trial run of the newest "Need for Speed" racing game. The results were impressive. No lag. The graphics were a little below the quality of a dedicated graphics card, but it was still impressive.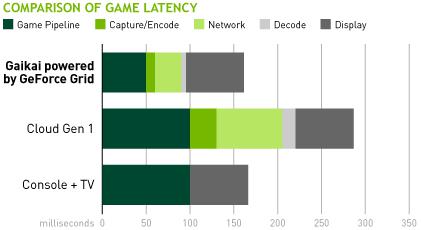 Nvidia GRID will offer lower power requirements for Cloud gaming servers and more graphics virtualization cards per server. Nvidia has GRID listed as available this fall.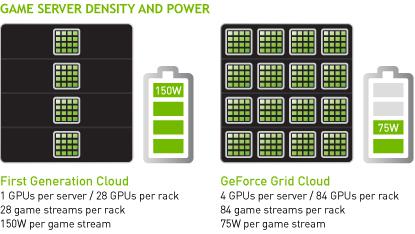 An idea of the target markets, according to Nvidia: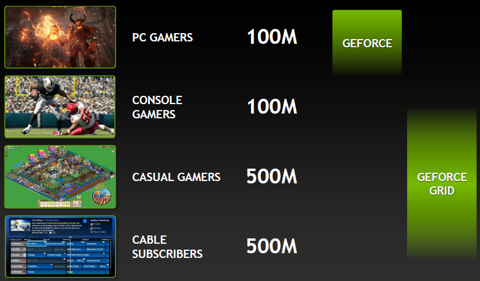 2. Virtualization of the Graphics Processing Unit (GPU)
The Operating System has been virtualized for quite a while now. The network is starting to be virtualized by none other than VMware (NYSE:VMW). Now the graphics card has been virtualized. Why does this matter? It allows users that only have access to low end desktops, laptops, tablets, etc to have the ability to tap the power of a high end graphics card. Want to run Photoshop on your 300 dollar laptop? Need to play the latest game on your budget computer? How about AutoCad?
While GPU sharing has been available for some time with XenApp HDX 3D, it has been limited to DirectX-based applications compatible with Windows Server 2008 R2 Remote Desktop Services (RDS), with scalability of no more than 10 or 12 users per high-end graphics card. We expect our NVIDIA VGX-accelerated XenDesktop platform to be able to serve up to 100 users with a single multi-GPU graphics card, improving user density on a single server by an order of magnitude and slashing the cost of a 3D graphics capable virtualized PC to under $1,000. This new solution offers unrestricted app compatibility since it runs standard Windows 7 virtual desktops and supports both DirectX and OpenGL based applications.
3. Nvidia to Enter the CPU Market via Project Denver
Nvidia has publicly announced plans to combine its GPU technology with an ARM (NASDAQ:ARMH) processor under the code name 'Project Denver' in 2013. This will be Nvidia's stab at the CPU market. Historically, Nvidia was unable to obtain an Intel x86 license to make CPUs. With Microsoft making a version of Windows 8 (called Windows RT) which is ARM processor compatible, this opens up several new markets for Nvidia. Chief Scientist Bill Dally of Nvidia said:
Denver frees PCs, workstations and servers from the hegemony and inefficiency of the x86 architecture. For several years, makers of high-end computing platforms have had no choice about instruction-set architecture. The only option was the x86 instruction set with variable-length instructions, a small register set, and other features that interfered with modern compiler optimizations, required a larger area for instruction decoding, and substantially reduced energy efficiency.

Denver provides a choice. System builders can now choose a high-performance processor based on a RISC instruction set with modern features such as fixed-width instructions, predication, and a large general register file. These features enable advanced compiler techniques and simplify implementation, ultimately leading to higher performance and a more energy-efficient processor.

The result is that future systems - from the thinnest laptops to the biggest data centers, and everything in between - will deliver an outstanding combination of performance and power efficiency. Their processors will provide the best of both worlds, while enabling increased battery life for mobile solutions. We're really excited to help engineer smarter brains for the next major era in computing.
BSN also had an update on Project Denver:
The first project based on Project Denver should be the T50 e.g. "Tegra 5", combining Project Denver cores with the Maxwell GPU utilizing 20nm-SLP process at the Samsung Electronics Fab in Austin, Texas. Roughly six months ago, NVIDIA did tapeout its first test wafers from Austin Fab.
4. Project Boulder - Attacking the Server Environment
BSN broke the news about Project Boulder:
Project Boulder represents NVIDIA's "claim to fame" in the server space. This high-performance part doesn't care as much about low-power as it cares about its feeding capabilities. NVIDIA doesn't want to bundle its Tesla and Quadro parts with Intel Xeon or AMD Opteron parts, as that reduces the revenue the company receives
If Nvidia can bundle its CPU solution with its Tesla and Quadro parts, it can increase its revenues while lowering the expenses for its customers. Project Boulder is due to hit the market in 2014 according to BSN.
Conclusion
Nvidia has an extremely healthy balance sheet with more payments from Intel on the way. While its GPU business is slower than it used to be, the Tegra mobile market is growing rapidly. Nvidia GRID holds much promise as more games go digital. Virtualization could be a big winner with businesses and graphic intensive applications.
Project Denver and Boulder are wild cards that might translate into new product segments for Nvidia. I'm sure Intel and AMD are less than thrilled about Nvidia knocking on their door, wanting taking a bite out of their pie.
At this price, Nvidia is a steal for a long-term play given its potential and cash position.
Disclosure: I am long NVDA, AMD. I wrote this article myself, and it expresses my own opinions. I am not receiving compensation for it (other than from Seeking Alpha). I have no business relationship with any company whose stock is mentioned in this article.
Additional disclosure: I own EMC (They own VMW)