We were especially pleased that the last two installments in our multi-part analysis on Exelon Corporation (NYSE:EXC) have been recognized for the high level of quality and unique analysis and research we have performed as part of our iconoclastic thesis on Exelon. Exelon's largest subsidiary is its Exelon Generation Company LLC wholesale power generation operations, and its fortunes are directly tied to natural gas prices. Natural gas prices dropped from an unsustainably high price of $10.79/MCF in July 2008 to $1.89/MCF in April 2012, before rebounding to ~$2.80 in early September 2012. On September 9th, John Dunham & Associates released a study that concluded that the Obama Administration's new draconian regulations on hydraulic fracturing would cost more than 20 times what the Administration estimated. Because hydro-fracking has resulted in the price of natural gas declining since 2008, we can see that Exelon is counting on the new regulations to boost the price of natural gas. This will help Exelon increase the price it receives for electric power generated on the wholesale market and enable it to offset a $275M loss it realized on the sale of its three Maryland coal-fired power plants.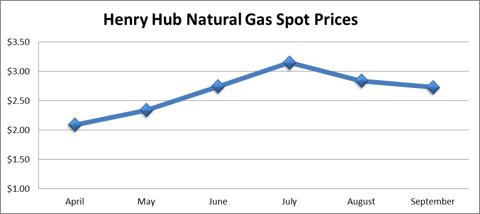 Source: Bloomberg LP
In this installment of our report, we will be touching upon the four following recent events for Exelon:
Exelon's Recent Strategic Asset Management Activities
D.C. Circuit Court of Appeals Vacating EPA's Cross-State Air Pollution Rule
Highlights from the Barclays 2012 CEO Energy/Power Conference
Potential positive tailwinds for Natural Gas Prices, which will boost Exelon's bottom line.
Exelon's Recent Strategic Asset Management Activities
Legacy Constellation's Maryland Coal-Fired Plants: Exelon has been able to stay in the news with regards to strategic and operational asset management activities. On August 9th, it reached an agreement to sell its three Maryland coal-fired power plants to Raven Power Holdings LLC. Raven is a newly formed company owned by Riverstone Holdings LLC, an energy and power-focused private equity firm founded in 2000 with approximately $22 billion of equity capital. Exelon assumed ownership of these plants when it acquired Constellation Energy (NYSE:CEG) in March. In order to gain approval from the Federal and Maryland regulators, Exelon was required to divest these plants. Exelon will receive $400M in cash for these assets. This sale will result in EXC incurring an impairment loss on these assets of $275M in Q3. This would have been worse except for the fact that this loss will be partially offset by $205M in cash tax benefits related to the deal. Even so, the $605M in proceeds that EXC will realize is half of what Exelon bull Travis Miller of Morningstar, a Chicago-based investment research firm, was projecting in his August 9th Analyst Note.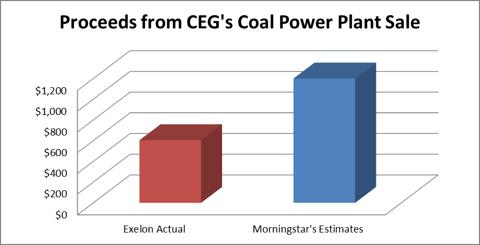 Source: Morningstar Direct
Legacy Constellation's California Coal and Biomass Plants: On August 21st, Exelon announced it completed the sale of its ~50% ownership stakes in five California coal and biomass powered power plants to Tokyo-based IHI Corporation. As with the Maryland coal-fired power plants, Exelon had assumed ownership of these assets with its March acquisition of Constellation. Exelon Power operated these plants before the sale was completed. Terms of the sale were not disclosed. We can appreciate the sale of the Maryland plants as well as the equity interest in the California plants because Exelon is divesting non-core assets acquired from Constellation and using the cash to reinvest in its vaunted nuclear power plant fleet.
Exelon's Proposed Victoria, TX Nuclear Power Plant: On August 28th, Exelon announced that it would halt efforts to build a new nuclear power plant near Victoria, TX. Exelon Generation's COO Charles Pardee said that because hydro-fracking has driven down natural gas prices, it would be uneconomical to construct new merchant nuclear power plants in competitive markets. Exelon withdrew its construction and operating license, but continued to pursue the early site permit to allow it to keep the project alive but defer construction for as long as 20 years.
D.C. Circuit Court of Appeals Vacating EPA's Cross-State Air Pollution Rule
On August 21st, the D.C. Circuit U.S. Court of Appeals threw out the EPA's draconian Cross-State Air Pollution Rule. The Court criticized the EPA for exceeding its statutory authority and attempting to take over the Clean Air Act's "cooperative federalism" approach to air pollution. CSAPR aimed to control coal- and natural-gas fired power plant emissions that have the potential to drift across state lines. Exelon was counting on this regulation in order to gain a cost advantage in dispatch versus conventional coal plant operators; albeit to a lesser degree from the advantage it would have gained from the Waxman-Markey Cap-And-Tax proposal. Exelon's management finds that the Mercury and Air Toxics Standards regulation would have a bigger impact on its performance than CSAPR.
Highlights from the Barclays 2012 CEO Energy/Power Conference
At the Barclays 2012 CEO Energy/Power Conference Exelon's CFO Jonathan W. (Jack) Thayer had the less than enviable task of following up Wisconsin Energy's (NYSE:WEC) CEO Gale Klappa's presentation. 2012 has been a tough year for Exelon's stakeholders, especially the stockholders. Because fracking has changed the game with regards to the supply and demand dynamics for natural gas, this has resulted in Exelon's net average realized margin/MWH Sold declining by over 41% over the last 5 quarters. We listened to Klappa's speech at the conference, and then Thayer's and we could see a huge difference in the topics of the speech, as well as the tone of the speakers.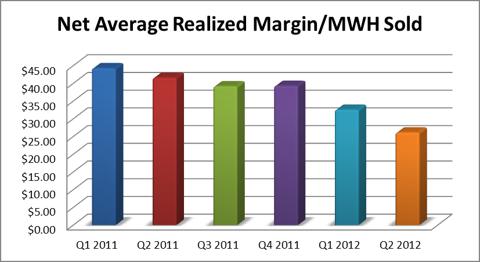 Source: Exelon's Q2 Earnings Release
Jack Thayer's Presentation on behalf of Exelon: Considering that this was the Barclays CEO Energy/Power Conference, we were disappointed that Exelon's CFO Jack Thayer was giving the presentation instead of EXC's CEO Chris Crane. Regardless, we reiterate that there was a huge difference in Thayer's talking points versus Klappa's as well as the tone. In Thayer's presentation, he primarily discussed the state of commodity markets and other macroeconomic related markets, and we felt that Thayer's presentation was kind of robotic, choppy and monotoned. We can understand the importance of that since Exelon lives and dies on the fortunes of ExGen and cheap energy prices hurt ExGen's profitability. We see that the company is holding out hopes that natural gas prices with at least rebound to $4/MCF by any means necessary. We understand the argument by Exelon bulls in that they expect natural gas prices to increase because natural gas rigs have declined by nearly 50% over the last 12 months. Even though natural gas prices have increased by over 30% since bottoming out in February 2002, we are willing to trade potential increases in natural gas prices for decreases in oil prices that offset natural gas price increases, since oil rigs have increased by 33% in the last year.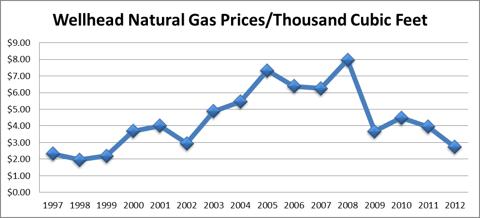 Source: Bloomberg LP
Gale Klappa's Presentation on behalf of Wisconsin Energy: We found that Klappa's presentation was more relaxed, natural and flowing versus Thayer's. Then again, we can see why Klappa's presentation was more electrifying than Thayer's. Klappa and Wisconsin Energy have had a better decade than Exelon. While Thayer's presentation was more macroeconomic in nature and focused on commodity prices and regulations, Klappa was focused on its strong operating culture of reliability and customer service. The combination of WEC's strong operating culture and its Power the Future program from 2000-2011 enabled it to complete new power plant unit projects at lower costs than its regulated utility peers. Despite Exelon's self-righteousness about "clean energy," Wisconsin Energy has reduced its emissions of nitrogen oxide, sulfur dioxide, and mercury by 70%. We can see that Klappa and WEC have provided a greater level of detail with regards to its capital investment program than Exelon at this conference as well as the earnings conferences.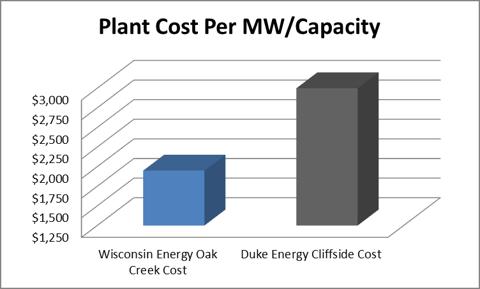 Source: WEC's Presentation at Barclays Conference
Potential positive tailwinds for Natural Gas Prices, which will potentially boost Exelon's bottom line
New EPA regulations on hydro-fracking: The deadline for commenting on the EPA draconian regulation proposal on hydro-fracking was September 10th. We previously elaborated on the study by John Dunham & Associates that showed that the EPA's proposal would cost gas producers 20 times more than what the Interior Department estimated. All else being equal, we expect that if these regulations pass, this would push up natural gas prices and serve to boost EXC's operating margins. We can see why Exelon wants increased gas prices, EXC's CFO Jack Thayer fessed up that if natural gas prices were to rise to $6/MCF, it would increase EXC's gross margin by $1.9B annually. This would represent nearly 10% of EXC's 2012 revenue and would increase Exelon's 2012 annualized adjusted operating income by nearly 50%.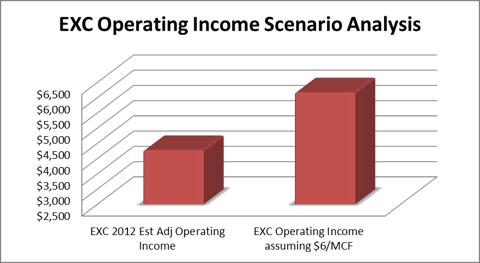 Sources: Exelon's Q2 Earnings Release and EXC's Presentation at Barclays Conference
Quantitative Easing: Helicopter Ben and the Federal Reserve announced at its September meeting that it was engaging in another round of monetary easing. We have always been opposed to monetary easing because we feel that America's economic problems are due to its heavy-handed taxation and regulatory regime over the US economy and those should be addressed before Helicopter Ben cranks up the printing of new Federal Reserve Notes. We expect monetary easing will result in a weaker dollar, which will increase natural gas prices all else being equal.
Conclusion:
In conclusion, despite the fact that there are a couple potential tailwinds to natural gas prices, we believe that it is too early to get into Exelon, even with its 5.9% dividend yield. We found that during the last decade, strength in Exelon Generation due to the natural gas bull market was able to more than offset weak financial performance from PECO and Commonwealth Edison. With the weak global macroeconomic environment and the growth in hydro-fracking in producing natural gas, ExGen's weakness has served to compound weakness from PECO and ComEd. We also noticed the same scenario with Constellation NewEnergy and Baltimore Gas & Electric, which has been part of the Exelon family since March 2012. We can see that Exelon needs to be paying the highest dividend in the industry due to the fact that it is bogged down integrating a complex merger and because ExGen was the Titanic and fracking is the iceberg. Our upcoming reports will touch upon the following items of interest.
A deep-dive financial analysis and evaluation of Exelon and Wisconsin Energy
How Commonwealth Edison became Exelon and its executive management
how it got into nuclear, expansion into "renewable energies" and its operating assets,
The major merger integrations that took place in 2000 for EXC (PECO-Unicom) and WEC (WICOR) as well as WEC's Power the Future Program
We will also be revisiting the natural gas prices, and a deeper look at the utility businesses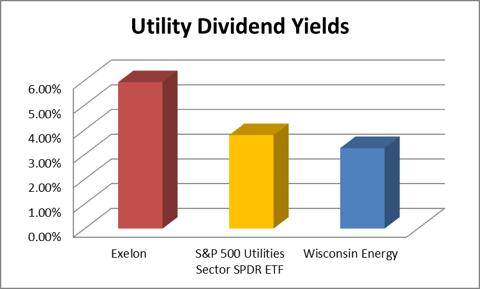 Source: Morningstar Direct
Disclosure: I am long WEC. I wrote this article myself, and it expresses my own opinions. I am not receiving compensation for it (other than from Seeking Alpha). I have no business relationship with any company whose stock is mentioned in this article.
Additional disclosure: This article was written by an analyst at Saibus Research. Saibus Research has not received compensation directly or indirectly for expressing the recommendation in this article. We have no business relationship with any company whose stock is mentioned in this article. Under no circumstances must this report be considered an offer to buy, sell, subscribe for or trade securities or other instruments.