One of the primary drivers of long-term value creation for a business is the durable competitive advantage, or "moat" that a company possesses. The sustainability of the moat is not always apparent, and a permanent decline or elimination of what once was a durable competitive advantage can be quite devastating to a stock price. Currently, many large-cap technology companies are being looked at with extreme pessimism, as emerging "cloud" and mobile technologies are changing the game in a radical way. Intel Corp. (NASDAQ:INTC) is caught up in the forefront of this battle, as the company's unquestioned dominance in PC chips offers little comfort in an environment where tablets and mobile phones are in some circumstances replacing the need for PCs or notebooks. I believe that the market is mispricing this risk, and in turn is providing an extremely compelling long-term total return opportunity in the equity.
It would be difficult to name three companies with a better R&D and manufacturing track record than Intel over the last 20 years. In a constantly changing industry, Intel has fought off numerous charges from the likes of Advanced Micro Devices Inc. (NYSE:AMD) and NVIDIA Corp. (NASDAQ:NVDA), etc. Intel didn't always have the best product, but it utilized its industry leadership position and strong financial condition to allocate enough resources to eventually thwart off its competition in key areas.
Intel is facing one of its fiercest tests, as the shift to mobile computing has caught the company behind the curve as formidable competitors ARM Holdings PLC (NASDAQ:ARMH) and Qualcomm Inc. (NASDAQ:QCOM) arguably have superior mobile chips. Intel cannot afford to be left out of this emerging ecosystem.
Currently, Intel is trading at $23.18 with a market capitalization of $116.1 billion. This is only about 9.8 times trailing twelve month (TTM) earnings of $2.36 per diluted share, and about 2.4 times book value. Intel's financial performance over the last decade has been superb, with revenue having doubled from $26.274 billion in 2002 to TTM of $54.527 billion. Meanwhile, EPS has grown from $0.46 to $2.36, while the share count has dropped from 6.759 billion to 5.2246 billion. ROE and ROIC have improved a great deal to the mid-20s % range, but even at trough levels have remained in the mid-teens. Intel has leveraged this financial performance to enhance its durable competitive advantage. Over the last five years, capital spending has totaled just over $30 billion.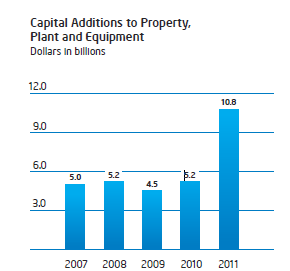 Source: Intel 10-K
The company has plowed $32.2 billion into R&D over the same time period.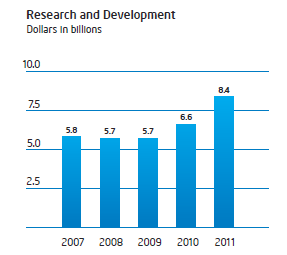 Source: Intel 10-K
Intel's R&D spending over the last five years could have bought two ARM holdings, one NVIDIA, and an AMD at current market capitalizations. As John Wooden said, "Don't mistake activity for achievement", but fortunately for Intel its robust profitability has certainly verified that these expenditures have been well worth it. Intel's new Atom chip has closed the gap in mobile to ARM and Qualcomm, and I can assure you that the company will give those companies the fight of their life on that front. Intel's in-house manufacturing is clearly unparalleled and its competitive advantages in scale, talent, finances, and important vendor/client relationships allow it to build on that advantage on almost a daily basis. In times when it has trailed, Intel's track record shows that it does not give up easily.
Intel recently lowered guidance, causing the stock to drop, despite a relatively buoyant equity market. At current prices Intel yields about 3.9%, and has an earnings yield slightly above 10%. While a slowdown in emerging markets where much of Intel's PC chip growth is occurring is a short-term setback, the introduction of Windows 8, and the assumption that the macro-economic picture should eventually get over these dramatic issues, gives me confidence that there are still years of phenomenal profitability in store for Intel on that side of the equation. Keep in mind that mobile chip makers aren't nearly as profitable as Intel is on the PC side, so it seems logical to derive that Intel will have more resources to throw at what seems certain to be a constantly changing and evolving technological ecosystem.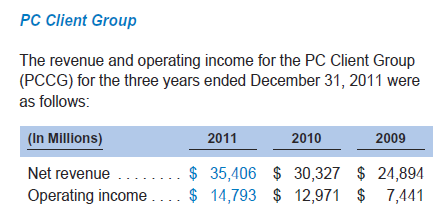 Source: Intel 10-K
Even more encouraging is Intel's Data Storage and High-Performance Computing businesses. This group, which develops technology for various applications ranging from cloud computing to mission critical servers and high-performance computing, has shown explosive revenue growth. In addition the margins are exceptional, and it seems likely that this unit should lead Intel's near-term profit growth.
Data Center Group
The revenue and operating income for the Data Center Group (DCG) for the three years ending December 31, 2011 were as follows:
(In Millions) 2011 2010 2009
Net revenue . . . . . . . . $ 10,129 $ 8,693 $ 6,450
Operating income . . . . $ 5,100 $ 4,388 $ 2,289
Source: Intel 10-K
This core profitability should enable Intel to make key acquisitions such as McAfee in security software, and I believe that tablet makers will be reluctant to shut Intel out of the mobile ecosystem, as is evident by Intel's recent deal with Motorola Mobility. Also, because everybody just assumes the PC is dead, it is quite likely that Intel will face decreasing competition on that front, enabling the company to shift resources in faster growing directions. Intel's capital allocation has been excellent relative to the technology industry, and I think the company would be wise to issue more long-term debt to finance an even more aggressive stock buyback at current levels. Including buybacks, I see absolutely no reason why Intel shouldn't be able to grow earnings by 10% per annum over the next five years, though of course, I would expect some lumpiness associated with that. Using a $2.40 EPS base rate, compounded at 10% per annum, would put Intel's EPS at $3.51 in year five. Even if the multiple were to stay the same this would be 50% higher than current prices, and assuming a 40% dividend payout ratio the dividend would be $1.40 per share.
I think it is far likelier that Intel will exceed these projections than underperform, and so on a risk-adjusted basis I believe Intel offers a safe way to allocate capital, in a world where perceived "safe-havens" such as Treasuries, gold, or cash seem quite risky to me.
Disclosure: I am long INTC. I wrote this article myself, and it expresses my own opinions. I am not receiving compensation for it (other than from Seeking Alpha). I have no business relationship with any company whose stock is mentioned in this article.