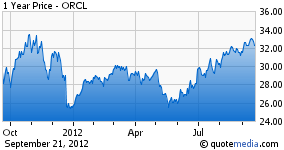 Thursday evening, Oracle (NASDAQ:ORCL) announced $8.2 billion in revenue, missing Wall Street expectations by $200 million. EPS was $0.53 and in-line with estimates, buoyed by a share buyback program and aggressive cost-cutting measures. Guidance for its current quarter foretells more of the same. Sales expectations were lowered to $9 billion at the mid-point, versus the street's current estimate of $9.2 billion.
Ahead of the earnings release, we warned that investor exuberance belied underlying weakness in Oracle's business. Specifically, checks into the IT purchasing pipeline show that leading and coincident indicators have been pointing toward tough times for the software giant. With access to key barometers, from benchmarking activity to contract negotiation, we uncovered declines across the board.
According to our analysis, Oracle countered these headwinds with aggressive compliance auditing, leading us to anticipate an in-line EPS print in the face of heavy top-line resistance points. Looking ahead, we are currently preparing a new round of checks to prepare clients for what lies in store for ORCL's November quarter.
We are also preparing our complete "Stocks to Triple" portfolio, which should be released exclusively on SeekingAlpha in the coming days. In the meantime, here is a selection of specific data points we provided customers in the weeks/months leading up to ORCL's earnings release.
Based on our checks into various aspects of the IT purchasing pipeline, we believe that ORCL's direct and indirect channels had a poor showing in the August quarter. In fact, each set of reads paints an increasingly negative picture.
We see specific weakness on the hardware side, where server contacts have indicated that customers are defecting to commodity boxes. This is a headwind for ORCL, as well as HP.
Customer surveys did not reveal heavy discounting at quarter-end, but activity levels were weak. Historically, this has led to EPS results than outshine the top line.
Oracle is pushing its cloud offerings aggressively, but industry analysts see significant technical shortcomings in its offerings which we believe customers will identify. Further, as we understand it, cloud agreements have NO financial protection if customer data is compromised, which could slow sales cycles.
Oracle seems to be charging the uplifts for organizations on extended support. We continue to hear complaints about Oracle's support getting worse. However, when customers complain about high maintenance and support, or paying support on shelfware, Oracle sales reps just find it as a way to turn it into a sale pitch. Using any excuse to renegotiate for more revenue.
We have confirmed that threats like NoSQL and JBoss are becoming growing impediments to ORCL's business. Keep in mind, these threats are growing rapidly, but from a very small base. That being said, the EU court ruling regarding the legality of selling/purchasing unused licenses poses a larger threat that could further embolden the aforementioned ones.

In addition, ORCL's legal battle against Rimini Street over third-party maintenance is scheduled for a court hearing in January (postponed from November). If Rimini prevails, we expect ORCL's competitive troubles to instantly multiply. Indeed, many of the organizations we have surveyed intend to move to 3rd party support and used-license purchasing as soon as the case is settled.

We view this as a major watch factor for the coming months. Ahead of the ruling, we may see the uncertainty of its outcome freeze spending. According to our extensive survey work, we find that 25% of customers may delay spending based on the changing legal landscape, macroeconomic headwinds, concerns regarding the fiscal cliff, and/or the possibility of new tax laws that incentivize CFOs to hold off on purchases until the after the new year.
Disclosure: I have no positions in any stocks mentioned, and no plans to initiate any positions within the next 72 hours. I wrote this article myself, and it expresses my own opinions. I am not receiving compensation for it (other than from Seeking Alpha). I have no business relationship with any company whose stock is mentioned in this article.