Morningstar recently published a top 10 list of dividend stocks that were widely held amongst top portfolio managers for increased beta (more regularly described as passive returns on investment).
The list included the following stocks and slightly outdated yields, which I corrected in the parenthesis:
For most of this year, with stubbornly low interest rates and very expensive bonds (especially treasury bills), I have been recommending dividend stocks as well. In the article, Morningstar gives us extensive discussion on the low valuation of the stock market versus the bond market - especially when incorporating the growing yields of top dividend stocks in the S&P 500.
The best dividend stocks for a passive investor will grow their yields over time. This adds another layer of compounding to a portfolio's long-term appreciation, and also serves as a sign of the company's underlying health. A company that can't grow earnings that can pay for dividend hikes is usually undergoing stagnation, or is in a financially stressed situation.
In this article, I will run down Morningstar's list with my own analysis to see if the vital signs of these companies point to any problems.
1.) Vodafone
The company's 5.2% yield is a great asset for any dividend portfolio, and handily beats investment-grade yields in the bond market by a huge margin. Vodafone is also the highest yield on Morningstar's list.
Vodafone will have to make enormous periodic investments to stay competitive as a telecom in Europe, but considering that the company has grown annual revenue every year since 2009 and has managed to double its cash in the last few years I would presume that the company will not be hurting for resources.
The dividends, which are denominated in foreign currency, have been increasing very consistently. If the % based yield was higher in the past, it was due to a weaker U.S. dollar in the forex market. Vodafone definitely looks viable as a dividend stock candidate.
2.) GlaxoSmithKline
All the major publicly traded pharmaceutical companies offer substantial dividends to compensate for their lack of growth, and GSK is no different. Looking back you can see that GlaxoSmithKline's revenues are actually in a slow downtrend, but foreign exchange rates have affected this too. Even with this factored in, growth is sluggish at best. Analysts have pointed this out repeatedly, and are worried about patent expirations that could hurt GSK in coming years.
The GSK dividend payments are somewhat sporadic, but when looking at the long-term trend they are moving upward, which shows that GSK will be a strong dividend portfolio candidate given its past. Since they are paid in foreign currency, note that investors who buy ADRs may see yield fluctuations that shouldn't be blamed on GSK.
3.) ConocoPhillips
ConocoPhillips is an extremely popular dividend stock in part due to its positive exposure to oil, which is seen as the most valuable single commodity in the world and a viable hedge against inflation.
The only problem with the stock has been its recent stagnation in revenue, which was probably the reason that the company hit the brakes on dividend increases this year. COP generally gives a higher yield every year, but pauses (like the one seen between 2008 and 2009) do occur.
If we don't see a hike above $.66/share in 2013, I'd be surprised. Another thing to note is that ConocoPhillips' dividend hikes are quite large. If the company sees big improvements, the shareholders will reap the benefits.
4.) Eli Lilly
Eli Lilly is another major pharmaceutical company that compensates shareholders for slow (or sometimes nonexistent) growth with large dividends. The bright side for LLY is that the long-run trend for the company's revenue (and dividend) looks solid. The bad part is that this year (2012) broke the company's squeaky-clean record.
The company has seen some major failures in 2012, like the recent discontinuation of its schizophrenia drug due to poor lab results and the expiration of the drug Plavix. The company also cut dividends this year, as displayed on this prominent graph from Lilly's website: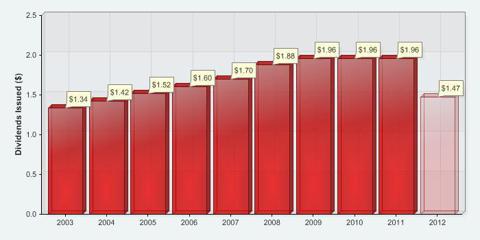 Click to enlarge
5.) Novartis
Novartis is another large pharmaceutical company, and pays a 4.1% yield. Revenue has been increasing very consistently (and significantly given the size of this pharmaceutical giant). Dividends, our focus right now, are probably the most encouraging aspect about NVS.
Novartis pays its dividends in Swiss Francs (CHF), and has been increasing them consistently since 1996. The biggest dividend hikes came in '06-'09, but the fact that the company is managed with enough discipline to avoid any dividend cuts is fantastic and shows that NVS is a clear top choice for investors looking for yield.
6.) Merck
Merck is very much like Novartis, and yields around 3.8%. Although it struggled to increase dividends from 2004 to 2011, it seems that the company's growing revenue and vastly improved situation have paved the way for more hikes. This makes MRK nearly as reliable as NVS for a high-yield portfolio.
7.) Intel
Intel is particularly good at dividend hikes, and has been able to produce record earnings on its surprisingly strong revenue growth and very fat profit margins. The stock yields 3.9% after its recent drop.
The big argument against INTC is its competition with the mobile sector, which may lead to sluggish (or nonexistent) growth if the PC industry slows down even more. Strangely enough, the PC industry is surviving just fine, and Intel has just entered the mobile space through a deal with Motorola.
8.) Pfizer
Pfizer took a major hit last year with the expiration of the mega-blockbuster drug Lipitor (atorvastatin), but has improved its situation and offers a 3.6% yield.
Pfizer had to make a massive cut to its dividend payments in 2009, but seems to have put itself on a fresh and predictable path of dividend growth. Pfizer's revenue has seen some struggle recently, and the stock has become quite expensive, but PFE remains a fair portfolio addition for its yield.
9.) Sysco
This company operates in the food industry, which is generally not at risk from economic recessions and other events that would crush other companies. The company's revenue has been growing, along with earnings and dividends. Sysco's predictability is actually quite boring, but if we're looking for dividend growth SYY is a top-notch candidate with a very safe 3.5% yield poised for growth.
10.) Phillip Morris
Despite the never-ending string of regulations that the government is using against the tobacco companies, Phillip Morris and its competitors have been faring quite well. This has allowed PM to generate substantial cash flows that have fueled its rapid dividend hikes in the last two years. If there is one downside, it's that other dividend investors have caught onto PM's potential a long time ago and have driven up the share price enough to eliminate much of the advantage it had over others.
In conclusion, I like the list Morningstar has compiled a lot. Dividend growth has generally been very good with these companies, although some are better than others. Eli Lilly in particular stands out as a company I'd pass on, along with ConocoPhillips due to the company's potential transition into a stagnation period.
The bigger message here is that dividend stocks are probably the best bet in our current situation, especially with bond and treasury yields so low. The companies that can provide reliable dividend growth are particularly attractive, so buy on the dips.
Disclosure: I am long INTC. I wrote this article myself, and it expresses my own opinions. I am not receiving compensation for it (other than from Seeking Alpha). I have no business relationship with any company whose stock is mentioned in this article.